Chicago Bulls: Steve Nash Makes No Sense for Derrick Rose's Team
Christian Petersen/Getty Images
The idea of Steve Nash wearing a Chicago Bulls' uniform next season is nice in theory, but it's more fantasy than reality.
In the offseason the Bulls will look for a new point guard to hold the reigns while Derrick Rose recovers from his torn ACL. A source told CSNChicago.com the Bulls will make a run at Nash, hoping the future Hall of Famer will be enticed by the opportunity to win a championship.
At this point, the Bulls need Nash more than Nash needs the Bulls. Nash is not going to sign with the Bulls just to keep Rose's seat warm. He can do better for himself in free agency, especially since the Bulls have very little money to spend. The Bulls have a better chance signing unrestricted free agents Andre Miller, Jason Kidd or Chauncey Billups.
Putting money aside, the Bulls are a team that prides itself on playing stifling defense. Nash is not necessarily known as a good defender. Tom Thibodeau would love what Nash would bring to the offensive end of the floor but would cringe watching Nash play defense.
Offensively, Nash would fit perfectly with the Bulls' roster. He's one of the best point guards in the history of the NBA. Meshing or playing well with others is a problem Nash has never had. Maybe Nash could be the magic elixir to Richard Hamilton and Carlos Boozer's careers.
Let's say Nash does decide to sign with the Bulls. He plays well and the Bulls are once again one of the top teams in the Eastern Conference. Then Rose returns from injury. That would be an awkward situation. Would Nash be expected to come off the bench? Rose is a point guard, he needs the ball in his hands to be effective, so moving him to shooting guard would be a silly and ineffective way to use one of the best players in the NBA.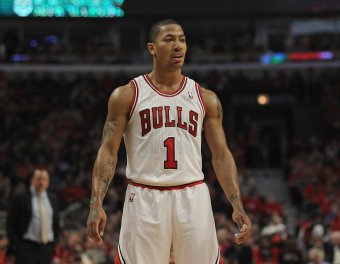 Jonathan Daniel/Getty Images
The point is, the Bulls are Rose's team. By signing Nash it would mean the Bulls don't have confidence Rose will ever return to true form. If we've learned anything from Rose over the years, it's to not count him out. No one thought Rose could win the MVP a year ago—he did.
Rose will return from his injury probably sooner rather than later. The official time frame is eight months to a full year. The last thing Rose will want to do after returning from injury is to awkwardly learn how to play with Nash in the backcourt.
As for Nash, one would assume he would rather sign with a team that's at full strength or a team that he's comfortable with. The Miami Heat make sense, which would be annoying. So do the Dallas Mavericks, especially if they strike out in their pursuit for Deron Williams.
The Bulls will get a point guard in free agency, just don't expect it to be Nash. Andre Miller is probably the best option as far as veteran point guards go. It's unfortunate the Bulls are even in this situation in the first place. Nothing is worse than watching one of the top players in any sport go down with an injury. Hopefully Rose does return to 100 percent.
Watching great players be great is what being a fan is all about.
This article is
What is the duplicate article?
Why is this article offensive?
Where is this article plagiarized from?
Why is this article poorly edited?

Chicago Bulls: Like this team?