College Football Recruiting 2013: Ranking Robert Nkemdiche's Best Positions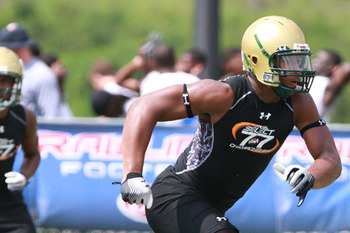 247Sports.com
Robert Nkemdiche is the consensus No. 1 recruit in the country on most any major publication's list. He's a phenomenal talent and could indeed be the greatest prospect ever to come out in the modern recruiting era.
One of his best attributes is his God-given blessed athleticism and strength. This has allowed Nkemdiche to dominate on the prep level and has evaluators like myself projecting him to be possibly successful at several different positions in college.
Come inside, and let's take a look and rank the best positions for the nation's No. 1 overall prospect.
5. Tight End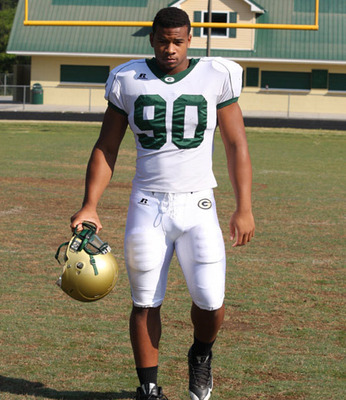 Scout.com
Nkemdiche weighs 270 pounds already, but he would be more than a blocking tight end. With his athleticism and speed, you could use this guy as an excellent receiving weapon.
Releasing off the line shouldn't be a problem, as Nkemdiche could use his strength to toss defenders out the way to make a clear path.
A coach would have to work with him on his hands and route-running, along with coverage adjustments, still, making Nkemdiche a TE isn't too bad of an idea.
4. Running Back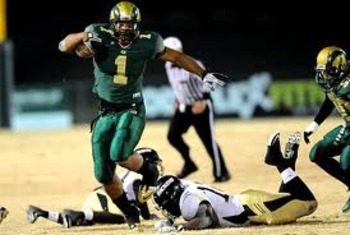 Ajc.com
The Georgia native is a 6'5", 270-pounder who has good foot quickness, speed and excellent power.
Last year, as a part-time running back, he still managed 528 yards and an amazing 17 touchdowns. He's just a force with the ball and is a huge burden for defenses to bring down.
You get Nkemdiche the football attacking downhill with steam and speed behind him, and I'd like to see who out there could tackle him. Think Brandon Jacobs in his heyday.
3. Defensive Tackle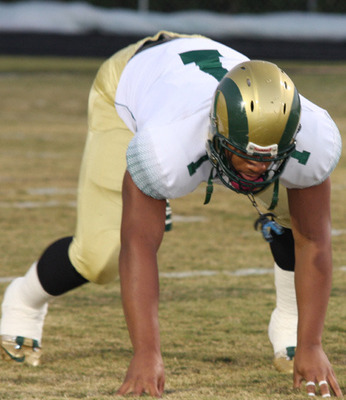 Scout.com
If you leave him on defense, this is a position I think he will play no matter what, as Nkemdiche can slide inside and rush from the interior part of the defensive front in sub-packages.
As for making him a full-time DT, you could do that as well. He already has the size and strength for the position, and he would be quicker than the OGs he's up against.
The only problem here is, by making him a full-time DT, are you limiting his range by putting him inside of your defense and surrounding him with bodies?
1B. 3-4 OLB/Rush End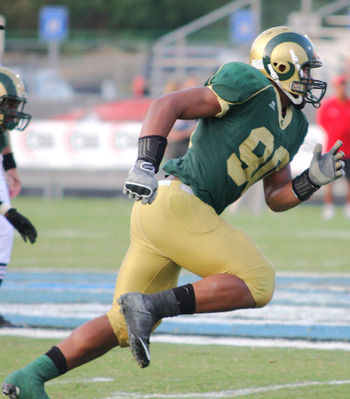 Scout.com
This is a position he'd play should he attend Alabama or Georgia, as both the Crimson Tide and Bulldogs run a 3-4 base defense most of the time.
Nkemdiche has the necessary athleticism to stand up, be moved around and rush upfield or factor as a short-area zone defender underneath in coverage.
He could struggle in man coverage versus quick running backs, but his pass-rushing skills and ability to stop the run while standing up and being moved around could make him a superstar.
1A. 4-3 Defensive End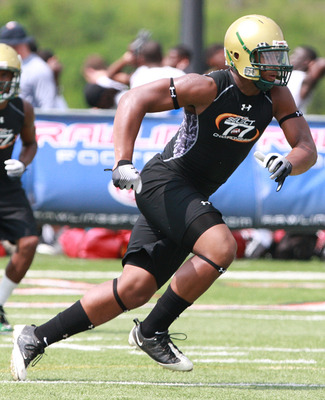 247Sports.com
Should Nkemdiche end up at a school where they use a traditional 4-3 defense, playing the strong-side DE spot would also be a prime-time fit.
Nkemdiche easily has the strength, stack and anchor versus the run on the strong side, plus the tenacity to fight through blockers, free himself up and make a tackle on a ball-carrier.
He also has the speed and quickness to hawk from the backside.
Tack that one with a surging first step, power to squeeze the pocket from the outside, an excellent fight to pressure and a burst to finish on the passer, and you could be looking at a future superstar.
Edwin Weathersby has worked in scouting/player personnel departments for three professional football teams, including the New York Giants, Cleveland Browns and the Las Vegas Gladiators of the Arena League. He spent a year evaluating prep prospects and writing specific recruiting and scouting content articles for Student Sports Football (now ESPN Rise-HS).
A syndicated scout and writer, he's also contributed to WeAreSC.com, GatorBait.net and Diamonds in the Rough Inc., a college football and NFL draft magazine.
Keep Reading