Offensive Snap Review for the New England Patriots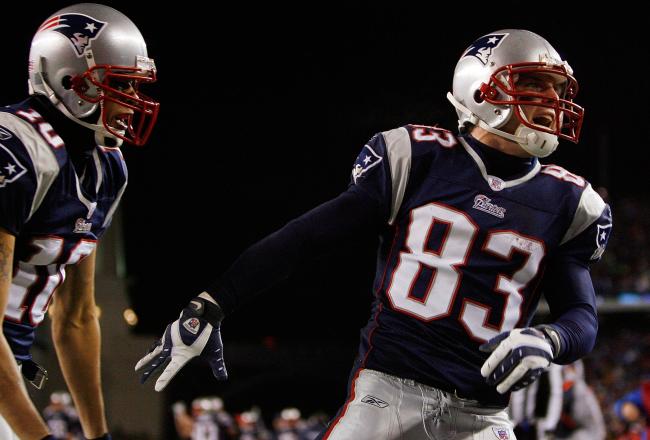 Jim Rogash/Getty Images
The New England Patriots had one of the league's best offenses last year, but they are still undergoing major changes in terms of personnel.
That's just the way it works in the free-agency era.
As players come and go, certain players will get more playing time and others will get less than they did last year. But in order to know where you're going, you have to first know where you've been.
With help from stats website Pro Football Focus, we'll take a look at the Patriots' offensive snap counts from 2011 and what they may (or may not) mean for the 2012 season and going forward.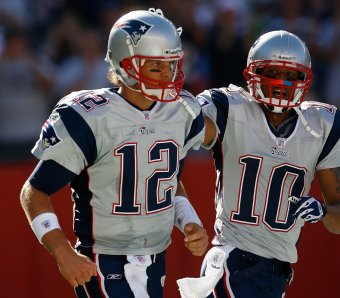 Jim Rogash/Getty Images
Wide Receiver
Who's Going Up?
With so many additions at wide receiver, it's hard to see anyone from last year's group seeing an increased workload in 2012.
One name to watch for significant snaps, though, is Jabar Gaffney. The journeyman receiver was with the Patriots during the record-setting 2007 season and developed a quick rapport with quarterback Tom Brady. Gaffney had his best statistical season in 2011, despite some of the worst quarterback play of his career.
Who's Going Down?
It may be a raw deal for Deion Branch, who had a season on par with his career average, but will be 33 years old in July. His career isn't over, but the veteran receiver has some stiff competition at wide receiver with the additions of Gaffney, Donte Stallworth and Brandon Lloyd. While Branch could end camp as the No. 3 option on the depth chart, that's about as high as he goes, which is still lower than where he was on the wide receiver depth chart last year.
Other Takeaways
The Patriots have revamped the position for the second time in five years; the last time they did so, they set multiple records on offense. While the same may not occur in 2012, that precedent will have many people focusing heavily on the battle for snaps at wide receiver.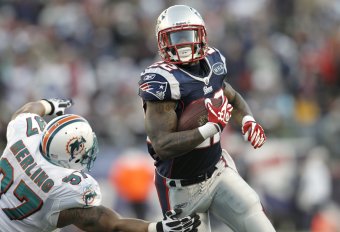 Winslow Townson/Getty Images
Running Back
Who's Going Up?
As a rookie in 2011, running back Stevan Ridley (200 snaps, 20.8 percent) showed some potential with a few big games. He saw his playing time take a huge hit after a pair of fumbles down the stretch and didn't play a single snap in the AFC Championship game or the Super Bowl.
After what was essentially a redshirt year for Shane Vereen (26 snaps) in 2011, the Patriots might be looking to get a bit more out of Vereen in his second year. He is seen as a solid third-down option with good burst in the open field.
Who's Going Down?
The Patriots will have a large hole to fill in their offensive backfield with the departure of running back BenJarvus Green-Ellis (475 snaps, 34.9 percent). That likely means the Patriots won't be cutting anyone's snaps significantly.
If the Patriots are looking to get more out of their young backs, that may mean a decreased workload for veteran back Danny Woodhead. The veteran has more knowledge of the system than any other back on the Patriots' roster (save Kevin Faulk, who remains unsigned), but his workload dipped slightly from 2010 (463 snaps) to 2011 (449 snaps).
Other Takeaways
The Patriots always run a backfield-by-committee, avoiding having one "work horse" back in favor of a versatile group from which they can call on multiple options to produce. That makes projecting the snaps for the backfield a bit more difficult than other positions, and it has caused most fantasy owners to avoid Patriots running backs on their roster.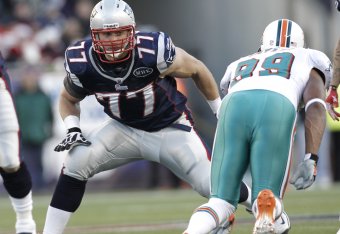 Winslow Townson/Getty Images
Offensive Line
Who's Going Up?
With the retirement of left tackle Matt Light, the Patriots may be looking to get more playing time out of last year's first-round pick, Nate Solder. The tackle out of Colorado played 1,044 snaps in 2011 (76.7 percent), but that number could be even higher with Light out of the picture.
The Patriots are hopeful that right tackle Sebastian Vollmer (387 snaps, 28.4 percent) can stay healthy in 2012 after playing just seven games in 2011.
Either way, look for second-year tackle Marcus Cannon to get a few more looks this year than last (168 snaps, 12.3 percent) after starting the season on the PUP list. He has the ability to play both tackle and guard, but he was primarily a tackle for the Patriots last season. Cannon may be asked to fill in some at left guard while the Patriots account for the absence of Logan Mankins (ACL injury), however long that may be.
Who's Going Down?
The departure of Light has left the Patriots with 1,260 snaps to replace on the offensive line. However, if asked to find one candidate who could potentially lose snaps, it would have to be center/guard Dan Connolly. The return of Dan Koppen from injury will have the two engrossed in a camp battle, which Connolly will likely win, and the fact that Connolly can play multiple line spots will help him keep those snaps.
Other Takeaways
With Light gone for good and Mankins out for now, the offensive line will be in flux for the first time in a long time. This unit has been a point of strength for the Patriots for years, so their cohesion as a unit and the makeup of the group will be a topic to watch this offseason.
Erik Frenz is the AFC East lead blogger for Bleacher Report. Be sure to follow Erik on Twitter and "like" the AFC East blog on Facebook to keep up with all the updates.

This article is
What is the duplicate article?
Why is this article offensive?
Where is this article plagiarized from?
Why is this article poorly edited?

New England Patriots: Like this team?