Liverpool FC: In with the Old, Out with the New?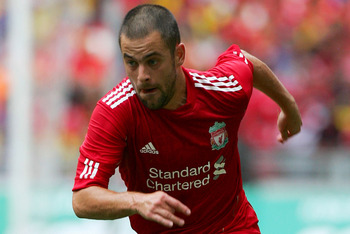 Joe Cole returns to Liverpool
Stanley Chou/Getty Images
This summer will be an intriguing one for both the Anfield club and its supporters, as many players could be heading in or out, depending on the budget of the new Liverpool boss.
One thing is for sure, the return of Joe Cole and Alberto Aquilani leaves Brendan Rodgers a few options ahead of their preseason tour this July.
No one knows exactly what will be going down inside the club this summer, as Steve Clarke and Dirk Kuyt have already left, one for West Brom and the other for Turkish club Fenderbache.
Joe Cole Returns from Lille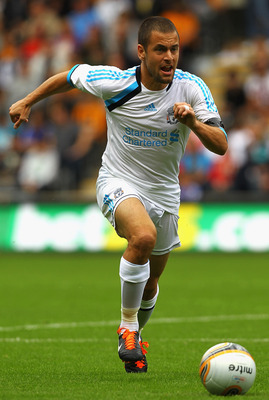 Joe Cole will return to Liverpool
Matthew Lewis/Getty Images
Joe Cole is the first player that will return to Liverpool following a fairly successful loan spell at LOSC Lille in France.
Cole left Liverpool after not really finding his feet under Kenny Dalglish. At the French club, Cole scored four goals and tallied three assists.
Cole saw a possible permanent move to Lille denied by new Liverpool boss Brendan Rodgers after the North Irishman stated, in talkSPORT, that he wanted to give the midfielder a fresh chance.
Alberto Aquilani Returns from AC Milan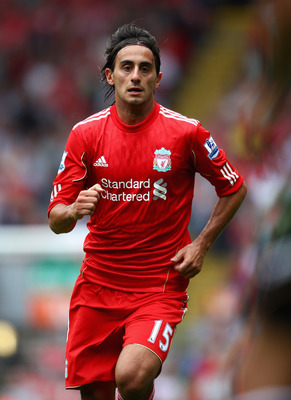 Aquaman will return to Liverpool as well.
Clive Brunskill/Getty Images
Alberto Aquilani's time at Liverpool has been quite the saga.
Signed as a replacement the summer of Xabi Alonso's departure, Aquilani enjoyed a good first season at LFC.
However, his oft-repeated desire to return to Italy after a bad run at Liverpool the following year saw him head to Juve for a year before being loaned out to AC Milan.
This year, however, with AC Milan showing no permanent interest in Aquilani, it seems that Liverpool will be inheriting him back, where Rodgers has the opportunity to show Aquilani he can be used in the English side.
When asked about it in talkSPORT, Rodgers said:
The boy Aquilani is a wonderful talent and a terrific player but he might not be able to settle. He might not be able to adapt to the country so you've got all those issues and sometimes you're not aware of that until you sit down and speak to the people.
Dirk Kuyt Sold to Fenderbache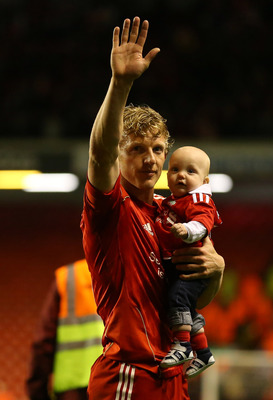 Dirk Kuyt recently left Liverpool FC.
Alex Livesey/Getty Images
An announcement that really turned my insides out, as well as many other Liverpool fans', the announcement that Dirk Kuyt had been sold to Fenderbache.
The ex-LFC midfielder tweeted a thanks to the Liverpool fans for all their support, then tweeted at the Fenderbache fans, saying he was ready to go for new trophies.
Kuyt was quite the loyal player for the club, even when not played consistently by ex-Liverpool manager "King Kenny" Dalglish.
Kuyt is one that fits the profile of "Out with the Old."
Maxi Rodriguez (potentially) to Newell's Old Boys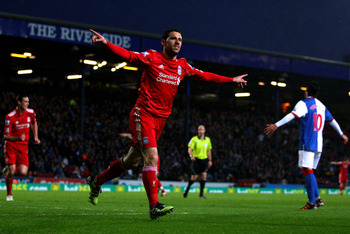 Maxi Rodriguez could be on his way out as well.
Michael Steele/Getty Images
It's not official, but Maxi Rodriguez could be another player among those exiting the Anfield club this coming summer.
Rodriguez has been allowed to speak to Newell's Old Boys of Argentina following a season of few starts but good goals.
The Liverpool winger has already said his goodbyes to the club and its fans, taking to Twitter to say, "Last home game and q goodbye to the fans," as well as "Thank you very much to the people of Liverpool for much love."
Rodriguez was a fan favorite when on the field, with his goal scoring record being something Liverpool needed.
Gylfi Sigurdsson a Potential 'In' for Liverpool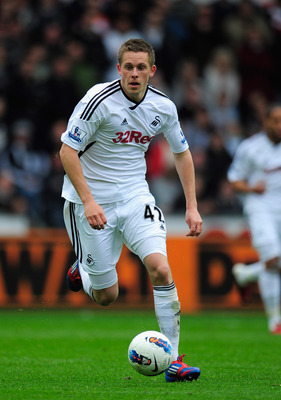 Sigurdsson could see a move to Anfield in his cards.
Stu Forster/Getty Images
In the midst of a transfer window of many "ifs" and "buts," Gylfi Sigurdsson is a name that many Liverpool fans have been seeing a lot of these past few days.
Sigurdsson was brought to Swansea on loan by their then-manager Brendan Rodgers, and, according to the Daily Mail, has now seen the potential of making a permanent move to Liverpool.
The talented midfielder would be the first real signing of the Rodgers era, and one that the fans would certainly like to see.
Anyone Else? LFC's Potential Ins and Outs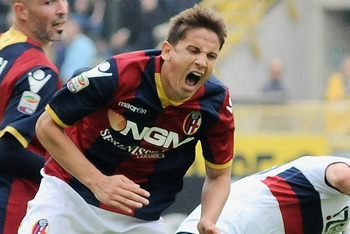 Gaston Ramirez's name has been floating around the social media outlets.
Mario Carlini / Iguana Press/Getty Images
There are a few more names that have been linked with going both in and out, including Gaston Ramirez and Luuk de Jong, in, as well as Charlie Adam and Jay Spearing, out—but that is all speculation.
One thing is for sure, this is going to be quite the interesting summer for both Liverpool FC and their supporters. With no one really knowing what's going on in the minds of the new manager or the Boston-based owners, anything could happen.
Rodgers brings in a different style than what most LFC supporters are used to seeing as well. With the "tiki-taka" pass-and-move groove heading to Anfield, it will be intriguing to see what Liverpool does this window.

Follow me on Twitter: @ScottStewartLFC
Keep Reading

Liverpool: Like this team?