MLB: Which Teams Must Start Selling Immediately?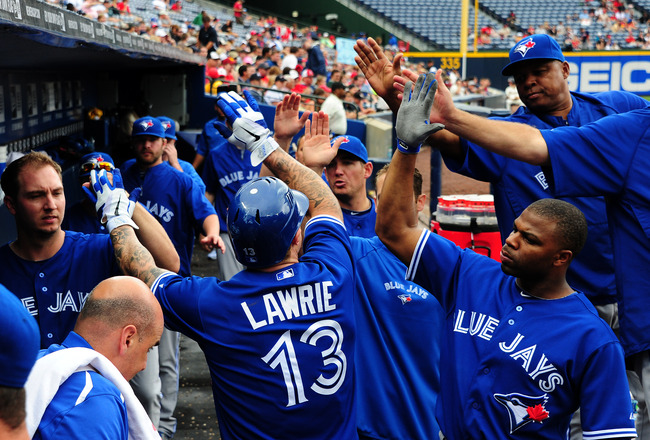 Scott Cunningham/Getty Images
The months of June and July can be tough for Major League general managers.
The decision of whether or not their teams have the staying power to be in the playoff hunt throughout the year can be a difficult one.
If a team opts to sell, they miss out the on the possible opportunity to win now. They may never know just how good could they could have been if they had stuck to their guns.
However, if they choose to buy, they miss out on possibility of growing the future of their franchise for the slim chance they may be just one or two players away from a championship.
This year, with so many teams still in the mix, several front offices will be faced with that difficult decision.
Here is my take on which of them should be buyers and sellers in the market this year.
Sell: Toronto Blue Jays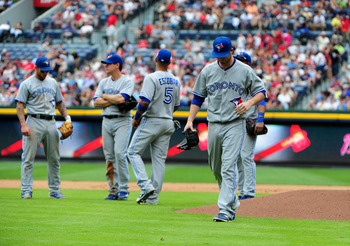 Scott Cunningham/Getty Images
The Blue Jays are in one of the most precarious positions in baseball right now.
They have a decent ball club, at 30-29, and sit just four games out in the American League East.
But, they also play in a division with New York, Tampa Bay, Baltimore, and Boston who all may be better than they are. It is hard to see Toronto staying competitive all year long.
Jose Bautista is a keeper, no matter what, but veteran Edwin Encarnacion is having a monster year. There will be teams everywhere looking to land a bat like his near the trade deadline.
If Toronto can hold their ground for some top prospects, they could have a solid young core for their future if they made the right deal.
The Jays already have an up-and-coming young pitching staff and some nice everyday hitters. If they can trade Encarnacion or other veterans for pieces for next year—or further down the road—they will be better off.
Buy: New York Mets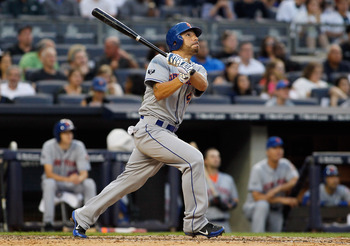 Mike Stobe/Getty Images
The Mets probably don't have enough talent with their current roster to continue to make noise in the NL East. Having lost six out of seven, their free-fall may have already begun.
Then again, every time this young team has had its back against the wall this season, it has rebounded.
Despite being outscored on the season, the Mets are still three games over .500 at 32-29, and in the hunt in the wide open NL East.
This is a fan base who has been patient with Sandy Alderson since he came in. It is his turn to reward the fans by making a splash at the trade deadline.
Other teams in the NL East are all talented, but still have their flaws. With the extra playoff spot up for grabs this season, the Mets could sneak their way in if they improve their bullpen and get one more solid hitter in the middle of their lineup.
New York has enough organizational depth, especially with pitchers, to afford giving one up for a big name at the trade deadline.
It may seem impulsive but, in the New York market, the Mets need to try to make a big move to further improve the team moving forward.
Sell: Milwaukee Brewers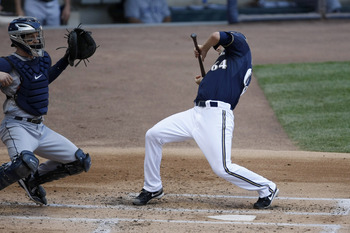 Scott Boehm/Getty Images
When the Brewers lost Prince Fielder in the offseason, they took a step back as an organization. Now, they must focus on rebuilding in the future to support reigning MVP Ryan Braun.
Despite sitting at just 27-32, Milwaukee is only five games out of the NL Central race. That doesn't mean they should feel optimistic about their club.
The Brewers sit behind three teams in that division: Cincinnati, Pittsburgh, and St. Louis. Each of these teams all look to have staying power moving forward.
The Brewers have lacked the consistency to hint that they could make up ground later in the season.
The Brewers have the third worst team ERA in the National League, and are in desperate need of pitching help going forward.
On top of that, Minorleagueball.com ranked their farm system 28th out of 30 going into this season, showing that they need some pieces to grow for the future.
The Brewers may be smart to see if anyone bites on veterans like Alex Gonzalez, or Corey Hart close to the trade deadline.
Buy: Detroit Tigers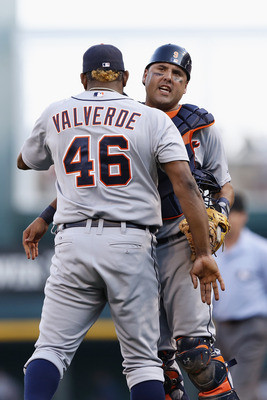 Joe Robbins/Getty Images
Surprisingly, the Detroit Tigers have been mediocre over the first two months of the 2012 season.
After adding Prince Fielder to join Miguel Cabrera and Justin Verlander, the Tigers had three of the games' best players—and were figured to be favorites in the American League this year.
However, they sit at just 27-32 through the team's first 59 games of the season. They are in third place in the division—six games back of the Chicago White Sox.
Is anyone really counting the Tigers out at this point?
Chicago and Cleveland have nice teams, but they can't match up with the Tigers talent. If they can find a couple of more pieces, they could still get to the postseason this year.
Detroit ranks 21st in team ERA, and only 15th in runs scored in the majors this season. They could use both pitching and hitting.
It may not be easy with their relative lack of depth in their farm system, but if the Tigers are willing to part ways with a top prospect like Jacob Turner or Nick Castellanos, they could get the piece they need to win in 2012.
Sell: Arizona Diamondbacks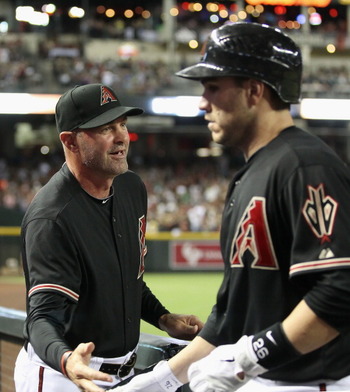 Christian Petersen/Getty Images
The Diamondbacks shocked many last season when they won the National League West, then pushed the Brewers to five games in the NLDS.
They came into this season with relatively high expectations, but have so far failed to live up to them.
The D-Backs sit at 29-30, just one game under the .500 mark, but sit a full 8.5 games back of the Dodgers in the division.
While it may seem unlikely they will be able to catch LA, the extra wild card spot may give Arizona fans hope that, once again, their team can find their way into the postseason.
However, it may be in the organization's best interest to sell this year and start over in 2013 with a team that is more capable of competing for a pennant.
Their farm system already has some solid pitching with the likes of Tyler Skaggs and Trevor Bauer, but could definitely use more depth when it comes to top-rated position players.
Perhaps they could find some if they parted ways with players like Jason Kubel or Aaron Hill as the trade deadline inches nearer.
Buy: Los Angeles Angels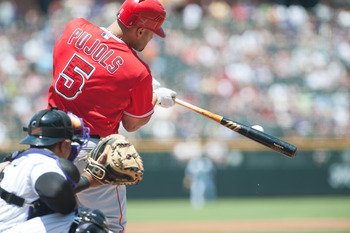 Dustin Bradford/Getty Images
Despite all of the struggles of Albert Pujols, and the team in general, the Angels sit a mere three games behind Texas Rangers in the AL West as of June 10.
That is a huge accomplishment, considering how good the Rangers looked early on.
And how bad the Angels were, especially in April, when they posted just an 8-15 record.
Now, since the start of May, the Angels are nine games over .500 and are right back in the playoff mix.
For this reason, it is essential that they go find another bat on the trade market soon to insert into the middle of their lineup.
The Angels rank just 20th in the majors in runs scored, and have largely relied upon their tremendous pitching staff to get them wins.
However, if they can find one more hitter to go along with Pujols, Mark Trumbo, Kendrys Morales and Mike Trout, this team has World Series capability.
Keep Reading