Transfer Rumors: 10 Transfer Sagas That Need to Be Completed Already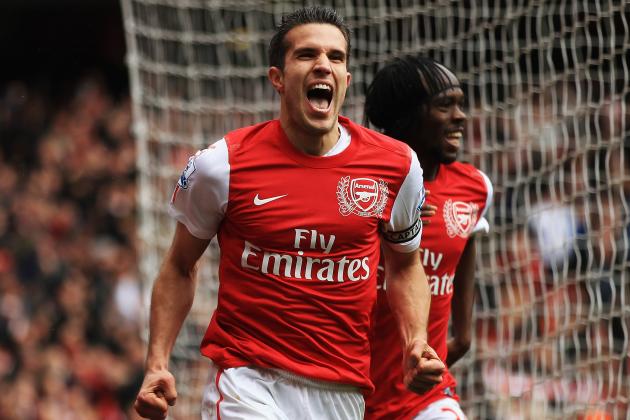 Bryn Lennon/Getty Images

The offseason can be a very stressful time for world football fans.
For those who support bigger sides like Barcelona and Manchester United, there is much hope as to what huge names may join the club in the summer and be an immediate spark in the team for the following season.
However, the majority of supporters are left with the drawn-out ordeal of watching their favorite players get linked with moves away from their more modest clubs. While it is true that players tend to go wherever the money is at the moment, there is hope for many that at least a few of the following transfer rumors prove to be faulty.
Here are 10 of the biggest transfer sagas of the summer so far that have not been fully resolved.
Begin Slideshow

»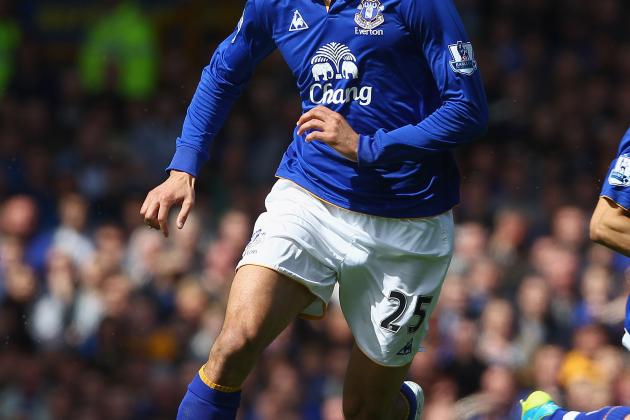 Clive Brunskill/Getty Images
Maroune Fellaini has Blues Supporters Sweating
The gigantic Belgian midfielder has become one of the hottest prospects in English football over the previous two seasons.
His performances for Everton have helped his side to a second consecutive top-seven finish, and his dominant play in the middle of the pitch has frustrated many opposing sides in the Premier League.
A report from ESPN.com that details a conversation the Belgian had with a local radio station in his native country, shows that a move to a big club may be in the works for Fellaini this summer.
As always, Everton are strapped for cash, and it seems that they may need to sell in order to buy this offseason.
The fan favorite, who came to Everton for around £15 million in 2008, is being valued at around £30 million and has been heavily linked to a Chelsea side that has already added Hulk and compatriot Eden Hazard as they look to defend their Champions League crown.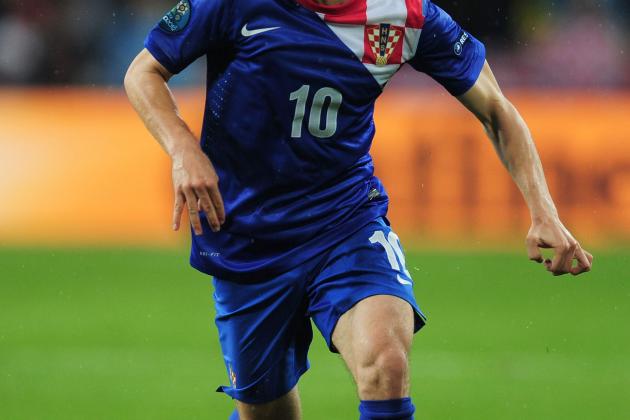 Jamie McDonald/Getty Images
The Croatian Sensation Luka Modric
Manchester United looked reasonably depleted in the midfield during the 2011-12 season.
Although Paul Scholes did return, the aging playmaker, as well as the Welshman Ryan Giggs, will not be around forever.
As the uncertainty around Darron Fletcher's health continues, Tottenham's Luka Modric looks like the perfect player for a side that is looking to show they are still the biggest in Manchester.
Tottenham purchased Modric for £16.5 million following Euro 2008, and Chelsea had a bid as high as £27 million for the Croatian rejected last season.
The player may feel unsettled in a team that has failed to qualify for the Champions League after looking set for a potential title-run in the winter, and £30 million may be enough for Manchester United to finally pry him away.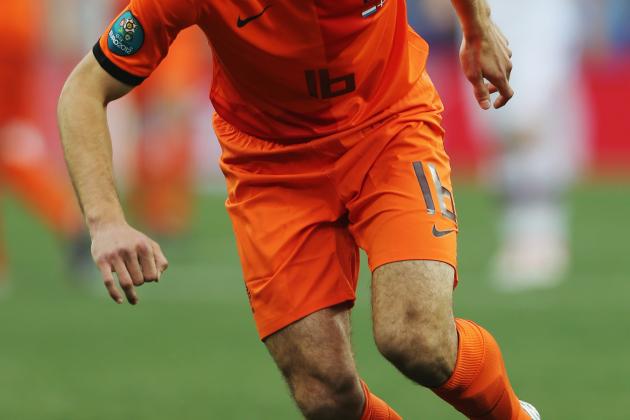 Ian Walton/Getty Images
Robin Van Persie Barcelona Bound?
The Dutchman took the Premier League by storm in 2011-12, as he topped the scoring charts with 30 goals and added seven more in all competitions.
The Arsenal captain has carried the side to Champions League qualification after a poor start to their latest campaign and, at 28 years old, may be ready to move on to a more ambitious club.
Van Persie's father ruled out a potential move to Manchester City in El Mundo Deportivo and claims the player will only suit up for Arsenal in the Premier League.
However, Barcelona may be exactly the right club for the Dutchman if he does decide to leave.
They tend to make only a few big purchases a season, and van Persie would surely provide cover for David Villa, who is returning from a serious injury, and give the Catalan club a tall No. 9 for the first time since Zlatan Ibrahimovic was shipped off to AC Milan.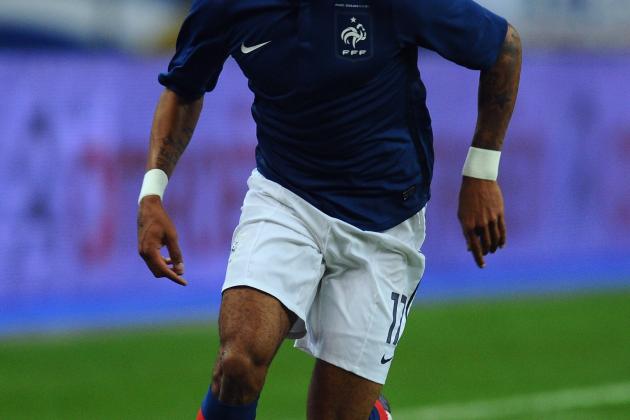 Mike Hewitt/Getty Images
French midfielder Yann M'vila
The French midfielder is currently nursing an ankle injury at the Euros.
His breakout season with Rennes found him captaining the side and anchoring the midfield in a style much akin to predecessor Claude Makélelé.
At only 21 years old, he is the perfect age for Arsene Wenger to be able to mold and perfect his skills in an Arsenal side full of talent but sometimes lacking bite.
The Metro claims that reports from France show Barcelona is also very interested in the Frenchman, who may be called on to fill a role very similar to Yaya Toure's before he left for Manchester City.
However, one thing is for certain—it does not look like Rennes will have nay chance of keeping hold of M'Vila for the upcoming season.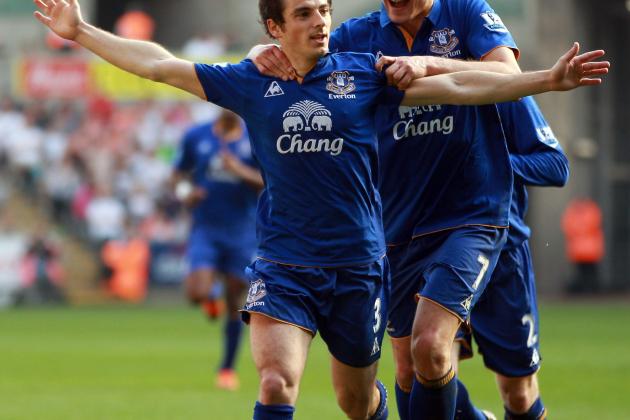 Richard Heathcote/Getty Images
Leighton Baines is a true Toffee
Leighton Baines has been one of the standout performers of David Moyes' side for numerous seasons.
His free kicks and assists from defense have him among Europe's elite left-backs in Dani Alves and Ashley Cole, with whom he is currently competing for a starting spot at the Euros.
It is no surprise that Sir Alex Ferguson is interested in the native Liverpudlian to fill the role of aging Patrice Evra. And with Everton's financial state, it would seem likely that he be sold for somewhere in the region of £20-25 million.
However, being a local player who grew up supporting his current club, Baines may prefer to stay in a side where he will undoubtedly be a starter for years to come.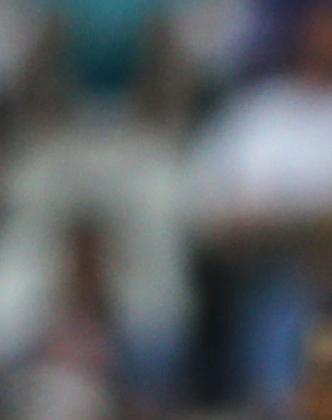 Ian Walton/Getty Images
Karim Benzema of Real Madrid
Karim Benzema has been carrying the weight of his success at Lyon on his shoulders for the entire time he has been at Real Madrid.
It did take the Frenchman a while to find his place in the Real starting 11, where he is competing with Gonzalo Higuain, who has been undervalued and is more likely to move on despite consistently bagging double-figures in goals during his time at Madrid.
However, Mourinho rates him very highly, and it will take a very generous offer to get him to move on.
Before being purchased by Madrid, Benzema was frequently linked with Manchester United.
Nevertheless, reports indicate that Manchester City have been very interested in the player and have been given some consideration by his agent.
While Goal.com claims the player is happy at Madrid, the millions on offer at Manchester City, which looks to challenge for this year's Champions League trophy, could certainly see him relocating to England.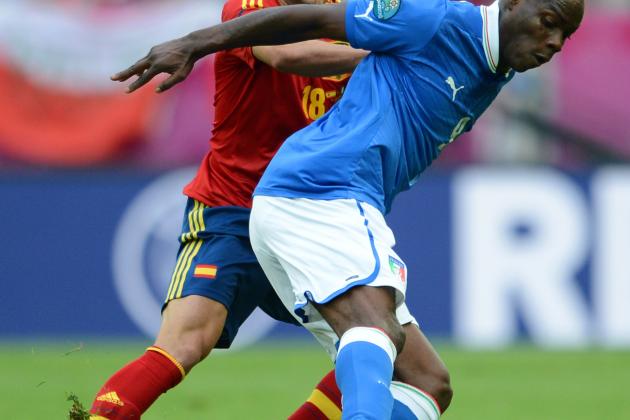 Jasper Juinen/Getty Images
Jordi Alba against Italy's Mario Balotelli
Valencia's youthful left-back has proven this season that he is ready for the big time, and with his club not afraid of selling their best players, as highlighted by previous sales of David Villa, David Silva and Juan Mata, it looks like he could be on his way to Manchester United or Barcelona.
Like Baines, the Spaniard would be seen as a replacement for Frenchman Evra.
However, the lure of the Spanish giants is more likely to attract him than a Manchester side that vastly underperformed in 2011-12.
Reports from Examiner.com indicate that United have already failed in their bid, and David Villa is already welcoming his former teammate to a Catalan club that has not had a top-class left-back since Eric Abidal began to suffer from serious health issues.
This transfer saga may be over more quickly than any of the rest if Barca are simply willing to open their checkbook.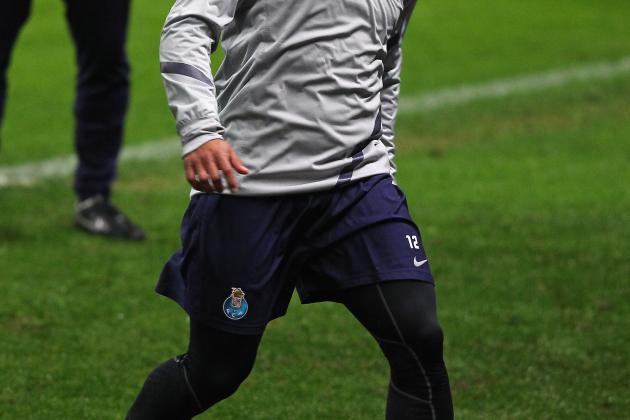 Alex Livesey/Getty Images
Hulk, the Brazilian Drogba
Only a few days ago, this transfer seemed set in stone.
Hulk, who is as well-known for his goalscoring as his typically Brazilian theatrics, seems the perfect replacement for Dider Drogba and would surely be allowed to leave by a Porto side to which he has been very faithful over the years.
Nevertheless, Goal.com reports that the player is being courted by numerous clubs and would be fully content to spend another season with the 2011 Europa League winners.
Chelsea have the financial prowess to sway the player's decision if other moves fail to find them a high-quality alternative to Fernando Torres in their front line.
More than likely, he will be in West London by the end of the summer.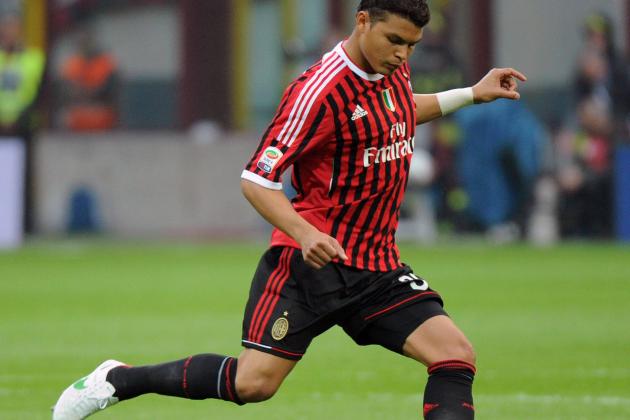 Dino Panato/Getty Images
Thiago Silva could break Milan's heart
Thiago Silva has been the bedrock of AC Milan's defense for two seasons.
His consistent and commanding performances have earned him a regular spot in the Brazilian squad, and he has proven to be one of the best center-backs in Europe in 2011-12.
While the player is happy in Italy, ESPN.com reports that vastly wealthy PSG is ready to spend €50 million to bring the player to the French capital in hopes of securing the Ligue 1 title.
For that price, it is hard to see AC Milan rejecting a possible deal, though a replacement of such quality will surely be difficult to find.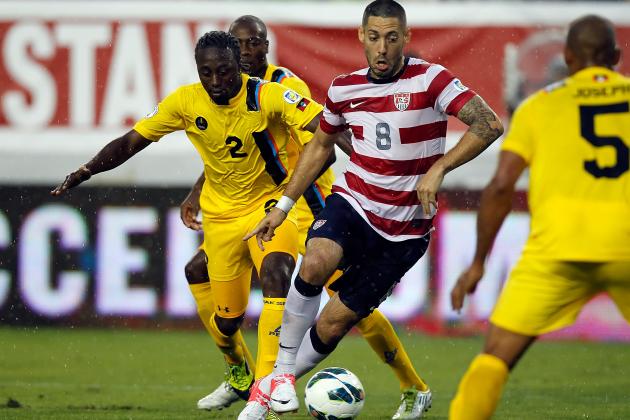 J. Meric/Getty Images
Clint Dempsey is arguably the USA's best export
Clint Dempsey has shown himself to be the most ambitious and skillful American player of the past decade.
While his compatriot, Landon Donovan, continues to ply his trade in the MLS, Dempsey has been lighting up England for at least two seasons, and after scoring 17 Premier League goals in 2011-12, he is ready to leave Fulham for a bigger club.
At 29 years old, he may not have much left in what has been a very promising career.
His age may be a factor for Arsene Wenger, but he could provide the strength and industry needed in a side often criticized for playing too comfortably and failing to kill off other big clubs.
Liverpool's American owners may want to see him at Anfield next season, but with no Champions League football and a squad top-heavy in midfielders, he may prefer to stay in London.
Brendan Rodgers has also failed to show interest in his FSG employer's countryman.
Dempey's name will be tossed around quite a lot this summer. In this piece, however, Norman Hubbard argues that he may be the most likely of our transfer sagas to wind up just where he has been for the past six seasons.