Fantasy Baseball 2012: 5 Start-or-Sit Matchups for June 11-17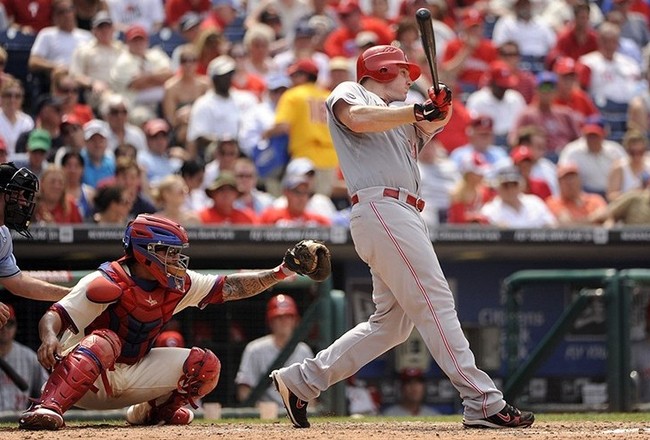 Reds outfielder Jay Bruce (13 HR, 37 RBI, 31 runs, 4 steals .265 BA) is a reasonable play for 30 homers and 15 steals this season. (Photo Credit: US PRESSWIRE)

The following slideshow touts five start-or-sit matchups to consider for fantasy Week 11 (June 11-17), featuring six overall hitters and four starting pitchers.

All five battles involve players at the same position or hitting slot, with similar circumstances heading into this week's action.

For example, the three hitting comparisons feature batters with only six games for the week, and both pitching matchups include one-start assets during the current seven-day window.

Enjoy the show!
Starting Pitcher: Stephen Strasburg vs. Jon Lester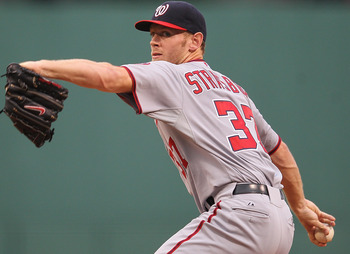 Jim Rogash/Getty Images
While it's true that Strasburg (7-1, 2.41 ERA, 1.04 WHIP) has surrendered four runs in two of his last five starts, he's still an automatic start in all scoring leagues. Right?

Exhibit A for that argument: Strasburg has a 22/2 strikeout-to-walk ratio in his last two games, while yielding only two runs during that stretch.

Exhibit B: Strasburg has greatly benefited from a tutorial involving...outfielder Rick Ankiel, who once possessed a knee-buckling curveball with the Cardinals, before making the full-time transition to MLB hitter.

On the Lester front, he has also allowed four runs in two of his last five starts; he has a sterling K-BB ratio since May 30 (22/3), as well. Lester draws the easier matchup of the week, taking on the light-hitting, last-place Cubs at Wrigley.

Verdict: Lester has a lot of positives in his favor this week; but when paired up against a healthy Strasburg, I just can't bench the kid.
Second Base: Howard Kendrick vs. Dustin Ackley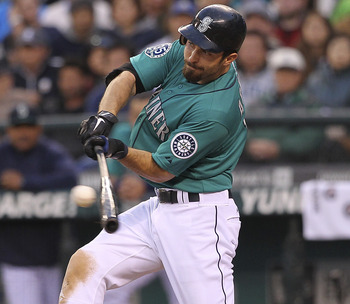 Otto Greule Jr/Getty Images
Neither Ackley (one homer, .262 avg since May 27) nor Kendrick (.235 avg since May 12) has set the fantasy world on fire in the last 15 to 30 days, making them somewhat expendable for the next two rounds of interleague play.

But when given the choice between the pair, let opponent and pitching matchups determine the better starting option.

Ackley draws six home meetings with the Padres and Giants. More importantly, he avoids a matchup with San Francisco's Matt Cain (7-2, 2.41 ERA, 0.94 WHIP)...but gets a shot at San Diego's Clayton Richard, who's been superb at home and brutal on the road.

Kendrick has a split week of three home games against Arizona, before three roadies against the Dodgers. Like Ackley, Kendrick also eludes a dominant ace (Clayton Kershaw) for the week and gets a shot at a familiar foe (Diamondbacks pitcher Trevor Cahill) who has struggled for good chunks of the season.

Verdict: When in doubt, ride the asset who's a better play for speed and power (Ackley).
Third Base: Will Middlebrooks vs. Mike Moustakas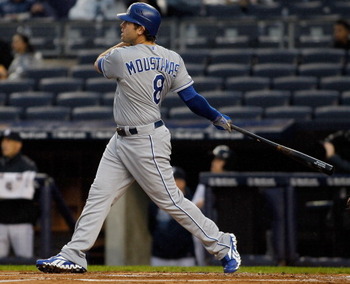 Mike Stobe/Getty Images
Middlebrooks had a phenomenal start to his inaugural season in the major leagues, racking up four homers, 13 RBI and a .304 batting average in a 10-game stretch (May 2-13). But Middlebrooks' big-league breakout goes deeper than a sterling 12-day run. Since May 24, the rookie boasts one homer and a .303 batting average.

About two weeks ago, I started to openly wonder if Moustakas was hitting the pseudo-sophomore wall, an affliction that strikes young major leaguers who no longer qualify as rookies but are getting taxed by their first full season in the bigs nonetheless.

After a strong April, where Moustakas batted .315 and had a sterling OBP of .375, things took a mild turn for the worse in early May. But from May 29-June 4 (spanning six games), Moustakas took charge of the Royals offense once again, collecting eight hits (over 18 at-bats), two homers, five runs and eight RBI.

The game plan: Neither hitter has favorable or deflating matchups. Moustakas has three home games with the Brewers and three roadies against the Cardinals. Middlebrooks has six road games against the Marlins and Cubs.

Verdict: Moustakas is guaranteed to log more at-bats for the week, as American League teams adjust to no DH in National League parks. He gets the call—barely.
Starting Pitcher: Anibal Sanchez vs. Jarrod Parker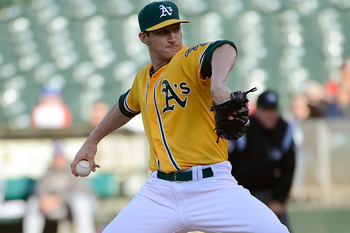 Thearon W. Henderson/Getty Images
For anytime in April or May, Sanchez (3.40 ERA, 1.13 WHIP) would have been the no-brainer pick over a rookie from a struggling club.

But it's been a rough road for Anibal in his last two starts, giving up 11 runs and 15 hits at home against the Braves and Rays.

Parker has been on a similar roller coaster of memorable highs and ugly lows. In seven of his last nine starts, he's allowed no more than two runs (while averaging five strikeouts). But for the two remaining outings...a pair of six-run clunkers have dulled a still-promising ERA to 3.19.

The verdict: While I like Sanchez's chances of redemption in a Saturday rematch with the Rays, it's easier to invest into Parker pitching at home on Friday against the Padres, who currently rank 15th, 16th and 15th in National League runs, homers and RBI, respectively.
Outfield: Jay Bruce vs. Chris Young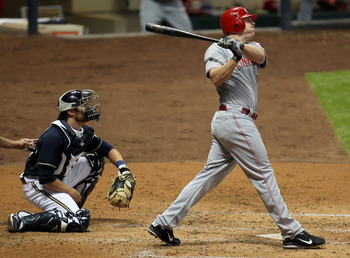 Mike McGinnis/Getty Images
Back in mid-April, when Chris Young had a 1.000-plus OPS and was injury-free, he probably would have trumped Jay Bruce in a weekly battle of starting outfielders.

But Young has encountered nothing but bad luck since his injury return, batting just .183 with zero homers since May 12. To be fair, Young has improved slightly at the plate this month, but these short-term gains (minus the power) still cannot compare to Bruce (one homer, .316 batting since May 27).

Both Young (at Rangers, at Angels) and Bruce (vs. Indians, at Mets) have six games this week—with three coming in hitter-friendly ballparks and three coming in pitchers' havens.

All things being equal, I'm leaning on Bruce for more power and a higher batting average.
Keep Reading