Mayweather vs. Pacquiao: Boxing's Best-Case Scenario Tainted by Pac-Man's Loss
June 10, 2012

Kevork Djansezian/Getty Images
The boxing world must learn to let the idea of Floyd Mayweather and Manny Pacquiao go. Following Pac-Man's disappointing defeat on Saturday, boxing's top two pound-for-pound performers cannot meet without the accompaniment of distracting overtones.
Boxing already exists on the fringe of the mainstream sporting world. Losing its biggest foreseeable attraction doesn't do that reputation any favors.
Let's take a look at how Saturday night's decision impacts Pacquiao's future and his pending decision to fight "Pretty Boy" Floyd.
Where Does Pacquiao Go From Here?
Pacquiao will fight his rematch against Bradley in November, but where should his career go from there?
You can bet boxing fans will beat the Mayweather drum regardless of the outcome.
The conclusion to Bradley versus Pac-Man's fight Saturday night should cast enough doubt on any future fights. Fighting Mayweather would just be a bad idea.
Granted, he should still be the WBO welterweight titleholder. But he isn't. This ruins momentum and casts an odd glare on the rest of Pacquiao's career.
Some are already calling for Pac-Man's retirement. Some thought he should hang things up before the fight against Bradley. A loss doesn't lessen those calls. It only adds fuel to the fire.
A rematch with Bradley is set in stone. Fighting Mayweather in the distant future is not.
Pacquiao and Mayweather's run-around has already gone on too long. Pacquiao's loss diminishes any leg left for it to stand on.
Why They Should Not Fight
Remember how you felt after watching the umpteenth SportsCenter special covering Brett Favre's pending return?
That's how I am beginning to feel about this situation. If you aren't as well, you may be fooling yourself.
This blockbuster fight is overkill. Promoters and boxing analysts are beating a dead horse at this point.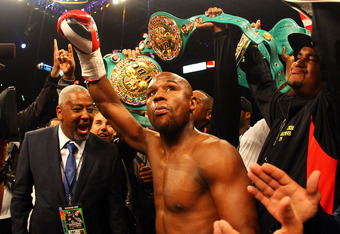 Al Bello/Getty Images
Indecision about the pay split, terms of the fight and drug-testing apparatus have all been questioned to their maximum extent. And that was before Pac-Man's loss Saturday night.
Whether you agree with Saturday's decision or not, you can't claim that Pacquiao is in a better position than he was before. He needs to be at the apex of his career when he fights Floyd, and that doesn't look like it will happen again.
Boxing's best fight was supposed to pit its two biggest fighters in opposite corners. It still would, but now people will look at the fight as Mayweather against an obvious No. 2.
This isn't about Pacquiao being less talented, or less prepared, for the world's top pound-for-pound fighter. It's about missing the opportune moment to capitalize on a sport's most anticipated spectacle.