Belmont Stakes 2012: Union Rags' Performance Will Carry over for Rest of Season
June 10, 2012

Rob Carr/Getty Images
When someone leaves the door open, talented individuals or in this case horses, take full advantage. 
Union Rags took advantage of I'll Have Another's absence by winning the 2012 Belmont Stakes. His performance will carry over for the rest of the season.
With quality No. 3 post position, Union Rags was a huge favorite without Triple Crown hopeful I'll Have Another. We saw why on Saturday when Union Rags ran to a Belmont Stakes victory.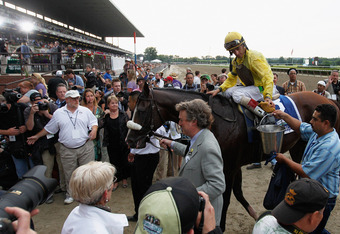 Rob Carr/Getty Images
According to Reid Cherner of USA Today, Union Rags' trainer Michael Matz believes his horse is in the running for the Eclipse Award, an award given to the top three-year-old and Horse of the Year. 
"Who knows what could go on? We're not throwing in the towel by any means. It all depends on how we finish the season," said Matz. 
Maybe Matz is a little bias (obviously), but he really believes his horse is set to finish the year strong. He even believes Union Rags can contend against I'll Have Another for year-end awards.
"Union Rags would have to be considered," he said. "To be a champion you have to step up."
A confident trainer provides a confident horse. Union Rags may not have the statistics like I'll Have Another, but there is still time.
Despite the Triple Crown races being done and over with, there are other opportunities like Haskell at Monmouth Park, Jim Dandy at Saratoga and Travers at Saratoga.
There is still time for Union Rags to make up ground, and I am not one to doubt his talents. With a little rest, John Velazquez placed as the jockey and quality post position, we saw what Union Rags is capable of achieving.
Don't be surprised if you see Union Rags' name on top of the leaderboard multiple times this summer if he can continue to receive solid post positions.