US Open Favorites 2012: Rory McIlroy and More Golfers to Bet On
June 11, 2012

Andy Lyons/Getty Images
With Tiger Woods fresh off his second win of the season, it's not surprising to see Las Vegas put the odds in his favor, but there are others worth putting some money on as well.
I hope this isn't a news flash, but it's not 2002 anymore. Woods is no longer the dominant force that once held the golf world in the palm of his hand. Here's a few names that are worth throwing down some cash on if you're a gambling kind of guy or gal.
Rory McIlroy
While Woods has been struggling to rediscover his skills, McIlroy has held down the fort as the top golfer on the PGA Tour. Out of 13 tournaments he competed in last year, the North Irish sensation logged eight top-10 finishes.
Whenever you're the defending U.S. Open champion, you have to be considered one of the favorites to repeat the following year. While not coming off his best tournament in BMW European PGA Championship, that will just make McIlroy more determined to defend his title on U.S. soil.
Vegas currently has the 23-year-old at 12/1 odds to win the tournament.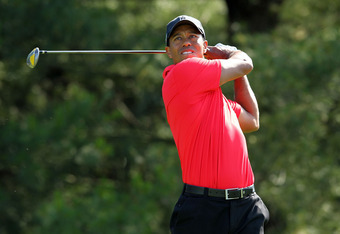 Andy Lyons/Getty Images
Tiger Woods
There is no bigger wild card in this tournament than the enigma that is the Stanford product. When Woods takes home a championship trophy, everyone is eager to claim that he's back to his old form.
My initial reaction is that we've seen this before from Tiger, but somewhere deep down he still has that killer instinct that can make him near-unbeatable at times. Normally the odds-on favorite to take home the victory isn't the most risky of bets to make, but this case is just the opposite.
The issue with Woods' game is mental more than mechanical. If he shows up with his old "stuff" then he's taking this tournament. If he doesn't, well, I hope you didn't put too much cash on the guy.
Bubba Watson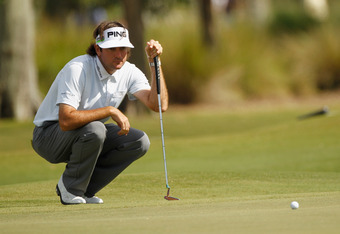 Chris Graythen/Getty Images
Watson might be a bit upset with me for giving Woods the title of "biggest wild card" considering his Masters performance this year, and he's my dark horse for this tournament.
Besides the Masters and Cadillac Championship, Watson has laid low this PGA season, but that could change at the Open.
He only has four PGA Tour wins to his name, but he has been finishing middle of the pack for most of this season. My gut tells me Watson has one more stunning victory in him this year, and I'm told you should always go with your gut when money is involved.