San Francisco 49ers: Why Aldon Smith Will Only Improve in 2012
June 11, 2012

Karl Walter/Getty Images
The San Francisco 49ers' Aldon Smith will have his work cut out for him this upcoming season as opposing coaches cannot ignore his presence.
Smith, who played every game last year, recorded 37 tackles, 14 sacks and forced two fumbles during the regular season. Awarded the NFL Rookie of the Month in October, Smith had 17 tackles and 6.5 sacks in that month alone.
Before looking at reasons why Aldon Smith will improve in 2012, though, it's important to understand that Smith was a rookie last year with limited training camp. He was drafted into an apparent rebuilding phase.
As with every 2011 draft pick, Smith had a limited training camp due to the lockout and thus had less time to adjust to the size and speed of the NFL. Along with that, the 49ers were starting a new era with first-year head coach Jim Harbaugh. 
Smith's ability to handle success over the regular season and postseason shows he has the maturity of a veteran despite only being 22 years old.
Based off his 2011 performance, many fans will be expecting another strong season for an encore. Aldon Smith's improvement in 2012 will be key as the 49ers look to return to the NFC championship game.
What's spectacular about Smith's season was he spent only one month in post-lockout training camp and was still able to finish sixth in the league in sacks.
With his raw talent and experience gained at Missouri, Smith ended 2011 with 14 sacks. He will immediately benefit from the perks a full offseason has to offer.
By taking part in minicamps and organized team activities (OTAs), Smith will hopefully improve his coverage skills and polish his pass-rushing moves.
During these activities, Smith will be able to gain strength and quickness to hopefully build off his 2011 campaign.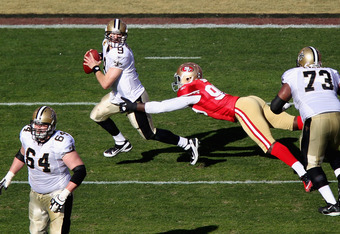 Jed Jacobsohn/Getty Images
Another reason Smith can continue to improve is because of the increase in playing time he is due.
Last season, Smith was used as a backup—a role that worked extremely well for his rookie year. Now, as he works toward a starting outside linebacker position, he'll see more snaps, thus providing more opportunity to wreak havoc on the opposition.
If Smith can smoothly transition to an every-down outside linebacker, then one of the league's top linebacking cores will become even stronger. His coverage and ball skills are his weakness, though, and their improvement is key for his encore.
If Smith wins the starting job, he would be opposite Ahmad Brooks. When the 49ers rush four, Smith will have the option to stand or go out of a three-point stance with his great jumps off the snap.
Just because he will see more snaps doesn't necessarily mean more coverage scenarios—Smith will see an increase in pass-rushing situations as well.
With Aldon Smith combining with Patrick Willis and crew, the 49ers will look to win with a stellar defense and steady offense.