Belmont Stakes 2012 Winner: Best Is Yet to Come from Union Rags
June 10, 2012

Rob Carr/Getty Images
We saw a flash of brilliance from Union Rags in the 2012 Belmont Stakes, but it's only the beginning of what will be a fantastic career.
Now that Kentucky Derby and Preakness winner I'll Have Another has been retired from racing, Union Rags finds himself atop of the sport of horse racing at the culmination of the three Triple Crown races. 
It's unclear whether or not Union Rags has enough time left to prove that he's worthy of year-end honors as the sport's top horse with I'll Have Another's brilliant showing early on, but he'll finish strong and show that he's the fastest horse in the world.
Michael Matz, the trainer for Union Rags, was preparing for a great year as many of the sport's top critics were pegging Union Rags as the next great horse. He was the world's best shot at a Triple Crown, but faded slowly into the shadows after poor showings at the Florida Derby and the Kentucky Derby.
The Kentucky Derby favorite quickly became an afterthought in the sport.
A subpar start to the season left his trainer struggling to find a way to make his colt relevant again in the sport. In turn, he decided to have his horse skip the Preakness Stakes to rest up and give him the best shot at winning the Belmont.
I'll Have Another was certainly the biggest story heading into the Belmont Stakes, as he had a shot to win the sport's first Triple Crown since Affirmed in 1978. But with the way Union Rags took victory Saturday, who knows if I'll Have Another would've even stood a chance?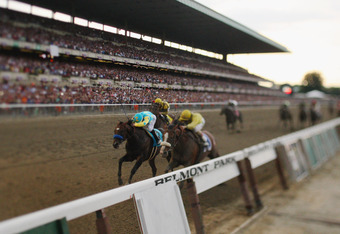 Rob Carr/Getty Images
The Triple Crown hopeful was a heavy favorite, obviously, to take home the Belmont Stakes, but it was well known that the horse was tired and needed rest. The field was wide open, whether or not I'll Have Another was lining up to race Saturday afternoon.
By winning in stunning fashion, Union Rags bid his case for horse racing in the fight to keep the sport relevant in America. He chased down Paynter in the final stretch and won just by a neck, culminating a brilliant Triple Crown season in the process.
Union Rags will need to be brilliant throughout this season, and hopefully next season, if horse racing wants to continue to build the growing popularity that it enjoyed throughout I'll Have Another's run. 
So far, he's making it interesting and bouncing back from a slow start to the season. 
Union Rags will use this momentum from winning the Belmont Stakes to captivate the horse racing world and win many more races.