Celtics vs. Heat: Boston Proved Run Isn't over with Classic 7-Game Series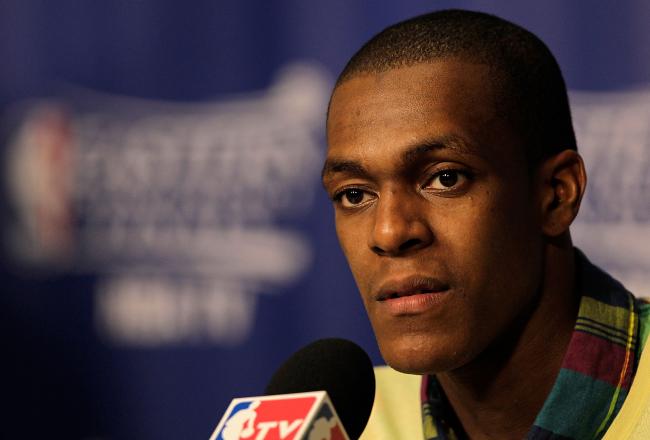 Mike Ehrmann/Getty Images
It's too easy to write the Boston Celtics off as a franchise that finally passed its prime for good.
Sure, it makes for a compelling story, but it's a story that's more fiction than fact.
No torch was handed off on Saturday night, and it's far too soon to make any conclusive predictions about how this team will fare next year or the year after that. If there's any end in sight, it's a limited one–an end to the Celtics as we know them, perhaps, but not an end to their relevance.
Despite the obvious frustration surrounding Boston's Game 7 demise, Paul Pierce doesn't sound ready to throw in the towel, and head coach Doc Rivers doesn't sound especially inclined to do so either (via HoopsWorld's Alex Kennedy):
When asked if the Big Three had played their final game together, Rivers paused.

"I don't know," Rivers said. "I think we're going to wait and see what happens with free agency and all that stuff. I honest to gosh hadn't thought much about it. I've given zero thought to the whole thing. Danny [Ainge] has talked to me a couple of times recently. I probably didn't hear much. We'll find that out later. I just want to stick with this group if it's a couple more days, a couple more weeks, or whatever. I just want to stick with them."
Maybe Pierce and Rivers are in denial. Maybe this team has been on its last legs for some time now. If so, Sports Illustrated's Chris Mannix may be correct:
Prediction: KG retires, Ray Allen walks (Miami, NY are atop his list, I'm told), Pierce is dangled in a trade.

— Chris Mannix (@ChrisMannixSI) June 10, 2012
But, there's a cavernous gap between the cinematic tenor of these apocalyptic assessments and the extent to which blowing this team up actually makes good basketball sense.
Should there be changes in Boston? Absolutely. That's more of an inevitability than it is a radical departure from business as usual.
There's a difference, though, between complete overhauls and careful, deliberate reform. This is a club that needs some relatively significant tweaks, but not a facelift.
How should Boston proceed in the offseason?
The much-lauded Miami Heat were tied in every respect with Boston until the very last moments. Going into the fourth quarter of Game 7, the series was tied, and so was the game. The difference between Boston or Miami making it to the NBA Finals was 12 minutes.
If that's not a closely-contested series, then what is?
It's important that Boston do everything within its power to retain free agent Kevin Garnett. Even at 36 years old, KG is still one of the best big forwards in the league. While he would be replaceable in theory, the Celtics would either have to trade away valuable assets for a comparable power forward or rest its hopes on Brandon Bass.
It's less important that the Celtics keep Ray Allen around, but it would be nice.
Also 36, Allen isn't nearly the well-around guard he used to be, but he's still an outstanding long-range shooter on a team in need of just that.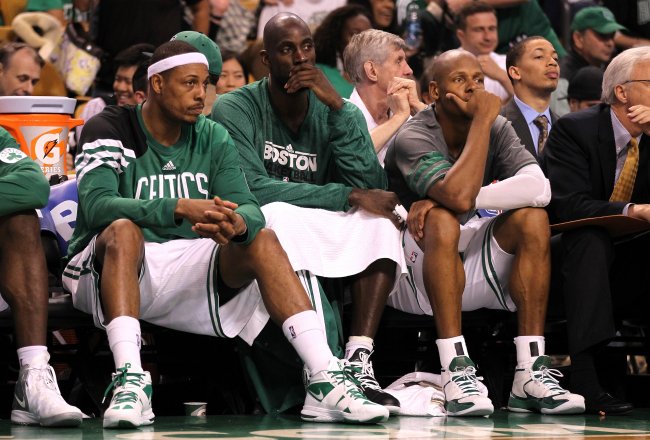 Jim Rogash/Getty Images
The Celtics weren't especially healthy throughout this postseason, but that's not entirely a product of age. ACL injuries like the one Paul Pierce suffered don't discriminate against younger players–certainly not Derrick Rose and Iman Shumpert, whose torn ACLs made Pierce's sprain seem mild in comparison.
More importantly, this team still has a young engine in Rajon Rondo and a rapidly improving backcourt piece in Avery Bradley.
This team wasn't perfect though.
It still needs a supporting cast, especially on the bench where Ray Allen's temporary foray into sixth-man service was the closest thing to a useful reserve this team had. Perhaps Jeff Green will provide that help next season, or maybe Boston can land a key role player or two on the free agent market.
The 21st and 22nd selections in the draft won't hurt either, especially in a draft so deep with talent.
The bottom line is that Boston has options, options that don't require President of Basketball Operations Danny Ainge to do anything drastic. That might change if Garnett retires, but until then–it's worth building on the infrastructure already in place.
It didn't do too shabby this time around, even against those 'unbeatable' Heat.
This article is
What is the duplicate article?
Why is this article offensive?
Where is this article plagiarized from?
Why is this article poorly edited?

Boston Celtics: Like this team?