Heat vs. Thunder: Biggest X-Factors of 2012 NBA Finals
June 10, 2012
Mike Ehrmann/Getty Images
Fans are receiving their dream series.
The Oklahoma City Thunder and Miami Heat provide everything fans want to see: superstars, youth, athleticism, physical play and a brewing rivalry.
This series also provides possible X-factors that could be the ultimate difference-makers. Here are some of the biggest X-factors in the 2012 NBA Finals. 
Chris Bosh played his biggest game of the Eastern Conference finals on Saturday night. After coming back from injury, Bosh's minutes increased from 14 to 28 in Games 5 and 6. And in Game 7, he effectively logged 31 minutes of floor time, scoring 19 points on 8-of-10 shooting.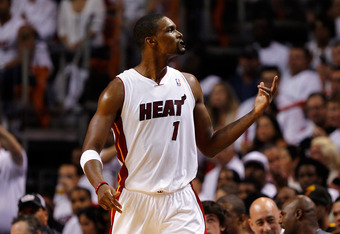 Mike Ehrmann/Getty Images
After seeing a bit of rust in his first two games, Bosh is back at full strength.
Going up against a talented front line of Kendrick Perkins and Serge Ibaka, Bosh will have to play valuable minutes in the finals. His jumper will need to be on point.
With his jumper falling, he will force Ibaka, one of the best shot blockers in the league, away from the basket, and LeBron James and Dwyane Wade will benefit from Ibaka being forced on the perimeter.
Advantage Heat. 
Bosh will play a major role into who wins this series. 
Serge Ibaka
Depending on how OKC decides to match up with Miami, Ibaka will be guarding Bosh or Joel Anthony.
If the Thunder decide to go small, putting Perkins on the bench, Ibaka will stay closer to the rim, allowing for more block/altered shot opportunities. 
But if Ibaka is forced to guard Bosh 15 to 18 feet away from the basket, he will have to find other ways to be effective.
Ibaka will need to run the floor, grab offensive rebounds and produce offensively to keep the Heat honest down low.
With all this talk about each team's big three, Ibaka is going to have a big say in who wins this series as well.
Oklahoma City has three offensive weapons. Kevin Durant, Russell Westbrook and James Harden provide exceptional athleticism and overall scoring ability.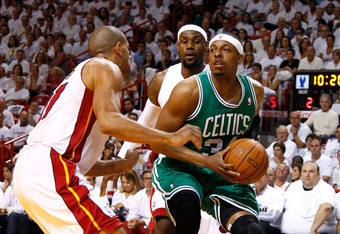 Mike Ehrmann/Getty Images
James and Wade will be matched up with two of the three, leaving the third to be guarded by someone else.
Enter veteran Shane Battier.
This is what he was brought to Miami to do.
Jason Terry lit up Miami last year in the finals, and Miami thought that its best bet would be to add a defensive-minded player.
It's his time for Battier to prove his worth. He has been awful, at times, offensively in the regular and postseason. He scored only 4.8 points per game on 39 percent shooting in the regular season.
However, he can make people forget about his performance if he can play well in the NBA Finals. His ability to defend one of the big three and hit the occasional outside jumper will be a major difference maker in this series.