Poland vs. Russia: Date, Start Time, Live Stream and Preview
June 10, 2012

Christof Koepsel/Getty Images
On one side of the pitch, you have the group favorites, Russia. They proved their worth in their first game, thumping the Czech Republic 4-1. On the other side, you have Poland, a team playing on pure emotion gained from a whole nation of support and almost grabbed a victory from the Greeks before ending in a draw.
Sounds a little like a David vs. Goliath kind of match, and one that has set itself up nicely for an upset, you think?
Poland will have it tough in this match with Russia, especially after the Russians showed the rest of group exactly why they are the favorites. Nonetheless, Poland will look to come out strong after failing to get the full three points in their last match. With the hometown support that they will be getting in Warsaw, Poland could be playing on a huge high.
As for Russia, they are coming off an easy, yet well-deserved, win against the Czech Republic. If they expect to do the same to Poland, they must keep that foot on the pedal and keep the confidence from the last match growing. After a game of such simplicity against the Czech's, Russia must not come out flat or they will be caught early by a Polish team who will be coming out of the gate flying.
Where: National Stadium Warsaw, Warsaw, Poland
When: Tuesday, June 12 at 2:45 p.m. EST
Live Stream: ESPN3.com
Last Game
Poland
The team came out just as expected, strong. When you have a stadium that is backing you with all their heart, it will affect your play.
The team got off to a good start and were able to put themselves up early leading 1-0 going into the second half. The first half was complete domination by Poland. Who, with the help of the crowd I am sure, came out and pinned the Greeks in their own end.
In the second half, however, it was a different story.
Greece picked things up and while being down a man were able to tie up the match. Poland had to get themselves out of a few jams, including a red card to their goalkeeper, which turned out alright after the backup came in and made the save on the ensuing penalty attempt.
All in all, both teams had chances and each were only able to capitalize once. Poland will need to see a more complete game from themselves and use the energy from the crowd all game if they want to see themselves match up with Russia competitively.
Poland coach Franciszek Smuda realizes that gaining a point is a lot better than nothing, he tells Timothy Heritage of Reuters:
"The opening game in such a big tournament often ends with a draw but all is not lost," said Smuda. "We will play at least two more matches at Euro 2012 and we must win both of them."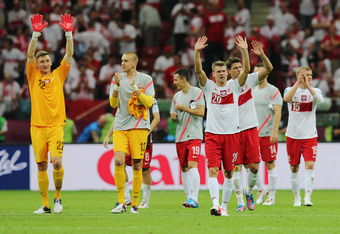 Alex Grimm/Getty Images
Russia
I am not sure if everyone was expecting to see Russia pull off the 4-1 win against the Czech Republic, but if they were not, I am hoping they are taking notice now.
Russia had a good qualifying session, taking tops in their group but were not given enough credit at the Euro's. Sure, they have been lucky enough to be put in the weakest group, but that does not mean their matches are going to be walk overs.
Their last game, however, they made it seem like group 'A' was not going to be a challenge for the Russians at all.
After taking an early 2-0 lead, they were given something to work against after the Czech's got within one. Yet again, however, the Russian offense took over and they were able to add two more goals before winning 4-1.
This side has great attack prowess and if anyone is looking to stop them, they have to stop the ball from getting into the back of their net.
Russia coach Dick Advocaat tells the Daily Mail U.K. that his team's performance was good enough for this stage of the tournament but needs to improve:
'We are quite happy, we scored four goals and in any international game that is a very good result," Advocaat said. 'We could have scored more goals, in fact we should have scored more as we had a lot of chances. It could have been 2-2, there were moments where we need to be sharper, at certain points they had a lot of space and were very dangerous."

 
Player to Watch
Robert Lewandowski
He showed in the first match that he will be a crucial key to the Polish team advancing out of the group.
The Borussia Dortmund striker is no stranger to scoring, as he was able to net 22 goals in 34 appearances for his club team. On the national level, he has nine goals in 24 appearances dating back to 2008.
In order for the Polish team to move on out of the group, Lewandowski needs to make sure he controls the attack. Adding a goal here and there would help, as he did in his team's previous game against Greece.
That goal, which took the lead in the first half, turned out to save them by the end. With the game ending in a draw, Lewandowski's goal saved them a point, and if they want to be saved from this group. his boot needs to be producing more.
After his goal in the first game, the rumors picked up again about his move to Manchester United. Lewandowski however, tells the Daily Mail U.K. about his thoughts on that situation at the moment:
'I am so happy to score this goal in the opening match. But I'm not going to concentrate on these issues (joining United). Euro 2012 is the priority. I'm totally focused on the national team.'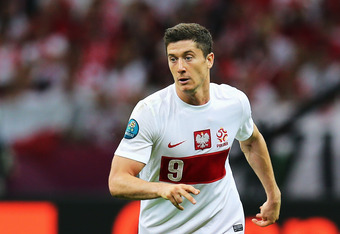 Alex Grimm/Getty Images
It looks like he has his head in the right place for an important tournament like this. Which could be a dangerous thought for opposing goalies, considering his strong start to the tournament already.
Recent Meeting
It has been a while since these two teams have met for any sort of important matchup, having to go all the way back to August 22, 2007.
That game was played at home for Russia, in Moscow, and they saw a 2-0 lead squandered after half to the Polish team. The game ended in a 2-2 draw.
If past results are anything to go by, Poland should be looking to this match as motivation. Most likely they will find themselves down to Russia, but hopefully, they do not see themselves ever out of the game.
Although this match was played almost five years ago, it is still refreshing for a team like Poland to know that they have been in tight spots before and have been able to get results.
Final Prediction
Russia showed in their first match they are a really strong team, especially on the attacking front.
Poland will need to come out with a bunch of energy and put the pressure on Russia quickly. If they can hold sustained pressure in the first half, possibly netting a goal while keeping a blank sheet themselves, they may be able to squeeze out a victory.
However, the most logical prediction would be a Russian win, with Poland playing a much tighter and more competitive game than the Czech's did against the group favourites, but still with the same result.
Russia 2 Poland 1