Nadal vs. Djokovic: Updated Weather Forecast for 2012 French Open Finals
June 10, 2012

Clive Brunskill/Getty Images
Why does rain always have to ruin something special?
According to CBSSports.com's Twitter feed, the French Open has been suspended for rain. 
The French Open Final has been suspended for rain. Nadal leads Djokovic 2 sets to 1, Djokovic leads Nadal 2-1 in the fourth set.
— CBSSports.com (@CBSSports) June 10, 2012
This is the second delay of the match. 
UPDATE: According to Tennis Connected's Twitter feed, French Open play has been suspended until Monday at 7 a.m. ET.
Play has been suspended for the French Open men's final. The action will resume at 7am Eastern time. NBC has the action.
— Tennis Connected (@TennisConnected) June 10, 2012
Rafael Nadal was dominating Novak Djokovic through two sets. He won the first set 6-4, showcasing his top-notch French Open Final form. He was on top of his game, working the court and making clean contact.
His success continued in the second set, which he won 6-3. He looked well on his way to yet another French Open title.
Then, Djokovic found his form and confidence. His strokes were clean, he made few errors and he was beginning to frustrate Nadal.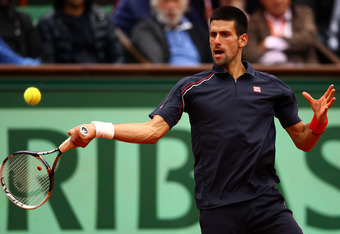 Clive Brunskill/Getty Images
Djokovic won the third set 6-2. Suddenly, he had life, and the crowd was beginning to believe he could storm back too. 
Nadal wasn't very happy to be playing on the slick clay due to the weather. He was noticeably getting upset, and he was allowing it to get to his play.
By the time the fourth set began, Nadal was having even more trouble with his contact. Part of it was probably the rain on the clay causing unfortunate bounces, but his confidence level also wasn't where he needed it to be.
Djokovic ended up winning eight straight games. 
But now we wait for mother nature to tell the rest of the story. 
As rain continues to be a steady drizzle, stay tuned to see if they get back on the court.