Ireland vs. Croatia: Biggest X-Factors for Irish to Pull Upset
June 10, 2012

Jamie McDonald/Getty Images
Ireland may not be one of the tournament favorites—frankly, most people would be surprised if they advanced to the quarterfinals in the tough Group C—but the Irish squad is not to be taken lightly, either.
They are unbeaten in 14 straight games
Robbie Keane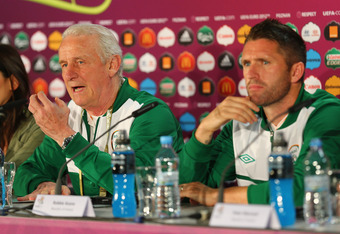 Handout/Getty Images
With 53 goals in 116 caps for Ireland, the success of this Irish team begins and ends with the performance of striker Keane.
The Irish are a gritty, stout defensive team, happy to sink back and absorb the attack. With that mentality, they'll look to Keane on the counter-attack to find the back of the net.
Maintaining a solid defensive presence and chipping in a surprise goal or two could be the secret for the Irish to beat Croatia. And the one player on the pitch capable of chipping in a few goals is the savvy veteran, Robbie Keane.
James McClean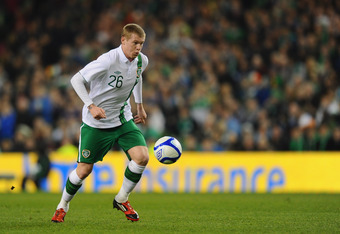 Mike Hewitt/Getty Images
The Sunderland winger was one of the surprises of the Premier League season, scoring six goals and tallying four assists in 29 appearances for the club.
McClean is strong and brings solid pace coming up the wing. I would expect him to have his hand in most Irish counter-attacks. He's an excellent crosser, and a McClean-to-Keane connection for a vital goal would not be surprising in the least.
Keep an eye on the 23-year-old during this match—if he is a major factor, the Irish will make life difficult for Croatia.
Glenn Whelan and Keith Andrews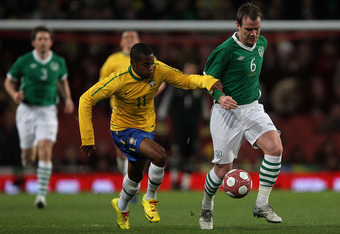 Hamish Blair/Getty Images
The two central midfielders will have a tough task against Croatia: slowing down the keystone of the Croatian attack, central midfielder Luka Modric.
Both are familiar with Modric, having done battle with the Tottenham playmaker in the Premier League, Whelan at Stoke City and Andrews at West Bromwich Albion.
They will be the key in Ireland's strong defensive strategy. If they can bottle up Modric and force other Croatian players to fuel the attack, they'll have done their jobs and given Ireland a major advantage. But if Modric is given space and time to clinically play passes to his teammates, the Croatian attack will eventually find the back of the net, and Ireland will lose this match.
Hit me up on Twitter—my tweets really wanted to have another.