Houston Texans: 3 Role Players Who Must Perform Like Stars in 2012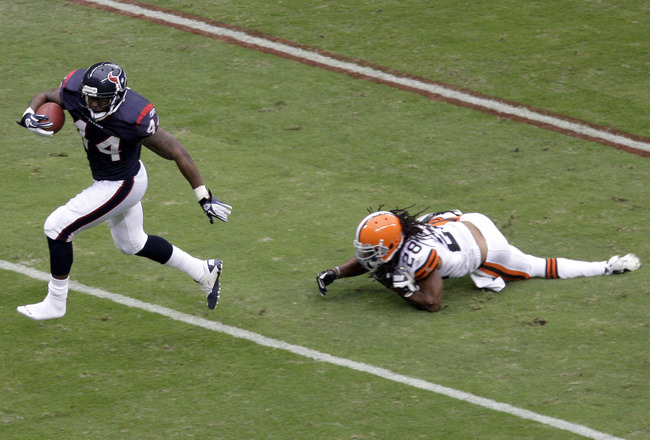 Thomas B. Shea/Getty Images
With former Indianapolis Colts quarterback Peyton Manning injured for all of last season, the Houston Texans seized the opportunity to take over the AFC South, winning the division at 10-6 and making their first playoff appearance in franchise history.
The Texans got to the playoffs through the tremendous play of quarterback Matt Schaub, wide receiver Andre Johnson and even running back Arian Foster, who missed some time with a hamstring injury.
Can Houston repeat as AFC South champions?
If they're going to, they must get outstanding performances from their stars and also have their role players play like stars.
Here are three role players who must perform like stars in 2012 should the Houston Texans make their second consecutive playoff appearance.
Kevin Walter, Wide Receiver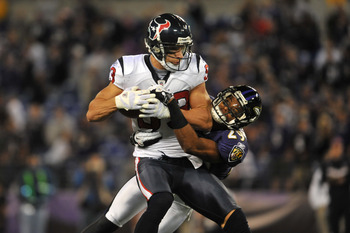 Larry French/Getty Images
2011 Statistics: 39 receptions, 474 yards, three touchdowns
Currently listed as the Texans' No. 2 wide receiver, Kevin Walter is arguably more of a role player than a star. There's absolutely a star wide receiver wearing a Houston jersey on Sundays, but that's Andre Johnson, not Kevin Walter.
He is a good No. 2 for Houston, though, catching nearly 40 passes last season and bringing three of them home for touchdowns. His production has really digressed over the last few seasons since he caught 60 passes for nearly 900 yards in 2008.
Regardless of where on the depth chart he's listed, the Texans need him to play his best every week.
Teams go into games against Houston knowing that they're going to have their troubles with Johnson. If Walter can take advantage of his superstar teammate being double covered on most plays, it will definitely payoff for himself and the Texans going forward.
We all know that Matt Schaub can put his passes wherever he wants. Walter just has to be there to catch them.
Johnathan Joseph, Cornerback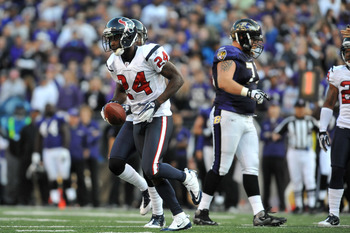 Larry French/Getty Images
2011 Statistics: 44 tackles, one forced fumble, four interceptions
Last season, Johnathan Joseph showed us that he was still capable of playing a high level of defense in his first stint with the Houston Texans. He finished seventh on the team in tackles and tied for the Houston lead with four picks.
The Houston defense was one of the best in the league in 2011, ranking in the top five of scoring, total yards per game as well as passing and rushing yards per game. Joseph played a big role in making that happen, but also got help from defensive standouts Brian Cushing, J.J. Watt and Jason Allen.
Joseph is crucially important to the success of the Texans since he's the starting cornerback and usually has the duties of covering the opponents' top wideout and making sure he stays out of the end zone.
Defending opponents such as Pierre Garcon, Laurent Robinson and Nate Washington aren't the easiest of tasks, but Joseph did a good job of doing it last season.
Without Joseph playing lock-down defense at corner, Houston doesn't win games. He is definitely one of the Texans' role players who needs to play like a star next season.
Ben Tate, Running Back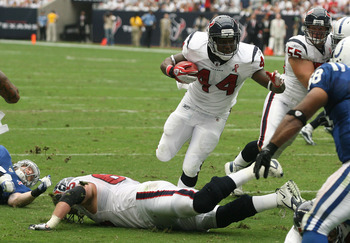 Thomas B. Shea/Getty Images
2011 Statistics: 175 carries, 942 yards, four touchdowns
When Arian Foster was sidelined with a hamstring injury, Houston's depth at running back was definitely in question. Ben Tate answered those questions as soon as he stepped on the field for his rookie season, running for nearly 1,000 yards.
His 942 yards in the regular season put him among the top 20. He's also only one of two players on that list with less than 200 carries. Pretty good for a backup, right?
Foster just earned himself a huge contract, which might not be the best news for Tate, but if he can put up similar numbers this season, he'll definitely be getting some calls once he's a free agent.
Getting back to this upcoming season, Tate should have a lot to prove.
Can he be the backup that Houston needs? Can he handle the load should Foster get injured again? Is he a player to keep for the future or maybe trade him to acquire a draft pick or two?
These are all viable questions that will be answered in 2012.
The Houston running game ranked second in the league in total yards and Tate will be a big part of making that happen again this season.
Keep Reading

Houston Texans: Like this team?