NBA Free Agency 2012: Veteran Free Agents Who Can Still Make an Impact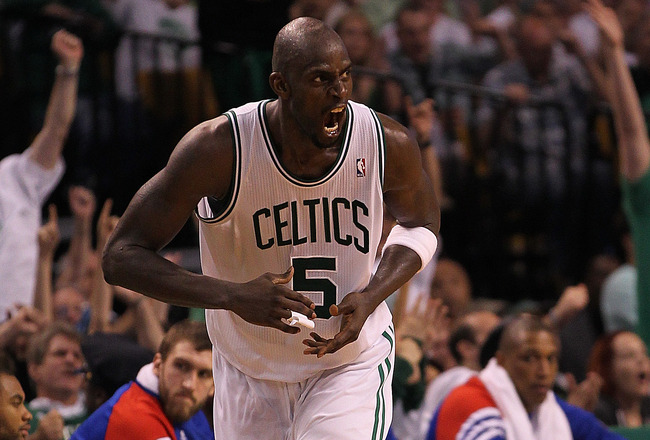 Jim Rogash/Getty Images
This year's free agent class, although lacking in superstars, features many impact players that can make a big difference for any team that signs them.
Part of this depth is thanks in part to the veterans—players who have seen their best days come and go, but still remain at a high playing level.
An interesting concept: while it's thought that an NBA player hits his peak around age 28, at what age are players considered a veteran?
For the sake of this article, we'll make the minimum age for a veteran 32 years old. This means that the players would likely have at least 10 years of playing experience in the league, accumulating plenty of wear and tear on their bodies.
With that being said, here are the ten best veteran free agents on this year's market that can still make an impact.
Honorable Mention: Chauncey Billups, PG/SG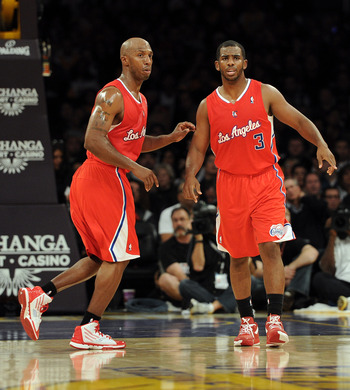 Harry How/Getty Images
Age: 35

Years in NBA: 14

2011-2012 Stats Per Game: 15 points, 2.5 rebounds, 4.0 assists, 16.10 PER
Billups would be much higher on this list if not for the uncertainly he brings following surgery for a torn Achilles tendon.
Vowing to come back to the NBA, Billups is expected to miss the first two months of the 2012-2013 NBA season while he recovers from surgery.
Playing as a shooting guard last season next to Chris Paul on the Clippers, Billups proved that he still has a lot to offer a team, and his leadership and clutch shooting would be welcome on most NBA rosters.
10. Kenyon Martin, PF/C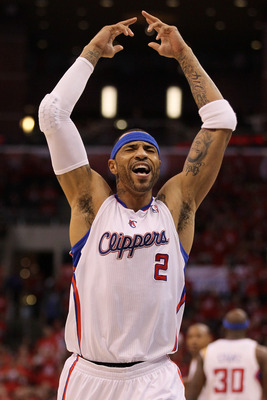 Stephen Dunn/Getty Images
Age: 34

Years in NBA: 11

2011-2012 Stats Per Game: 5.2 points, 4.3 rebounds, 1.0 blocks, 9.93 PER
Martin may be a shell of his former self, but he showed what he can still do after signing on with the Clippers this season.
A strong, defensive force off the bench, Martin can still be very valuable to a contender looking for some extra toughness.
Don't expect the Nets or Nuggets version of Martin, but enjoy the hard fouls and blocked shots Kenyon can provide on a nightly basis.
9. Jason Terry, PG/SG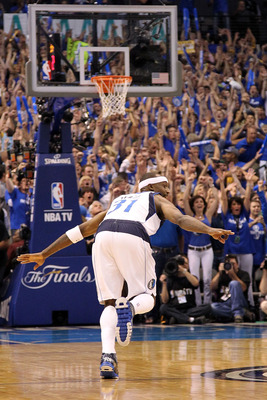 Mike Ehrmann/Getty Images
Age: 34

Years in NBA: 12

2011-2012 Stats Per Game: 15.1 points, 2.4 rebounds, 3.4 assists, 15.80 PER
The Jet may soon be flying out of Dallas, a place he has called his NBA home for the past eight seasons.
Still a light-it-up scorer in a starting lineup or off the bench, Terry brings impressive lifetime shooting percentages of .380 on three-pointers and .846 from the charity stripe.
At 34 years of age, look for Terry to latch onto a contender in a sixth man role, one that he has so brilliantly played for much of his time with the Mavericks.
8. Grant Hill, SF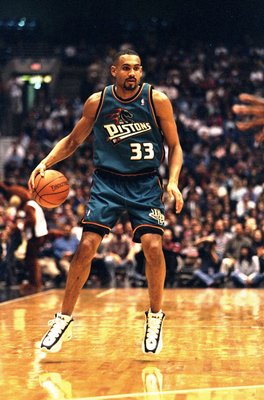 Andy Lyons/Getty Images
Age: 39

Years in NBA: 16

2011-2012 Stats Per Game: 10.2 points, 3.5 rebounds, 2.2 assists, 12.34 PER
Plagued by injuries through a large part of his career, many often forget just how good Grant Hill was.
In just his second pro season, Hill averaged 20.2 points, 9.8 rebounds and 6.8 assists while with the Detroit Pistons.
One of the game's all time good guys, Hill remains a very productive basketball player despite nearing the age of 40. The Suns' medical staff is truly the best in the business, as they've kept Hill and 38-year-old Steve Nash playing at a high level and even helped bring Michael Redd back from his basketball grave.
7. Andre Miller, PG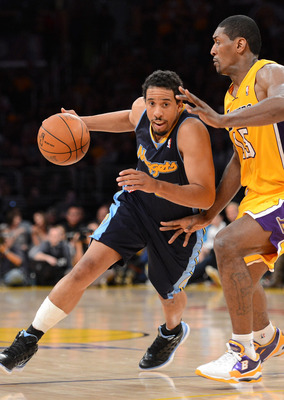 Harry How/Getty Images
Age: 36

Years in NBA: 12

2011-2012 Stats Per Game: 9.7 points, 3.3 rebounds, 6.7 assists, 14.84 PER
Nothing about Miller's game screams flash, but that's ok; as he's been one of the NBA's best secrets the past ten-plus years.
A former NBA assists leader, Miller has been a staple of durability and stability during his time with the Cleveland Cavaliers, Los Angeles Clippers, Philadelphia 76ers and Denver Nuggets.
Some sources say he's eyeing a new team, however—one on which he could most definitely win the starting job and compete for a championship.
6. Antawn Jamison, PF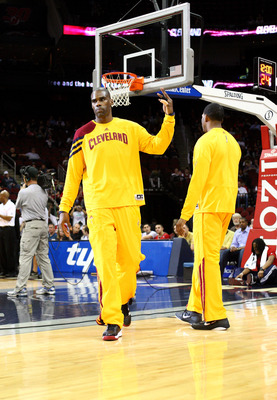 Chris Chambers/Getty Images
Age: 35

Years in NBA: 13

2011-2012 Stats Per Game: 17.2 points, 6.3 rebounds, 2.0 assists, 16.17 PER
Jamison remains in tremendous physical shape for a 35-year-old, and can still fill up the score sheet and even rebound from time to time.
His scoring stats are somewhat inflated, as he spent last season on a Cavaliers team with few other scorers.
But teams will be getting a great leader, role model and still productive player in Jamison. There are several clubs that should be interested, as Jamison has made it known he's looking for a change of scenery.
5. Jamal Crawford, PG/SG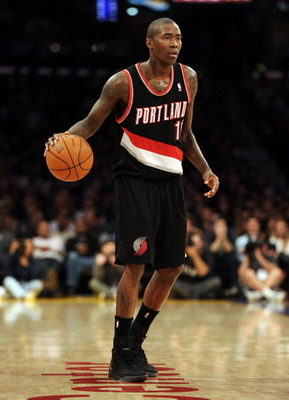 Harry How/Getty Images
Age: 32

Years in NBA: 11

2011-2012 Stats Per Game: 14 points, 2.0 rebounds, 3.2 assists, 15.80 PER
Crawford brings a similar skill set as that of the previously listed Jason Terry, as he's best suited for a sixth man role.
A former Sixth Man of the Year award winner in 2010, Crawford was thrown into a terrible Blazers situation, as poor play from starting point guard Raymond Felton and a slew of midseason trades and firings diminished what started out as a very promising campaign.
Crawford has a player option for the 2012-2013 season that he has already opted out of, becoming an unrestricted free agent.
Could a joining of forces with Ricky Rubio, Kevin Love and company be in the future?
4. Ray Allen, SG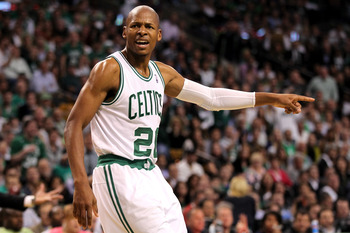 Jim Rogash/Getty Images
Age: 36

Years in NBA: 15

2011-2012 Stats Per Game: 14.2 points, 3.1 rebounds, 2.4 assists, 14.83 PER
Allen wasn't his true self this postseason, battling bone spurs in his right ankle that he plans to have surgery on and remove as soon as possible.
Despite this, Allen remains in fantastic shape and could still knock down threes standing on one leg in the middle of an earthquake.
His return to Boston is questionable, as it's likely he could explore other opportunities out west.
3. Tim Duncan, PF/C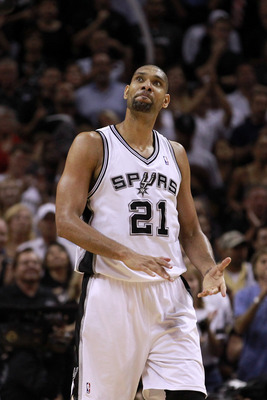 Ronald Martinez/Getty Images
Age: 36

Years in NBA: 14

2011-2012 Stats Per Game: 15.4 points, 9.0 rebounds, 1.5 blocks, 22.60 PER
Although technically Duncan is a free agent, he's made it known he's not going anywhere, saying:
"Though I shouldn't say that -- I have to threaten them that I'll leave," Duncan joked. "No ... I'm not going anywhere. You can print that wherever you want to. I'm here and I'm a Spur for life."
It would be just too weird to see Duncan in Laker purple and gold or Knick orange and blue, so it's satisfying to hear that he's staying in San Antonio.
While his stats still remain impressive, old Timmy's been much more susceptible to posterizations lately.
2. Kevin Garnett, PF/C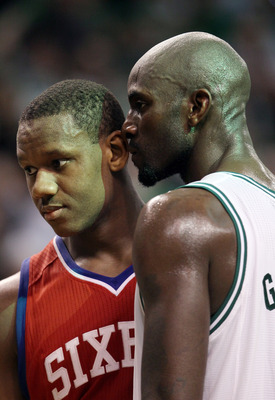 Elsa/Getty Images
Age: 36

Years in NBA: 16

2011-2012 Stats Per Game: 15.8 points, 8.2 rebounds, 1.0 blocks, 20.47 PER
Garnett is coming off a fantastic season after a move to the center position and should carry a high value—at least on the defensive side—for years to come.
The biggest trash talker and self-motivator in the league, his intensity can never be questioned.
I'm hereby lobbying for the San Antonio Spurs to make a play for Garnett, as a paint filled with Duncan and Garnett would be just too much greatness for opposing teams to handle, even if it is about ten years too late.
1. Steve Nash, PG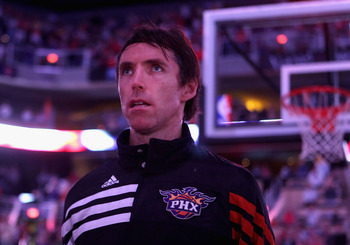 Christian Petersen/Getty Images
Age: 38

Years in NBA: 15

2011-2012 Stats Per Game: 12.5 points, 3.0 rebounds, 10.7 assists, 20.29 PER
Nash may be 38-years-old, but he plays with the passion and athleticism of someone half his age.
The list of teams lobbying for his services have included the Miami Heat, New York Knicks, Chicago Bulls, Toronto Raptors, Dallas Mavericks, Brooklyn Nets, and yes, even the Phoenix Suns.
Nash is looking to sign one last three-year deal, and is apparently welcoming any and all sales pitches.
A two-time NBA MVP, Nash is still chasing the a Finals victory and ultimate accomplishment, one that has alluded him for over 15 seasons now.
Here's hoping a class act like him gets it, as few players in this league can match his work ethic and determination.
Keep Reading