French Open 2012: Jo-Wilfried Tsonga Proved He Will Be a Major Player in 2012
June 11, 2012

Clive Brunskill/Getty Images
Despite losing to Novak Djokovic in the 2012 French Open, Jo-Wilfried Tsonga put his name on the map.
In a hard-fought match against the world's top-ranked men's tennis player, Tsonga came one point shy of upsetting Djokovic in the quarterfinals. Tsonga, who could have been the first Frenchman to win the tournament in 29 years, fell 6-1, 5-7, 5-7, 7-6 (8-6), 6-1.
Entering the French Open as the No. 5 seed, few expected Tsonga to make it past this point of the tournament. In a sport dominated by its stars, the highly-anticipated final matchup of Djokovic versus Rafael Nadal did not surprise anyone.
Yet, Tsonga was one point away from shocking the world and threatening the current landscape of men's tennis. Can Tsonga take the next step and join Djokovic, Nadal and Roger Federer as one of tennis' elite athletes?
Very few people besides Tsonga can contend with the sport's top three stars. While he fell short to Djokovic in their quarterfinals matchup, Tsonga has defeated both Nadal and Federer in the past. He bested Nadal in the 2008 Australian Open and topped Federer at Wimbledon last year.  
The 27-year-old certainly displays the skills to emerge as one of the sport's top competitors. Although he is larger than most other players at 6'2" and 200 pounds, Tsonga can move well around the court. He possesses a powerful serve and can hammer down forehands with authority.
Tsonga's exciting style of play has made him a beacon of hope among French citizens searching for a budding star they can support. When playing to his full potential, Tsonga can fight tooth-and-nail with anybody in the world.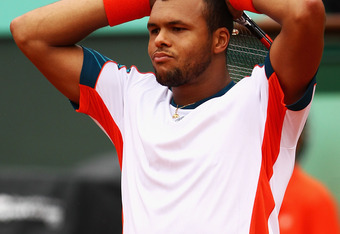 Clive Brunskill/Getty Images
Unfortunately, he has yet to consistently play at a high level during his career. Displays of brilliance followed by catastrophic letdowns are common for Tsonga, who captured the second and third sets against Djokovic before squandering a lead in the fourth set. 
Grantland's Louisa Thomas described the enigma surrounding Tsonga.
Tsonga is insanely talented, a big guy who can make the ball look small and weightless, and he hits thrilling, unexpected shots. He also hits stupid shots, and the knock on him is that he doesn't seem to care.
A young athlete whose immaturity prevents him from living up to his tremendous physical skills is far from a new narrative. Tsonga often appears to check out during stretches and is unable to later atone for his mental lapses.
While he showed positive signs in his his near defeat against Djokovic, Tsonga almost failed to reach the quarterfinals after nearly losing to No. 18 seed Stanislas Wawrinka in the previous round.  
Confidence also is not a big part of Tsonga's game. Before the tournament began, Tsonga discounted the chances of any fellow countrymen winning the tournament in their home nation.
Maybe he was just being brutally honest and stating a fact that everyone realized. After all, he was right. Tsonga's elimination sealed the deal on his prediction, and Nadal won at Roland Garros for the seventh time.
In the United States, people look down on athletes aware of their own humanity. Fans of any sport embrace competitors who do not even acknowledge the possibility that they are not the best.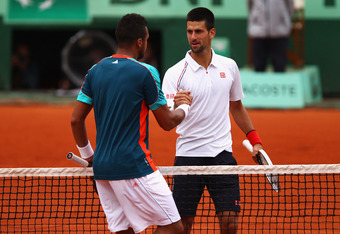 Clive Brunskill/Getty Images
Perhaps Tsonga should not have bluntly stated that he and every other French native had no chance at winning the French Open, but wouldn't he have earned some equally shocked reactions by declaring himself a favorite? He just announced something that the rest of the world already assumed.
Tsonga has plenty of years ahead of him to mature and hone his craft. If he can learn to maintain focus throughout his matches, he could reach the later rounds of the U.S. Open and Wimbledon this year. He just needs to nail down that last point.
While Tsonga still has a way to go before reshaping the hierarchy of men's tennis, he is on the brink of entering that premier class of stars. The same guys cannot stay on top forever. Eventually, somebody is going to come and initiate the changing of the guard.
No man is in a better position to do that than Tsonga. Look for him to leap into the sport's upper-echelon of stars in the near future.