Pacquiao vs. Bradley: Manny Pacquiao Split-Decision Spits on American Values
June 10, 2012

David Becker/Getty Images
Feeling ripped off today? 
Feeling like you might as well have flushed the hard-earned money you paid to watch the repulsive mess that was the Manny Pacquiao vs. Timothy Bradley fight down the toilet?
Well, if you feel this way, you are not alone.
Today, millions of boxing fans cannot help but stew at a split decision made by three judges who should be ashamed of themselves.
Understand I have absolutely no emotional connection to either boxer, and I am sure both men worked like warriors to prepare for this fight.
But what fans watched Saturday was an abysmal steaming pile of corrupt cow dung of epic proportions.
The boxing world—and all the corrupt souls responsible for this mess—should be indicted for stealing from hardworking Americans.
You know that, for all the heat Roger Goodell and the NFL take, the league goes to the ends of the Earth to get most calls right.
For all the grief MLB takes for lagging behind the times with instant replay, they too get it right most of the time. And when the old heads do get it wrong, at least fans do not walk away thinking the league is a hopeless mess.
For all those who argue horse racing is a corrupt sport hobbling on its last legs, at least at the end of a race, spectators know exactly who won.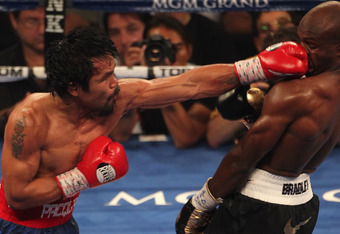 Jeff Bottari/Getty Images
But for some reason, in boxing, you can knock the snot out of your opponent only to fall prey to three judges who seem to have had their own agendas.
Frankly, this decision spits on American values.
In America, many are taught to roll up the sleeves and work hard (good or bad), and opportunity will knock. Opportunity may not knock immediately, but with dedication and resolve, people can live decent lives.   
Although he's from the Philippines, Pacquiao epitomizes American ideals.
Here is a man who rose from a broken-home and deep poverty to become one of the finest pound-for-pound boxers in the world.
Here is a man who, despite his world falling around him, found courage within his core to complete his education en route to rising from the ashes to become a Philippine Congressman and Lieutenant Colonel in the Philippine Army Reserves.
Here is an honorable, soft-spoken man who has used his fame and fortune to give back to society.  
Yet, when push came to shove, none of this mattered, which perhaps was why Pacquiao appeared so shocked when interviewed by ESPN's Dan Rafael after the fight.
In the end, integrity, service and selflessness fell victim to corruption, greed and dishonor toward a man who undoubtedly deserved to win this fight.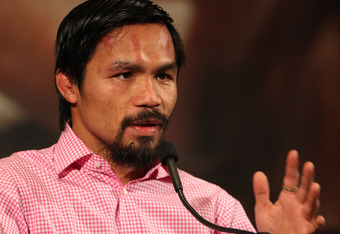 Jeff Bottari/Getty Images
While corruption in boxing is nothing new, for many Americans who paid their hard-earned money, this outrageous decision may be the last straw for a sport that had already been hobbling around the past two decades.
This is, unless men and women stand up with strength and honor and do what is right for Pacquiao.
But after having watched corruption all but destroy this once-respected sport, I will not be holding my breath.
Also Check Out:
5 Yankees Rookie Cards to Invest in Before they Skyrocket