Pacquiao vs. Mayweather: How Pac-Man's Loss Impacts Potential Super Fight
June 10, 2012

Jeff Bottari/Getty Images
Nobody likes to watch a loser.
Despite what happened Saturday night with Manny Pacquiao being robbed of a victory against Timothy Bradley, a loss is a loss. He was the loser Saturday night. 
You can now forget about Floyd Mayweather and Pacquiao's potential super fight because it lost all its leverage.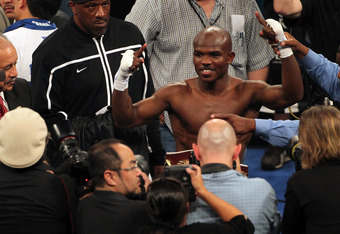 Jeff Bottari/Getty Images
I've always said that the worst thing that could happen is Pacquiao or Mayweather losing prior to their super fight. It would hurt the brand of boxing and would disrupt how large the event could be.  
With Pacquiao losing, we're about to find out how much it hurts boxing. Right now, I could care less if I see the super fight. 
It's like watching the Boston Celtics play Oklahoma City in the NBA Finals. Would that be as appealing as watching Miami play Oklahoma City?
No.
This fight lost all its luster and boxing won't be able to regain it. 
Pay-per-view buys should be down, the hype should be lower and people shouldn't be as excited about seeing it. 
But now we have to wait for the rematch of Pac-Man-Bradley in November before we hear talks of Mayweather.
Oh joy, just another delay in the talks. 
I cringe every time I hear "fix" or "rigged" in sports, but this case provided a legitimate gripe. Pacquiao dominated in punches landed, 253 to 159, his punches were much more powerful and he was more impressive.
But he still lost.
We can talk rigged all we want, but that's the biggest story to take away from what happened.