Manny Pacquiao vs. Timothy Bradley Controversy Has No Effect on MMA
June 10, 2012

Kevork Djansezian/Getty Images
You know what I hate? I hate that whenever there's even the slightest bit of controversy at a boxing pay-per-view, MMA fans always stand up and shout, "Another great night for MMA!" Never mind the fact that most of those fans don't actually follow boxing and are only aware of the existence of maybe a handful of fighters. 
Those fans were out in droves last night after the controversial split decision was read for the Timothy Bradley/Manny Pacquiao fight. Every journalist covering the fight scored the fight for Manny. It wasn't the best performance of his career, but there was absolutely no question that he was the better man on Saturday night. 
So when judges C.J. Ross and Duane Ford scored the fight 115-113 for Bradley, something was truly amiss. Heck, most view Jerry Roth's card of 115-113 for Pacquiao equally as unjustifiable. For everyone watching the fight, it was impossible. Sure, Bradley fought a hell of a fight and didn't quit after rolling his ankle, but showing heart and toughness is not an aspect of scoring.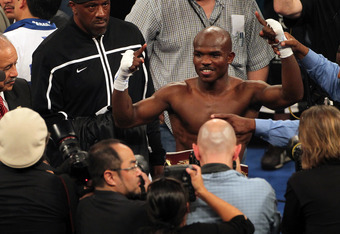 Jeff Bottari/Getty Images
Immediately after the scores were read, MMA fans and UFC personalities went to Twitter to either proclaim it the death of boxing or call it a huge win for the UFC.
Think about that for a second: A pay-per-view that is almost guaranteed to pull in over a million buys was the death of boxing. And though Zuffa had absolutely no shows going on that night, it was a huge win for the UFC. It's completely asinine.
Here's a little secret: Bad decisions happen in our sport too. They literally happen all the time. I know that whenever Leonard Garcia steps into the cage, I expect a judge or two to award him a decision, despite him not earning or deserving it.
And the crazy thing is, no one ever proclaims that a bad decision is the death of MMA.
Last night had nothing to do with MMA versus boxing. In fact, I'd go as far as saying that there's almost little to no crossover, as most MMA fans are just as unlikely to watch Friday Night Fights as a boxing fan is to watch UFC on Fuel TV. 
There's no way to fix boxing because there's nothing to fix. It's a commission issue.
Through his obvious anger, UFC President Dana White said it best:
Nevada state athletic commission at its finest!!! Youve for to be fucking kidding me!! that is disgusting Nevada state athletic commission!!

— Dana White (@danawhite) June 10, 2012
While he's likely going to regret being so critical of an athletic commission that he has to work so closely with, he's not wrong. The way to fix combat sports needs to start with either training or cleaning house at the state level.
Boxing didn't die last night, and in no way was it a win for MMA. When there's controversy, everyone loses. So please, MMA fans, shut up. Either watch the sport or don't, but don't ignore the fact that your sport is just as dirty. It's an insult to everyone's intelligence.