UFC Lightweights: 13 Epic Brawls We Would Love to See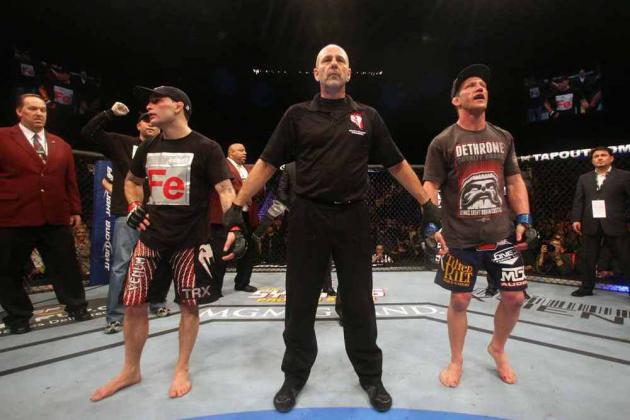 themmacorner.com
Baskin Robbins' 31 Flavors has nothing on the UFC lightweight division.
Now that BJ Penn is back in business and Jose Aldo and Gilbert Melendez might be coming to the party, suddenly doors are opening to a slew of incredible fights in the lightweight division.
That is not to say that the division needed Penn, Aldo or Melendez because it is so thick with talent that almost anyone in the top eight or ten could take the title by force on any given night.
We also don't know how long Penn is going to stick around. For the sake of argument, let's assume that the lure of incredible tests against incredible fighters brings him back down to 155.
Never has the sport seen a true pound-for-pound legend like Penn try to conquer such a stacked division. In all honesty, the welterweight and middleweight divisions haven't had as much talent and skill as the lightweight division has now: GSP and Anderson Silva never had to contend with so many serious threats to their titles.
It's a dream come true for fight fans, not to mention Joe Silva. It is incredibly rare for a match maker to have so many "can't lose" options at his disposal.
Then, when you factor in the very real chances of Jose Aldo moving up to challenge himself at 155, and the likely addition of Gilbert Melendez…well, it's unlike anything the sport has seen before.
I know, this is assuming much, but let's pretend we're Joe Silva for a moment and look at a small sample of possibilities.
Begin Slideshow

»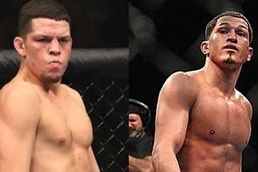 sports.yahoo.com
If you had to use one word to sum up this bout, it would be "explosive."
Anthony Pettis is one of the most exciting fighters in the game, being consistently active and unpredictable all at once.
And he loves to go for the finish, which is something his opponent knows all about.
Like Pettis, Diaz is an action fighter who offers a very high output in all of his fights, pushing for the finish any way he can get it.
Boxing goes to Diaz, while kicks and knees belong to Pettis. On the ground, one would have to think the submission advantage belongs to Diaz while wrestling goes to Pettis.
But even if you cast all of that aside, you have the attitude of both fighters: aggressive and in your face. Both men would walk into the cage confident of a victory, and they would fight just like that.
In a fight like this, someone is going to sleep, one way or the other.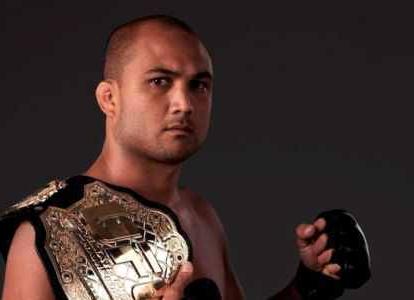 mmahits.com
God, this would be exciting.
Before proceeding, let's assume BJ Penn returns in the same form he was when he ruled the division before being ousted by Frankie Edgar.
A fight between Penn and reigning champion Benson Henderson would be incredible.
KO power, boxing and submissions go to Penn, while all other facets of striking, movement and wrestling go to Henderson.
Both men love to fight, and the amount of action seen would be on a very high scale.
Could Henderson utilize movement and leg kicks to soften Penn up for takedowns? Or would Penn find a home for his jab and heavy hooks and turn Henderson into a shell-shocked shadow of his former self, as we saw happen to Diego Sanchez when he got steamrolled by "the Prodigy?"
Stylistically, it's a toss-up. Henderson really knows how to keep an opponent guessing, striking at them as they try to adjust.
Penn, on the other hand, usually reacts to almost all opponents the same: He moves forward and looks to punch them in the mouth.
This would be a great test for both men and a huge treat for the fans.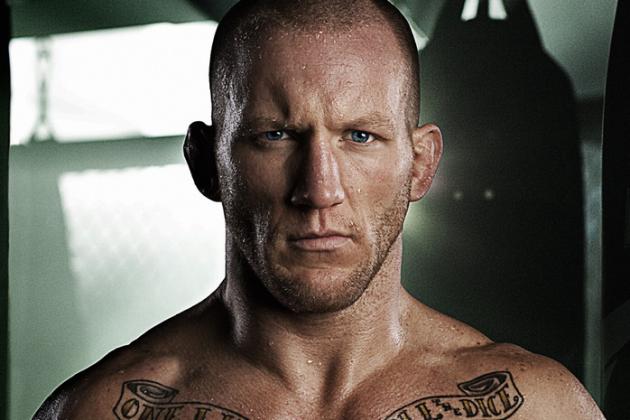 mmasucka.com
This would be a prime example of why wrestling and punching wins fights.
Even though Gray Maynard was stopped for the first time in his career against Frankie Edgar, he is still one of the most capable fighters in the division.
He's got serious power in his punches, great conditioning and possibly the best wrestling among all the lightweights.
In a fight with Gilbert Melendez, he would need every bit of that to win.
Melendez may honestly be the best fighter in the division. He's got just about the best overall game of them all, and his grappling base is very strong. When it comes to fighting, Melendez has the whole package.
Yes, he had yet another close fight with Josh Thompson that could have gone either way, but Melendez has proven time and again that he is just a cut above the other guy across the cage
This would be a fight heavy in boxing, wrestling and ground-and-pound, seeing both men dig down deep.
Would Melendez prove to be just as great as everyone says he is, or would Maynard be too strong and too good from on top?
If I had to pick, I would give a slight edge to Maynard, but would not be surprised if Melendez walked away with the win.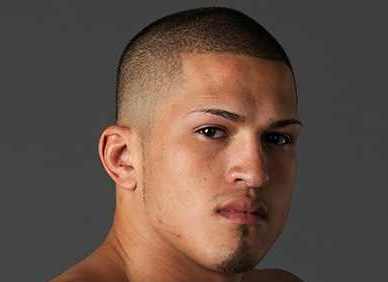 cagedinsider.com
There's nothing as fun as watching two brash, highly-skilled and motivated young men duel with their best weapons, and a fight between Donald Cerrone and Anthony Pettis would give us one thrilling showdown.
Although Pettis seems to have the edge in most of the relevant areas, Cerrone is still a very live dog in this fight.
If Cerrone could keep pressure on Pettis and crowd him, he could drag the fight into the later rounds, where Pettis might slow.
But knowing Cerrone, he'd want to beat Pettis at his own game, and we'd have a tough back-and-forth fight between two men who love to scrap.
Pettis looks like the faster fighter, and in a fight like this, the gunfighter with the quickest draw usually wins.
If anyone could appreciate that notion, if not fall downright in love with it, it would be Donald "The Cowboy" Cerrone.
Yeah, this one ends early.
Tracy Lee / Yahoo! Sports
Of all the fights on this list, Jose Aldo vs. BJ Penn is the biggest of them all—especially from a business standpoint. This fight could be one of the greatest fights the division has ever seen, especially if it was for a title.
When you imagine this, don't think of the BJ Penn that has struggled in his toils at welterweight; think of the BJ Penn that was running all over the division when he was champion.
And don't think of the Jose Aldo who gave away Round 5 in his fight with Hominick or his lackluster fight with Kenny Florian. Think of the man when he was at his WEC best.
Yeah, pitting those two beasts against each other is akin to pitting a honey badger against a wolverine.
Penn would do as he always does: march forward, letting loose his cannons while Aldo would probably circle and counter.
While Aldo probably has a slight edge in speed, Penn is still quick enough to land, and that is what makes this fight so exciting.
On the ground, it would be very interesting. Aldo is great on the ground, but Penn still holds the advantage, so it seems obvious that Aldo would do everything in his power to escape and get the fight back up.
I believe that most of this fight would be fought on their feet, and my god, would that be an epic war between both men, especially since each has proven to be a fast starter.
It would be a tale of two men throwing all they had at the other, and the end of the story would be two-fold: Who can take the most punishment, and which man would score more often with the heavier strikes?
My mind says Aldo, my heart says Penn.
Who knows?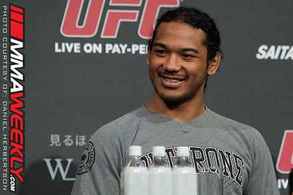 mmaweekly.com
This might be a shocking selection for some, but stylistically, it's a very intriguing fight.
Maynard is the better wrestler, while Henderson is the better all-around striker. Power goes to Maynard; speed to the champion.
If Henderson could successfully counter Maynard on the feet and stuff those takedown attempts, he'd have a good chance of winning, but he'd have to tighten up his striking defense. Maynard has very heavy hands and lands accurate punches when you least expect it.
Maynard would have to be able to cut off the cage, keep Henderson committed to defending his head against punches and get those takedowns by going under and deep.
This is one of those fights where, against conventional wisdom, I'd have to give the nod to Maynard. He's fast enough to catch Henderson on the end of at least a few of his punches, and his raw power is pretty unrivaled at lightweight.
But if Henderson could keep him honest by landing chopping leg kicks anytime Maynard took a heavy step forward in the set up of an attack, he could chop him down inside the 25-minute limit.
Or, they might just wind up slugging it out until one of them dropped.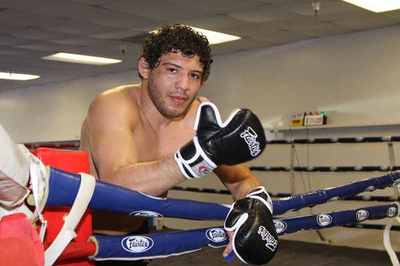 mmamania.com
When two men cut of the same cloth fight it out, it can either be boring or exciting as hell, and with Gilbert Melendez and Frankie Edgar, the latter seems the most probable.
And both men are in their prime years, which speaks to the significance of such a fight.
Both Melendez and Edgar have underrated wrestling and submission skills, and both have proven they thrive in those situations where they have to dig deep because an all-out brawl has found them.
And that's what I think this fight would be: an all-out brawl with moments of circling in an attempt to regroup.
Normally, in a clash of styles like this, I would give the edge to Edgar, who has shown he will go to hell and back in order to get a victory.
But the same could be said for Melendez, easily.
Neither man is content to look for a way out of a fight, even when it's getting painful and ugly. Each has been in that situation, and they slammed that door shut and opted to dig so deep that it looked like they might turn themselves inside out in order to get the "W."
This is the only fight on the list I could see going to a draw on the scorecards, but it would be thrilling as hell.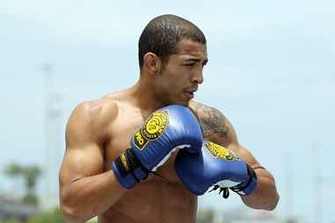 fiveouncesofpain.com
A brawl between two fast, powerful, explosive fighters who love to strike and have proven themselves able to end a fight in a heartbeat; that's the lure of Jose Aldo vs. Anthony Pettis.
Leg kicks galore, punches in bunches, jumping knees, take-downs, reversals, submission attempts and then back to the feet where it starts all over again.
Just trying to imagine it makes the mind weary.
In a fight like this, the winner is usually the man with a better grasp on the basics, and to my mind, that is Aldo. He has good defense and a great sense of timing, moving forward and making basic attacks look brutally artistic.
However, he's never had to face a fighter who brings it like Pettis, who is so off-the-wall that you never know when or where an attack is coming from.
This has every chance of becoming the same kind of great fight that boxing fans were treated to when Marco Antonio Barrera fought Erik Morales for the first time.
It is easy to imagine both men being battered in an exciting back-and-forth scrap that would never be short on action or energy.
Still, I give the edge to Aldo in a fantastic fight.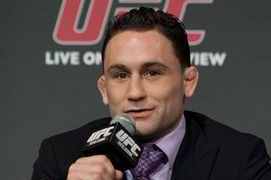 mmamania.com
In a fight between Nate Diaz and Frankie Edgar, everyone would be reminded why they love watching these two men in the ring.
We would see it all: the brash "come-on-and-fight-you-sissy" attitude of Diaz vs. the calm, calculated mind of Edgar, and all the while, fists and feet and bodies would be flying.
On the feet, it is very interesting. Diaz has the best overall boxing in the division, but he's never had to slug it out with someone who uses angles as good as Edgar, and in boxing exchanges, that makes a huge difference.
Kicks belong to Edgar, as Diaz rarely uses them. Submissions belong to Diaz, while wrestling and takedowns go to Edgar.
But this is not a fight decided on paper. Diaz has beaten men who were better wrestlers before, and he's now better than he's ever been.
As usual, it's the clash of styles that makes this fight great.
Diaz would be pushing forward and throwing punches all night long, trying to cut off the cage, box Edgar in and then ship him out. Edgar would be fighting hard to keep from being boxed in, ripping shots and pushing for takedowns just to get some breathing room.
This is one of the top four fights I'd love to see most.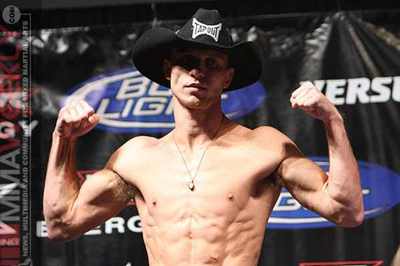 mmaweekly.com
As with any fight, there is a central question, and in the case of Donald Cerrone vs. Gilbert Melendez, the question is "can Cerrone keep Melendez from taking him down?"
If he can't, then Melendez should be able to either grind out a comfortable decision or win via TKO/cut stoppage.
If he can, then we've got a serious fight on our hands.
Melendez is more than capable of hanging tough with anyone in the division should a fight stay on the feet, but against Cerrone, he'd find himself once more in a true dogfight.
Cerrone has a very good striking game: not elite in any one area, but very good over all. If he could keep Melendez from taking him to the floor, Cerrone could have real success with a mixed bag of striking attacks.
Melendez is a bulldog with a serious bite, but in a fight like this, the reach of Cerrone would give him fits.
We could see hard leg kicks, punishing knees to the body and up-close slugging against the cage (much like Micky Ward vs. Emanuel Augustus Burton), and when you have all three for a prolonged period of time, you have a "Fight Of The Year" candidate.
And who wouldn't mind seeing a fight like that?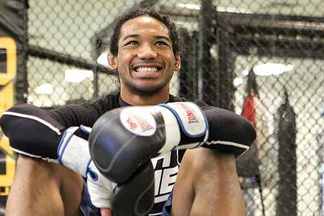 mmabay.co.uk
Another fight between two men of similar styles, Benson Henderson and Jose Aldo are so close stylistically that they could fight in the back yard at a family picnic.
The only problem for Henderson is that for everything he does, Aldo seems to do it a bit better.
The only problem for Aldo is that while he holds the advantage in many areas, Henderson is more than good enough in said areas to keep the fight close, and when coupled with the size and strength advantage Henderson enjoys, it becomes a very interesting match.
Whenever the name of Aldo is brought up in fight conversations, many seem to forget that while he really is incredible, he is also human. He has been punched square in the face before, and it will happen again.
In a fight with Henderson, he would have to make sure he avoided that much more often than not.
Once again, should Henderson utilize his superior size and power, he could crowd Aldo to the fence, making it a rough, ugly fight where he need only worry about the fists and elbows of Aldo rather than the addition of those brutal knees and kicks.
But Aldo is not just some simple math problem. The man knows how to move and find the range needed to cut loose with all his offensive weaponry.
In this fight, if forced to pick, I'd have to take Aldo via speed, angles and counter striking in a very close fight.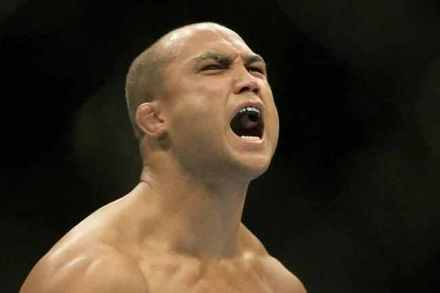 ufcgaming.com
In a bout like this, odds are, someone is leaving the movie early.
That's not to say that it couldn't end up being an epic war, because it very easily could. But both men have shown an ability to close the show quickly.
The one big disadvantage I see Anthony Pettis having in a bout like this is hubris: I can see him happily standing in the pocket with Penn, going toe-to-toe.
If that happened in the middle of the cage, Pettis could find enough space to land those brutal kicks, both to the legs and the head. If it happened against the cage, he'd have to go fist-to-fist with Penn, and that would end up seeing him starched.
But if Pettis could keep his head about him, he could in turn keep Penn at range. Like Edgar and others on this list, Pettis has the skills to get on his bike and ride, lashing out at Penn from a distance. (I would say "from a safe distance" but in a lightweight fight, there may be no safe distance for either man.)
This is one of the fights on the list that makes you ache to see it. Both fighters really love their job, and it shows when they're in the cage.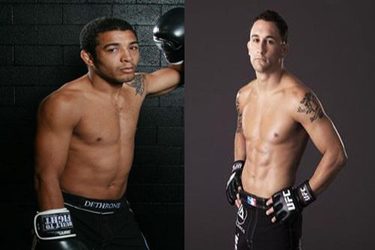 fighters.com
While it might not seem so at first glance, this fight would demand a great deal of Jose Aldo.
Frankie Edgar is always moving and using angles, something Aldo has not had to deal with consistently during a fight. Edgar never stops moving, and that would not make for an easy target.
Still, Aldo is so fast—faster than Edgar, I'd argue—that a feint in one direction could see Edgar drilled as he moves the other way.
Of course, Edgar has many tools in his tool belt: good wrestling, very good boxing, great conditioning and perhaps the greatest resolve of anyone in the division.
Odds are he'd take a pretty good beating from Aldo on the feet while dishing out the same when he could and never stopping, no matter how bloody he got.
But I also think Edgar could score well with takedowns in this fight. When Aldo lets loose his striking, he fully commits, and given the timing of Edgar, he could use that to take Aldo down.
But could he keep him down and do any significant damage from the top?
One thing is for sure: This would be a true fight that never saw either man stop until the final bell, or a KO / submission.