Euro Cup 2012: Assessing Germany's Performance Against Portugal
June 10, 2012

Joern Pollex/Getty Images
On Saturday, Germany managed a marginal victory over Portugal, but the 1-0 result was a lackluster performance from the youthful and talented group favorites.
During the first half, neither team dominated the flow of play.  Although Germany maintained the majority of possession, they failed to create the fluidity that characterizes their style.  The passing was disjointed and the movement off the ball was stagnant.  
Sami Khedira's uncompleted passes led to several wasted attacking opportunities, and Thomas Müller was unable to connect with Mario Gomez on any crosses.
By the conclusion of the first half, Portugal left the field with the momentum on their side.  Germany's weak marking on a corner allowed Pepe to settle the ball and whip a shot off the crossbar.  The ball dangerously tittered on the goal line before being cleared away.
Germany's defense was the most positive aspect of their play.  Right back Jérôme Boateng was the best player on the pitch despite being tasked with the most difficult marking, Cristiano Ronaldo.
For a majority of the first half, Ronaldo had the fewest touches of any Portuguese player.  When Ronaldo did manage to receive a pass, Boateng tracked the dribbling virtuoso down to contain his lethal abilities.
In the 64th minute, Ronaldo received the ball just inside the box with space to shoot.  However, Boateng executed a spectacular tackle from behind Ronaldo to swipe the ball away from the attacker's feet.  
Germany briefly found their rhythm for the winning goal in the 72nd minute as Bastian Schweinsteiger found Khedira, who sent a deflected cross to Mario Gomez.  The tall striker headed the ball inside the far post to give his country the edge.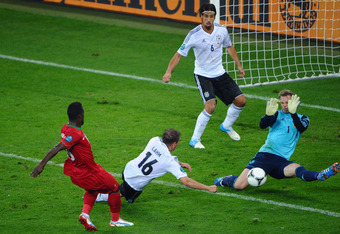 Laurence Griffiths/Getty Images
Manuel Neuer was another first-class performer for the Germans, as he spurned several late chances from the scintillating Portuguese attack.  
Silvestre Varela had the best chance for Portugal when a low cross slid through German defenders and found him open with only Neuer to beat, but the huge goalkeeper dropped to the ground to deny Varela's shot.
When Germany meets the potent Dutch side on Wednesday, their midfield must play more cohesively to create more opportunities for Mario Gomez.  Too many opportunities were mismanaged by poor passing and poorer positioning.
On a positive note, Germany's mediocre performance was still enough to defeat a top caliber team with one of the world's best players.  If the Germans manage to play to their full potential, they can expect an even better result against the Netherlands and Denmark.