Cincinnati Reds: Predicting the Team's MLB All-Star Game Representatives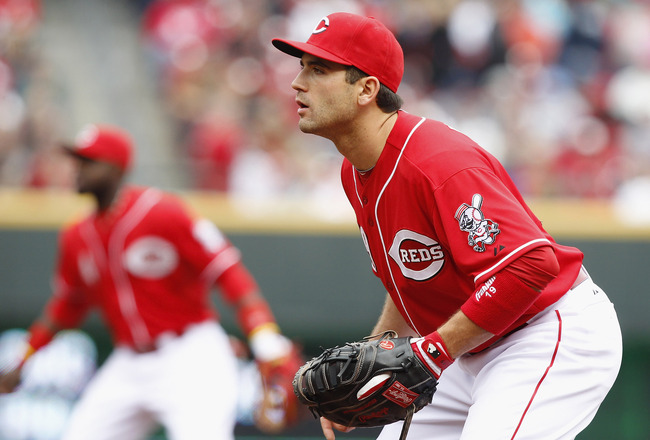 Matt Sullivan/Getty Images
With the 2012 MLB All-Star Game just one month away, baseball fans across the country are punching their ballots in hopes of seeing their hometown favorites take the field July 10.
While the Cincinnati Reds have a history of being underrepresented on All-Star Week, this year could be a very different story.
Here's a look five Reds who could potentially make the 2012 National League All-Star roster.
Lock: Joey Votto, 1B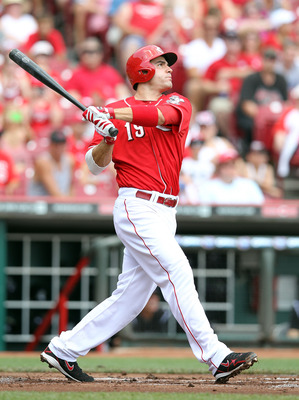 Andy Lyons/Getty Images
Current Numbers: .362 AVG, 10 HR, 38 RBI
When Albert Pujols and Prince Fielder both made their way to the American League this past offseason, Cincinnati's Joey Votto was widely considered the NL's best remaining first baseman.
Now, Votto has taken his game to the next level and is making his case for the title of baseball's best all-around player.
With one of the league's most gawk-worthy stat lines and minimal competition at his position, Votto is essentially a lock to start at first for the National League come July 10.
Lock: Aroldis Chapman, RP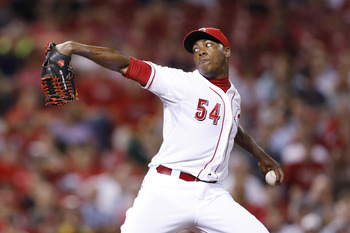 Joe Robbins/Getty Images
Current Numbers: 4-1, 0.30 ERA, 0.60 WHIP, 6 SV
Before giving up his first earned run of the 2012 season on June 7, Aroldis Chapman was on pace for an absolutely historic season.
Despite that recent hiccup, his unhittable arsenal of pitches still makes him a no-brainer for the National League All-Star bullpen.
There isn't a hitter in the league who looks forward to facing the 24-year-old flamethrower, and the NL would love to have his services. With World Series home-field advantage on the line, Chapman could prove invaluable in the latter innings of a closely contested game.
Lock: Johnny Cueto, SP
Joe Robbins/Getty Images
Current Numbers: 6-3, 2.63 ERA, 1.22 WHIP
Johnny Cueto's 2012 stat line isn't anything remarkable, but the 26-year-old Dominican has blossomed into one of the National League's premier righty starters and should make an excellent addition to the All-Star pitching staff.
While he has lost three of his past five decisions, Cueto's dominant start to the regular season should prove more than enough to earn him an All-Star nod, pending a late-June meltdown.
That said, his recent struggles and the fact that the NL is loaded with big-name talent could keep Cueto from earning any sort of significant playing time in the game itself.
On the Bubble: Brandon Phillips, 2B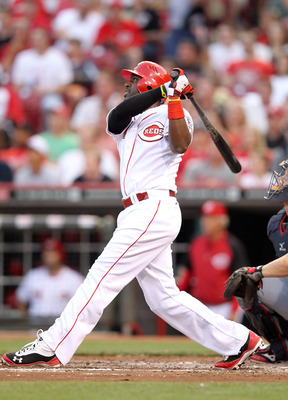 Andy Lyons/Getty Images
Current Numbers: .266 AVG, 6 HR, 31 RBI
After a dismal start to the 2012 season, Cincinnati second baseman Brandon Phillips seems to have finally found his stroke at the plate.
While Miami's Omar Infante and Atlanta's Dan Uggla are probably more deserving at this point, something tells me that Phillips' popular personality and knack for making spectacular defensive plays will earn him a backup role on the NL All-Star roster at the very least.
That said, the two-time All-Star is still very much on the bubble and could make or break his All-Star resume in the weeks to come.
On the Bubble: Jay Bruce, RF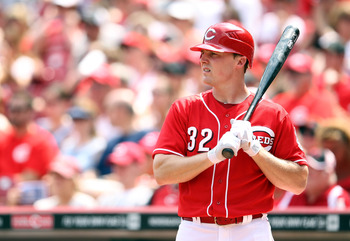 Andy Lyons/Getty Images
Current Numbers: .262 AVG, 13 HR, 37 RBI
Jay Bruce has the makings of an absolute superstar, but unfortunately he's also one of the National League's most hit-or-miss sluggers.
When he's hot, he's as dangerous as anyone in the majors, but when he's cold...things can get ugly.
Bruce is a Cincinnati favorite and is sure to be competitive in the All-Star voting, but he may find himself on the outside looking in come July 10 due to that streaky play and the NL's incredible pool of outfield talent.
With Matt Kemp, Ryan Braun, Carlos Beltran, Andrew McCutchen and Carlos Gonzalez all in the mix (among others), the odds are stacked against him.
Keep Reading

Cincinnati Reds: Like this team?