Spain vs. Italy: Bold Predictions for Group C Opener
June 10, 2012

Jasper Juinen/Getty Images
Two giants in world football collide on Sunday.
Italy and Spain provide different strengths and few weaknesses. One side is strong offensively and the other hangs its hat on the defensive side of the field.
Which strength will be too strong to overcome? Here are some predictions for Sunday's Group C opener. 
Fernando Torres scores game-winning goal
Yes, that Fernando Torres.
The same guy who has been dreadful for the majority of his tenure with Chelsea.
Torres' form has been visible at times this season, it's just a matter of finishing in the final third. He's come up short more often than not.
But in the biggest game against Barcelona, Torres scored the goal that officially put Barcelona away. 
Talent has never been a question for Torres. It's his mental status that can be deemed fragile. Playing alongside some of the greatest collection of talent in the world will make Torres live up to expectations.
Torres will score the game-winning goal early in the second half.
Mario Balotelli stays on the pitch and scores a goal 
Racism at Euro 2012 has been an absolute disgrace. From chants to people throwing stuff on the pitch, it's awful to hear what's going on in Poland and Ukraine.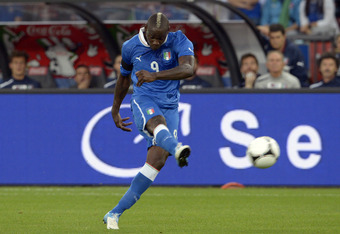 Claudio Villa/Getty Images
Italian star striker Mario Balotelli has threatened to walk off the pitch if the chanting is too much to handle. But he will get booked if he does so, according to Martin Samuel of MailOnline.com. 
What a joke.
I guess you don't know how bad things are in other parts of the world when you don't have a chance to live there. It's just sickening. 
Balotelli will get the fans all fired up, disgustingly, after he scores a goal for Italy. He totaled 13 goals for Manchester City in the English Premier League. I'm thinking that we will get one of his classic goal stare downs.
For the first time, I won't feel obligated to call his actions over-the-top.  
Spain wins 2-1
Spain's offensive firepower against Italy's defensive-minded tactics. Which side will break first?
Italy's defense is strong, but it's not where it used to be. They are capable of allowing scoring chances against quality teams, and Spain brings quality at the highest level.
Spain's chemistry is unreal at times. They know exactly where each other are on the pitch. The one-two combinations you see are something extraordinary to watch.
They will find lapses in the Italian defense and will capitalize on scoring chances.