Euro 2012: Republic of Ireland Player Ratings in Group C Loss to Croatia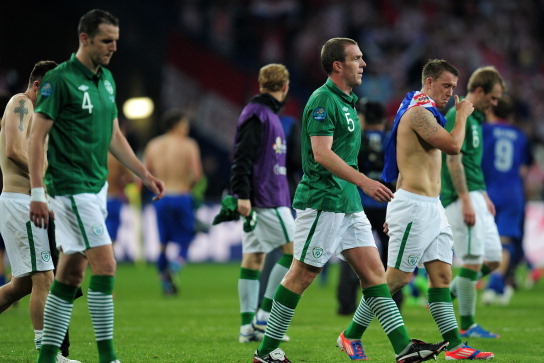 Jamie McDonald/Getty Images
Dejected Republic of Ireland players leave the pitch after their 3-1 Group C loss to Croatia.
It is back to the drawing board for Giovanni Trapattoni and his Republic of Ireland squad, after a disappointing 1-3 loss to Croatia in their Group C game in Poznan.
The fixture was long ago highlighted as one where victory was deemed vital to their hopes of progression at Euro 2012, with daunting matches versus Spain and Italy to come.
Now, after a hard-working—but ultimately lacklustre—display against an impressive looking Croatia side, Trapattoni and his men must look to find a way of competing with Spain if they are hoping to still be in the tournament when the knockout rounds begin.
Now that the dust has settled over the Croatia defeat, just how did the Irish players rate in their nation's return to major tournament football?
Begin Slideshow

»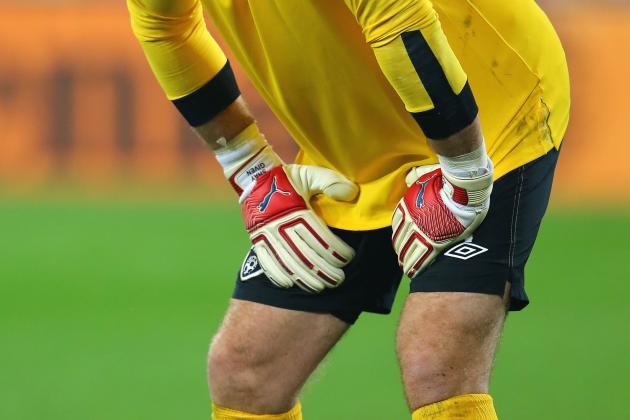 Christof Koepsel/Getty Images

Having already endured a quite frustrating season with Aston Villa in the English Premier League, Shay Given will is surely not delighted with the way his European Championships have begun.
It wasn't so much a case of it being a poor performance from Given—he made some typically good saves as Croatia looked to test him from long range, including an effort by Ivan Perisic that forced him down low and wide to push away.
But luck just wasn't with the goalkeeper today in the moments that ultimately mattered most.
A momentary step to the right left him unable to move back in time to deal with Mario Mandzukic's well-placed but relatively timid first header.
Then, when Mandzukic headed again four minutes into the second-half, the ball bounced back off the post and against Given's body into the net.
And of course there was Stephen Ward's unfortunate sliced clearance, which left him unable to close down Nikica Jelavic before the striker could finish.
Unfortunately for Given, with the Spanish next, luck may just continue to elude him.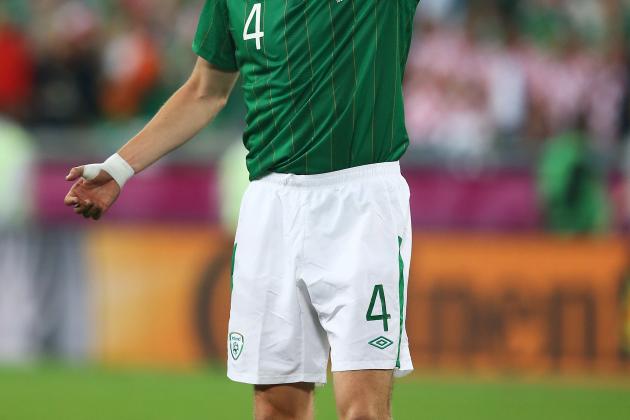 Christof Koepsel/Getty Images

Years of big matches with Manchester United have ensured John O'Shea (now at Sunderland) is not a footballer unfamiliar or afraid of occasions such at this one.
The right-back performed his duties here solidly, for the most part coping with Croatian forays down his flank.
However O'Shea looked susceptible when ran-at specifically, something which coupled with his aversion to moving too far forward out of position, does not bode well for a Spanish attack which may repeatedly look to isolate him. Especially if Damien Duff is caught forward and unable to double up with him.
O'Shea also failed to track Mandzukic just prior to the Croatian headed in his side's first, watching the ball rather than concentrating on what was going on around him.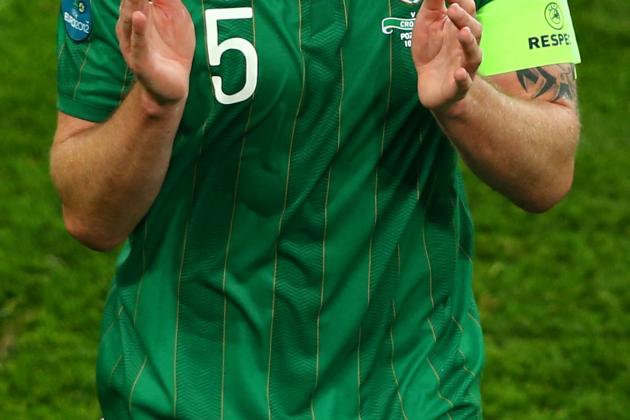 Clive Mason/Getty Images

Croatia's front two of Jelavic and Mandzukic caused Richard Dunne no shortage of problems, matching him in the air whilst their movement ensured it was a long night for the centre-half.
Dunne marshaled his backline well enough for the most part, but, along with centre-back partner Sean St Ledger, he was caught flat-footed for Mandzukic's second as the forward dropped back a yard to head-in unchallenged.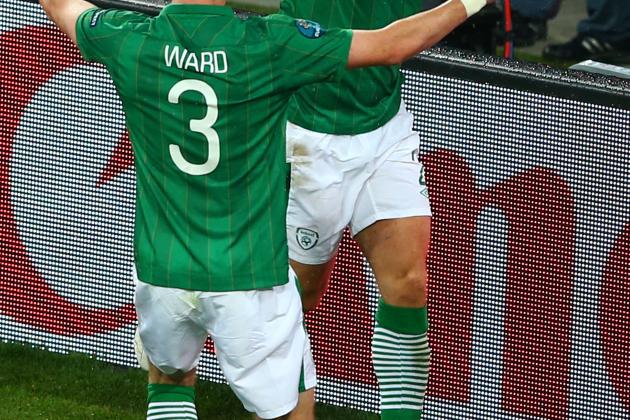 Clive Mason/Getty Images

Sean St Ledger's goal was a fine one, timing his run well behind the back of Vedran Corluka before meeting Aiden McGeady's free-kick with a glancing header.
It prompted Ireland's best spell of the night as they for a time looked like they could match Croatia.
But unable to sustain any pressure the onus fell back on the defence to keep them in it, where like Dunne, St Ledger struggled with the combined threat of his opponent's forwards.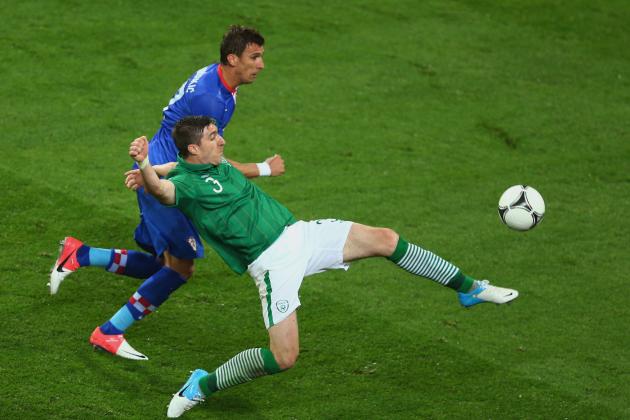 Clive Mason/Getty Images

A fairly bright opening from Stephen Ward quickly turned into a harsh lesson of the realities of international football at this level.
Whilst the left-back's sliced clearance that led to Jelavic's goal was unfortunate more than anything else, Ward from thereafter did not look especially comfortable as Croatia worked the ball around him.
Though he coped well enough to the extent that he was not specifically exposed for any detrimental effect, Ward will face an even tougher examination of his abilities in the Republic's remaining group games.
Christof Koepsel/Getty Images

Damien Duff once more highlighted his commitment to the cause with a solid shift, falling back to help O'Shea defend on the right flank.
While this responsibility in part explains his struggle to influence the game further forward, Duff will be disappointed that he and his team were unable to put him in a position to run at Croatia more often.
There were occasional flashes of flair and he linked up well with Kevin Doyle on a few occasions, but rarely were these moments anywhere near the opposition penalty area.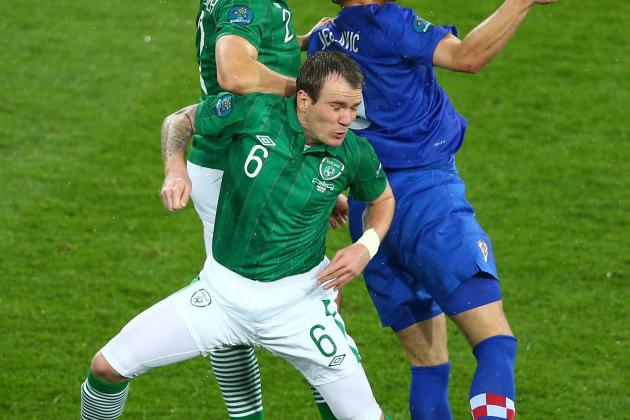 Clive Mason/Getty Images

Glenn Whelan's performance was typical of himself. He worked hard in attempting to provide his defence as much support as possible and was tidy enough in possession.
But fears about the Irish midfielder's ability to deal with Europe's best in the position were founded, at least to the extent that Croatia—in particular Luka Modric—generally had the run of the centre of the pitch.
The Tottenham playmaker's game bears resemblance with many of his counterparts in the Spanish midfield. If Whelan was unable to stifle one such player, he will have even more trouble with three or four.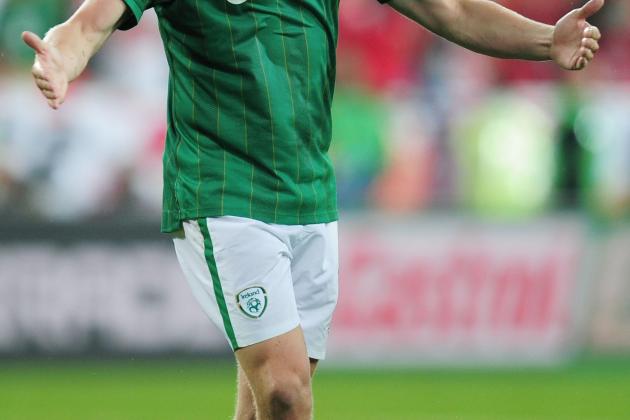 Jamie McDonald/Getty Images
D
See the previous slide on Glenn Whelan for much of what Keith Andrews' own performance in central midfield for Ireland was all about.
The two do an honest—if generally unremarkable—job there. If that has been enough to carry their team this far, perhaps now they will be found out against more fluid and creative counterparts, in some of Europe's best teams.
Where Whelan was confined to sitting deep, however, Andrews did show signs of adventurousness that may yet pay dividends for his team.
In keeping with a season in which his confidence has evidently grown at West Bromwich Albion, Andrews was not shy (especially in the second half) in joining the attack, catching the Croatian midfield off-guard with his runs on more than one occasion.
It was Andrews who came closest to reducing the Republic's deficit late in the second half, heading just wide after finding himself in space at a corner-kick.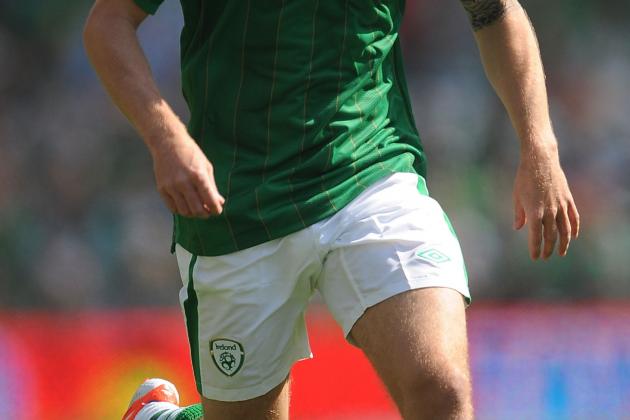 Christopher Lee/Getty Images

Besides the excellent free-kick assist for St Ledger's equaliser, McGeady was disappointingly ineffective on the left wing.
His rare attempts to bamboozle with his dribbling were unequivocally denied by Darijo Srna, while his occasional link-ups with Kevin Doyle and Robbie Keane failed to give the Croatian defence much to worry about.
Trapattoni will likely persist with McGeady, who has so often reliably performed for him. But another similarly quiet display may have the Italian turning to the enthusiastic James McClean to try and enliven his side's wide-play.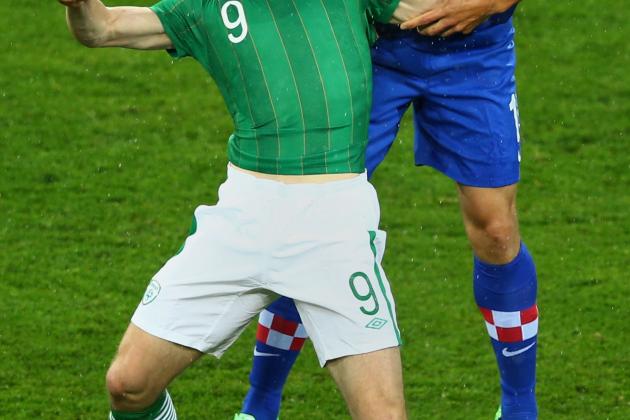 Clive Mason/Getty Images

That Kevin Doyle was withdrawn so early in the second-half was surprising considering he had been his team's best player by far up to that point.
Consistency issues in relation to Doyle's ability have often been raised in the past, but here he matched his typically tireless running with smart link-up play and terrific movement that so often lured his markers out of position.
If he starts against Spain, a similar performance from Doyle might be able to hurt a defence that against that struggled to find answers to the direct questions posed by the Italian attackers in their own opening game of Group C.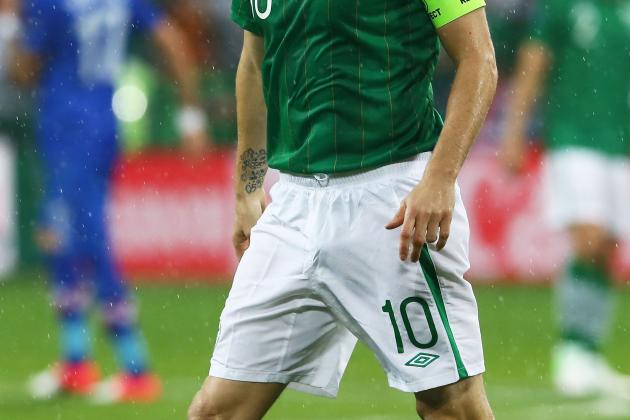 Christof Koepsel/Getty Images

Though not as effective as Doyle, Robbie Keane linked up well occasions with his partner and other teammates on enough occasions to suggest theirs is an attack that is capable of conjuring up a goal or two in this tournament.
The movement of the front two unnerved the Croatian defence, who did not like moving out of position when they could help it—but with only sporadic support from midfield, Ireland rarely succeeded in capitalising on it.
In one such moment, they should have had a penalty when Keane was fouled in the process of turning Gordon Schildenfeld. Yet that was not to be, and Keane was substituted not long after.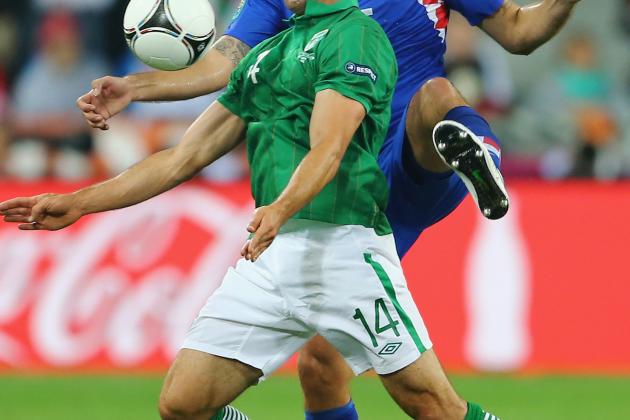 Christof Koepsel/Getty Images

Jonathan Walters (5.5) - He worked hard like the man he replaced, Doyle, holding it up well but was not as effective in occupying the Croatian defence.
Simon Cox (5) - Far more lively than McGeady out left, but for all his efforts you had to wonder why he was on instead of the more skillful and creative James McClean.
Shane Long (4) - Long barely saw the ball in his fifteen minutes, and was not given the service he requires to be dangerous.