Reasons Why the Red Wings Are Still Contenders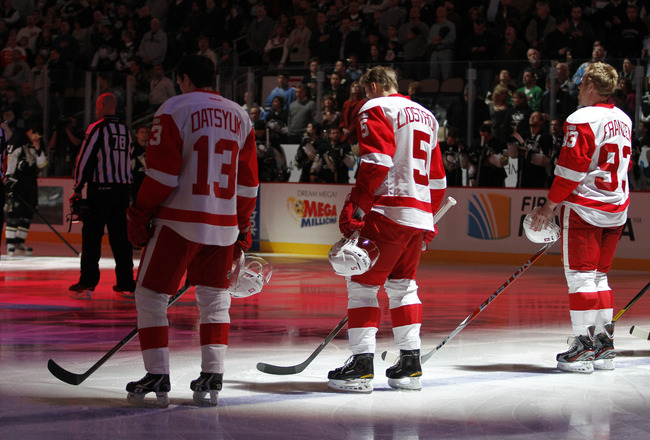 Justin K. Aller/Getty Images
The summer of 2012 will unquestionably be one the most doubt-filled in recent Red Wings history.
With the retirement of Nicklas Lidstrom and the likely departures of Brad Stuart and Jiri Hudler, the Red Wings have major gaps to fill in their roster, but all hope is not lost.
Despite losing several key components of their lineup this offseason, they also have a considerable amount of money to experiment with. There are upcoming free agents that can keep the Red Wings competitive for years to come.
When Steve Yzerman retired back in July of 2006, many fans may have felt that the Wings would slump for a while, but they remained an elite franchise and even captured the Stanley Cup just two years later under the leadership of Nicklas Lidstrom. They would return to the finals again the following year and came within one win of repeating as champions.
There's no question that Lidstrom's retirement brought about a hollowing feeling within the Red Wings' community, as it should. But even without the "perfect human being" on the blue line, there are still plenty of reasons to believe that the Red Wings can continue their success.
The Offensive Core Is Still Strong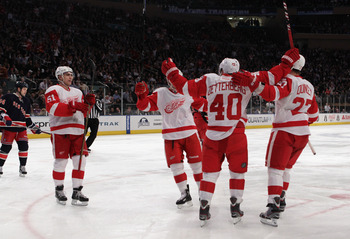 Bruce Bennett/Getty Images
Although the Wings lost a legendary player in Nick Lidstrom and are likely to lose another part of the defense in Brad Stuart, the offense will remain largely unchanged (excluding Jiri Hudler potentially testing free agency).
Superstars Pavel Datsyuk and Henrik Zetterberg will be back along with Johan Franzen, Valtteri Filppula, Todd Bertuzzi and the rest of the crew. Not to mention that up-and-coming forwards like Cory Emmerton, Justin Abdelkader, Jan Mursak, and Darren Helm have been influential parts of the roster and are still young.
Ken Holland also has a fair amount of money with which to add to the roster and there has been plenty of talk about bringing in current New Jersey captain Zach Parise to join the squad. He has been a key part of the Devils' current playoff run and would be a huge addition to an already potent Red Wings offense.
Goaltending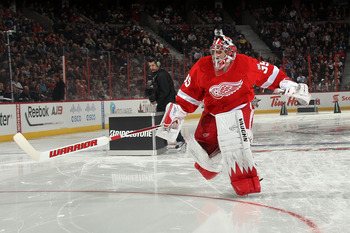 Bruce Bennett/Getty Images
Having been the starter in net for the Red Wings over the past three seasons, Jimmy Howard still has many good years ahead of him as a goaltender. He was a Calder Trophy runner-up, voted Detroit Red Wings rookie of the year, represented the USA in the IIHF tournament this year, and appeared in his first NHL All-Star Game this past season playing for Team Chara—and he is only 28 year old.
Instead of going outside the organization to find a replacement for Chris Osgood, the Wings promoted Jimmy Howard to the No. 1 spot and he has shined ever since then, posting at least 35 wins in each of his seasons as the No. 1 goalie.
He was the leader of many of the goaltending stats last season up until he started having problems with his index finger and his groin. However, he still posted a 35-17-4 record last season with a 2.12 goals against average and a .920 save percentage.
Howard is just now getting into his prime and it would be surprising to see him play anywhere other than Motown for the rest of his career. The Wings just need to figure out what they are doing in terms of a backup for Howard now.
The Coaching Staff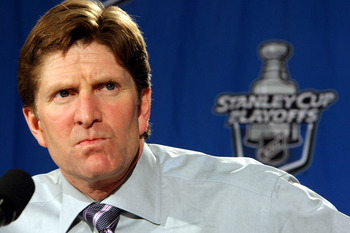 Dave Sandford/Getty Images
Just in case "the look" isn't enough to persuade you on this one, here are some actual reasons behind it.
Mike Babcock's coaching career started in Anaheim where in his first season he made it to the Stanley Cup Finals but lost to the New Jersey Devils. He would spend one more season with the Ducks and then take over as bench boss for the Red Wings once the lockout of 2004-2005 was over.
In each of his first four seasons with the Red Wings, Babcock led them to a Central Division title and even won the Stanley Cup in the 2007-2008 season.
Overall, the Red Wings are 352-154-68 under Mike Babcock and will continue to have success as long as he is behind the bench. Much like when Yzerman retired and left a feeling of uncertainty, when Scotty Bowman retired there was that same feeling. However, Mike Babcock has proven that he can continue the standard of success that Bowman implemented in Hockeytown.
Ken Holland and His Staff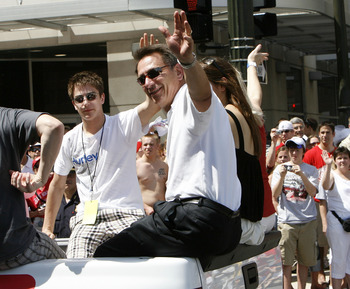 Gregory Shamus/Getty Images
The Red Wings have won three Stanley Cups since Ken Holland took over as general manager, and even won one the year before he took over when he was an assistant GM and goaltending coach.
He wasted no time in showing what kind of benefits he would bring the organization. In 1998, the Wings drafted Pavel Datsyuk 171st overall and he has come to be a superstar in the league. The following year, Holland and his staff took Henrik Zetterberg 210th overall. They have set the bar for proving that talent can be found late in the draft with the right scouting staff and recruitment processes.
As long as the Wings have Ken Holland at the helm, they have nothing to worry about. They have made the playoffs comfortably in each of his seasons as GM and can expect to be serious contenders for years to come under his direction.
Remaining Defenders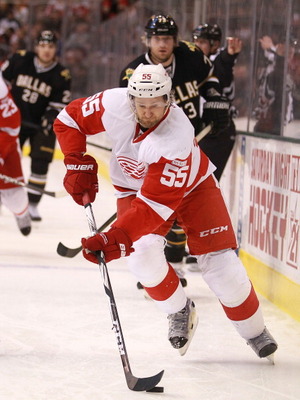 Ronald Martinez/Getty Images
This was hands-down the hardest-hit part of the Red Wings' roster this summer.
Nicklas Lidstrom announced his retirement from the game after 20 years of blue line dominance and Brad Stuart is likely on his way out in order to be closer to his family in California.
Just because of these two things, don't forget who the Wings still have on defense, though. The defenders will now look to Niklas Kronwall for leadership, along with Ian White and Jonathan Ericsson, and, if they can sign him again, RFA Kyle Quincey.
They also have promising names like Brendan Smith and Jakub Kindl filling in nicely and who should both be assets for the Wings in coming seasons.
Also, in the upcoming free agency market, Ryan Suter is drawing some serious interest from the Red Wings, and if they can lock him up to a long-term deal then they will still have a solid group of blue liners for seasons to come.
2012 Free Agency Pool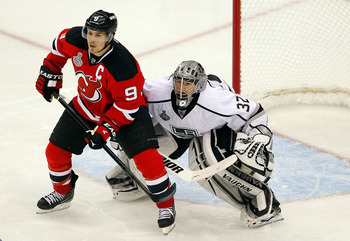 Paul Bereswill/Getty Images
There is no sense in beating a dead horse; the upcoming offseason is bound to be a promising one for the Red Wings. With the loss of long-time hero Nick Lidstrom come other opportunities. Now is the time of the changing of the guard in Detroit and it will be interesting to see how that plays out.
Expect GM Ken Holland to make some big moves this summer with the pursuit of Zach Parise and Ryan Suter, among others. The Wings also need to find a suitable backup for Jimmy Howard, which could come from Joey MacDonald. However, their biggest goal should be to find some help for the blue liners—enter Ryan Suter.
As mentioned earlier, the offense will see many of the same faces return but adding a young powerhouse like Zach Parise could never hurt.
By no means is this upcoming free agency pool one of the more substantial, but it does have some big names floating around and the Red Wings have the money to possibly pull some of those names in.
The Wings have several prospects in their system that should be promising in years to come and have money to spend this summer that will allow them to remain a contender for the cup in the 2012-2013 season.
Just because Nick Lidstrom has called it a career, and by no means am I saying that he can be replaced or won't be missed, don't start thinking that Red Wings are going to fall off the map.
Keep Reading

Detroit Red Wings: Like this team?