Pacquiao vs. Bradley 2012: Main Card, Undercard Results and Recap
June 10, 2012

Jeff Bottari/Getty Images
Timothy Bradley, by split decision. 115-113 twice. This was the most shocking decision I have ever seen. 
Now let's be honest: fishy decisions happen in boxing all the time. So this may or may not have been the worst I have ever seen.
Was it worse than the Whitaker-Chavez or Holyfield-Lewis draws? Worse than the recent Brandon Rios split decision over Richard Abril? A travesty is a travesty is a travesty. 
But I have never seen a decision this bad go against a star this big. My first, startled response is this: the biggest international star in the sport got robbed in Las Vegas, Nev., tonight. 
Manny Pacquiao out-landed Bradley by 34 to 19 percent. He out landed him in power punches 39 to 28 percent. And his punches consistently looked to be harder and more effective. 
I had Manny Pacquiao by 10 rounds to two; I could see it going nine to three. Eight to four would have been ridiculous. 
My buddy and I were already talking about who Bradley might go back and fight coming off from this loss when the first judge's score was read: 115-113, Pacquiao. 
I knew right away that something crazy was about to happen. 
The boxing world will go into immediate turmoil in response to this. The sport will be all over SportsCenter for the rest of the weekend. But not for anything worth celebrating.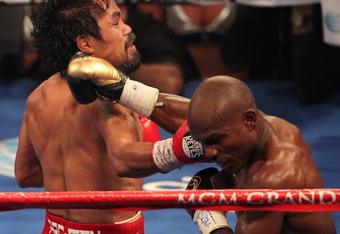 Jeff Bottari/Getty Images
The epic Mayweather-Pacquiao showdown is derailed temporarily, perhaps forever.
So instead of having the pressure of trying to negotiate that fight with a hostile opponent, Bob Arum and Top Rank will be able to focus their attention on an in-house rematch.
It was a mixed card that ended in a fashion no boxing fan can feel good about. 
In the first fight on the pay-per-view portion of the card, Cuban exile Guillermo Rigondeaux retained his WBA super bantamweight title and improved to 10(8)-0 by TKOing well-regarded Philadelphia contender Teon Kennedy 1:11 into round five, handing him his second loss in three fights and dropping him to 17(7)-2(1)-1.
It was another dominant performance for Rigondeaux, who captured the belt in January by knocking out previously undefeated Rico Ramos. The southpaw landed 49 percent of his punches, dropping Kennedy five times before referee Russell Mora called a halt. 
Like his fellow countrymen Yuri Gamboa, Erislandry Lara and Richard Abril, Rigondeaux has gone after the biggest fights he can get as soon as he can get them. The 31-year-old may be just reaching double digits in professional fights, but he won Olympic gold for Cuba in 2000 and 2004. 
I have to think Rigondeaux would welcome a fight against any of the biggest names in the loaded 122-pound division. I would love to see him matched up with either Nonito Donaire or Abner Mares. 
A fight that was painfully boring for half an hour turned Rocky Balboa-exciting at the end, as 37-year-old journeyman Randall Bailey derailed undefeated Top Rank prospect Mike Jones with a sensational uppercut that knocked Jones cold.
From the opening round, Jones acted extremely cautious of the power of the  "Knock Out King." I gave Bailey each of the first two rounds, but from the third round on, the fight devolved into a staring match, as Bailey looked to set up his big right hand and Jones stayed back at a distance, looking to counter once Bailey attacked.
As Bailey refused to pull the trigger, round after round, Jones built up a mounting lead on the strength of attacking here and there with sloppy, lunging flurries, before quickly retreating back out of Bailey's range. Jones was so intent on withdrawing to safety as quickly as possible that he was consistently off balance as he attacked.
Not that he did a ton of attacking. By Round 10, Jones was up by about seven rounds to two, but he was doing nothing to impress. Bailey was meanwhile doing nothing at all.
The HBO team had become so bored with the action in the ring that they were openly deriding the idea that the fight was being held for a vacant world title. Emanuel Steward opined: "This right here is disgusting, even for a gym workout."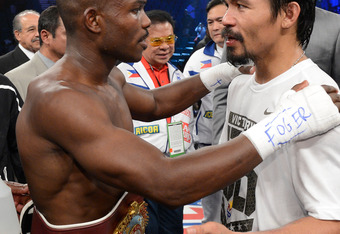 Kevork Djansezian/Getty Images
Then, with about 15 seconds left in the round, Bailey finally landed a perfect right cross that dropped Jones for the first time in his professional career.
Jones looked to have settled down as round 11 started. For the most part, the round was as low-action as the rest of the fight. Then, with about 10 seconds left in the round, Jones lunged in with a flurry and got caught with a perfect right uppercut by Bailey that busted Jones' nose like a tomato. 
Bailey had won his first world title, by knockout. The old veteran was overcome with emotion and it took him several minutes to regain his composure. 
Steward once again summed up the fight accurately, declaring "from one of the most boring fights I've ever seen to one of the most memorable knockouts I've ever seen."
On paper, Jorge Arce vs. Jesus Rojas had looked to have the potential to be a show stealer. After the first round, fans felt like they were looking at a potential Fight of the Year.
Arce dropped Rojas with a hook set up by a body shot 30 seconds into the first but Rojas got up and settled in to bang away with the Mexican legend. It was a thrilling round and minus the knockdown, Rojas possibly won it.
At the start of Round 2, Rojas hit Arce with an accidental shot to the groin. Arce bent over and turned away, and before referee Ken Bayless could step in, Rojas followed up with a hook to the ear that sent Arce crumbling into the corner.  
Jeff Bottari/Getty Images
Arce complained to the ring doctor that his balance was temporarily destroyed: "I'm going to fall. I'm going to go sideways." Referee Kenny Bayless ruled the fight a no-contest. 
The main event was delayed, as Manny Pacquiao had to take extra time to loosen up his calves after sitting down to watch the entire Celtics-Heat game. 
From the opening rounds, Pacquiao consistently landed the harder and more effective punches. Bradley threw a lot of punches, especially early. He had a flurry near the end of the third round that might have earned him that round on some cards. 
But Pacquiao consistently out-landed Bradley in almost every exchange, all fight long.
I put a limited amount of weight on Compubox numbers, but when I know I am watching one fighter land more effective, harder punches, and the stats tell me he is also landing many more punches, it is hard for me to reconcile score cards that tell me the exact opposite as good-faith efforts.
Bradley was a game opponent who stuck around all night. He deserves credit for that. But all night long he got the worse of the exchanges.
When Pacquiao would pick up the pace, Bradley would struggle to hang in. By the end of the night, he looked like a discouraged, beaten fighter.
When the shocking score cards came down, he looked surprised at first, and admitted in the post-fight interview that he would have to watch the tape, to see if he really won. 
Timothy Bradley put his body and heart on the line tonight. That he came away with a victory he doesn't deserve is no disgrace for him. The man has no reason to hang his head. 
But I don't think many people who watched this fight tonight will ever believe that Bradley truly deserved to win.