MLB Trade Rumors: Teams That Need to Add Starting Pitching Before Deadline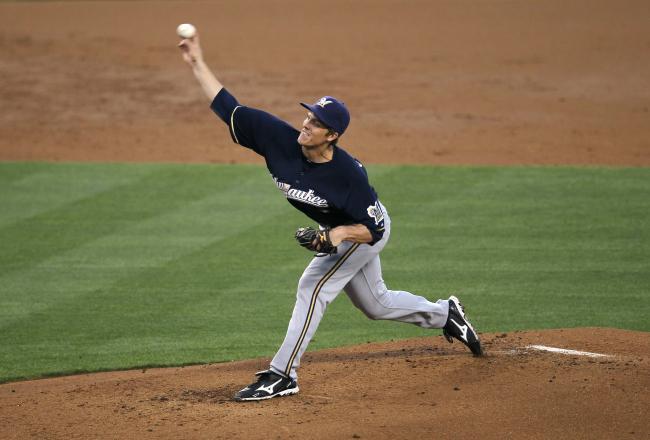 Stephen Dunn/Getty Images
Adding a pitcher before the trade deadline can be the difference between a playoff berth and an offseason of disappointment.
There are plenty of teams in the league that will need a starting pitcher if they want to make the postseason in 2012. Fortunately for those teams, there are a few starters on the trade market who would be able to step in and make an immediate impact on the playoff race.
Joe Saunders, Matt Garza and Zack Greinke have all been the subject of trade talks over the last month or so, and it's likely that one of the three will be playing in a different uniform after the July 31 trade deadline.
Here is a suitor for each of those players:
Joe Saunders: Boston Red Sox
The Arizona Diamondbacks are shopping Saunders because they're looking to make a spot in their rotation for their top pitching prospect Trevor Bauer.
That means that they probably won't be looking for a king's ransom in return for the 30-year-old left-hander. That opens the door for the Boston Red Sox to bring another lefty to their rotation.
The Sox pitching staff hasn't been too stellar this season, and they won't make the playoffs at the rate they're going unless they bring in a starting pitcher.
John Lackey is on the disabled list, and he wasn't very good for the Red Sox when he was taking the mound every fifth day. Daisuke Matsuzaka just came off the disabled list, but Bobby Valentine has no idea what he's going to get out of him. Clay Buchholz isn't pitching like the pitcher we thought he was. Josh Beckett is a ticking time bomb. Jon Lester is the only guy in the rotation you'd be comfortable with right now, but his ERA is still 4.64.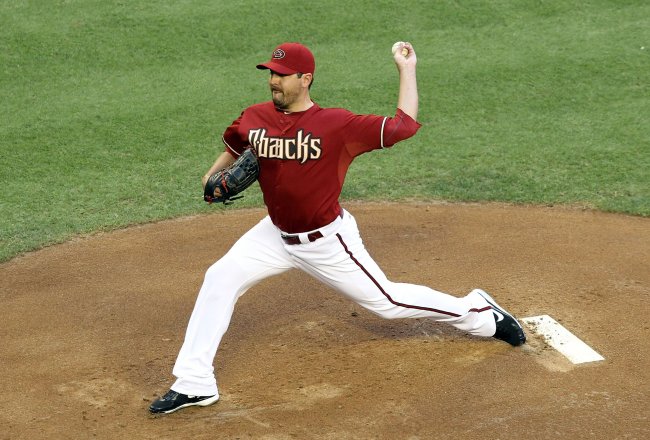 Christian Petersen/Getty Images
Enter Joe Saunders. He'd be perfect for the Red Sox in a few different ways. He pitched 212 innings last season, so they know he can eat up some innings for them. He's a lefty, so he'll be able to get the lefty-heavy lineup of the Yankees out (something that can never hurt a pitcher in Boston). And he's had playoff experience with the Los Angeles Angels in the past.
The Sox seem to be rising from the ashes now, and the acquisition of Saunders would only accelerate that.
Matt Garza: St. Louis Cardinals
The Chicago Cubs are never relenting in their talks about Garza. It doesn't make much sense, considering how hard they worked to get him from the Tampa Bay Rays, but they are looking to deal him nonetheless.
I know an intradivision trade doesn't seem likely, but it would work out for both teams. The Cubs aren't going anywhere anytime soon. The Cardinals need a starting pitcher after Jaime Garcia went down with a torn rotator cuff and labrum. They're saying he'll be out for two months, but that's obviously an optimistic expectation, as his shoulder appears to be completely shredded.
The Cardinals would have to give up a decent amount of prospects to get Garza, but he would turn them into more of a contender in the NL Central than they already are.
Jake Westbrook has faltered a bit. And who knows when Lance Lynn is due to implode?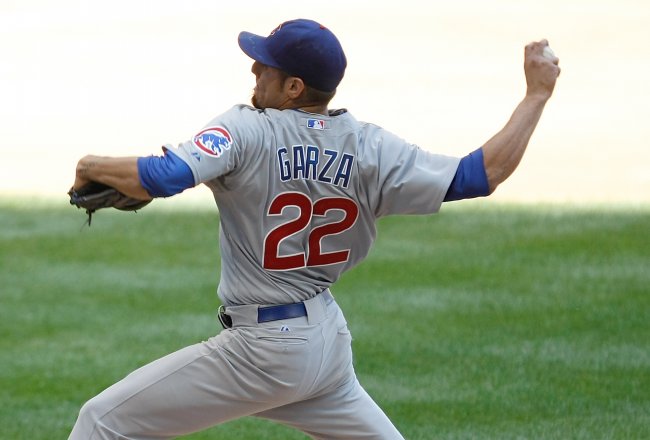 Scott Boehm/Getty Images
Collectively, they can get it done at the dish. Second in runs, batting average and on-base percentage and fourth in slugging will get you past a lot of teams.
Garza is nearly a top-notch starter, and the Cardinals would be wise to make a bid for him.
Zack Greinke: Chicago White Sox
The Milwaukee Brewers are letting teams inquire about Greinke. General manager Doug Melvin reportedly hasn't decided whether he wants to buy or sell this offseason, but if the team decides to sell, Greinke will most likely be on the market.
The White Sox are in first place now, but they could use one more arm in their rotation to be comfortable atop the AL Central. Sure, Jose Quintana pitched well his last time out, but he hasn't yet showed that he belongs in the majors for the duration of the season.
Chris Sale has been great, but he's a newcomer so the White Sox have to consider the prospect that he will tail off significantly. Jake Peavy's arm could fall off any day now, given his history. Philip Humber threw a perfect game, but he had a 5.79 ERA in May. Gavin Floyd is the picture of mediocrity and has been consistent in his average performances.
Which of these three pitchers would you want on your team?
Greinke can be lights out, and Chicago is the perfect-sized market for him. He's had anxiety issues, and nobody knows for sure if he can get the job done in a huge media market. Chicago loves their sports, but it's a step down from New York and Los Angeles.
He can shut down some of the best teams in the league and would be a huge boost for the White Sox heading into the dog days of summer.
This article is
What is the duplicate article?
Why is this article offensive?
Where is this article plagiarized from?
Why is this article poorly edited?