Can Manny Pacquiao Maintain Speed and Power at His Heaviest Weight of 147?
June 10, 2012

Kevork Djansezian/Getty Images
Manny Pacquiao weighed exactly 147 pounds when he boarded the scale during the weigh-in ceremonies earlier at the MGM Grand in Las Vegas, Nev.
At 147 pounds, it was Pacquiao's heaviest fighting weight,1.25 over his highest recorded weight when he faced Joshua Clottey of Ghana in 2009.
Although Pacquiao remained speedy during his boring fight with Clottey in his highest recorded fighting weight, he was less impressive in the eyes of some boxing fans. He was spared the crowd's frustration and anger though, as Clottey refused to fight toe-to-toe.
Fighting at his heaviest this Saturday night, Pacquiao's punching power will likely remain the same, but will his heaviest fighting weight thus far diminish his speed as he squares off with Bradley?
Pacquiao's trainer Freddie Roach's goal of just a little below 145-146 pounds was a little way off the maximum weight set for the fight, but the five-time trainer of the year said Pacquiao is fine, as long as he does not exceed the weight limit.
"That's better than being heavy," he said to Abac Cordero of the Phillipine Star. "He normally climbs the ring at 149," Roach added.
Roach said he believes Pacquiao will remain speedy and powerful as long as he does not go beyond the weight limit set for the fight.
Critics agree with Roach that Pacquiao would still move with relative ease and maintain punching power at 147.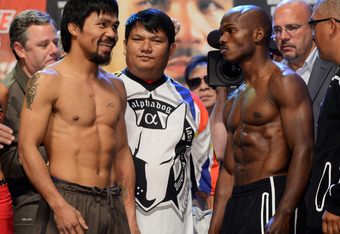 Kevork Djansezian/Getty Images
Meanwhile, Top Rank's Bob Arum, who is both promoting Pacquiao and Bradley, said he is not discounting the possibility of an upset.
"He really is sincerely confident. You've got to know Bradley," Arum said, again to Cordero
"Tim has become a real personality and people are picking up on what he's saying. He's confident. So, it's all good," he said.
"And Bradley really believes now with the work he's done he can beat Manny Pacquiao. He really believes that," said the boss of Top Rank Inc. 
Pacquiao and Bradley square off Saturday night MGM Grand Garden Arena in Las Vegas, Nevada.
David Silverberg of Digital Journal has reported the fight won't start until the end of the NBA Game 7 battle between the Miami Heat and Boston Celtics.
"American Idol" runner-up Jessica Sanchez will sing the National Anthem before the start of the Pacquiao-Bradley fight.