Belmont Stakes 2012: How Union Rags Pulled off Thrilling Victory
June 10, 2012

Rob Carr/Getty Images
The 144th running of the Belmont Stakes provided for a dramatic end to the Triple Crown season.
Once against, the victor took the lead in the final stretch and pulled off a come-from-behind victory.
Trainer Michael Matz's Union Rags shot past Paynter to pull off an incredible win.
Here are the three key moves that were made to earn this result.
Holding out of the Preakness
After a disappointing seventh-place finish at the Kentucky Derby, Matz had to reform his strategy on the fly. 
The trainer said, "''I really thought this horse could win the Triple Crown, and then everything went the wrong way,'' via FoxSports.com.
Matz humbly took the disappointing result and decided to focus solely on getting his horse ready for the Belmont. Union Rags had ample time to rest and prepare for the long one-and-one-half-mile course in New York.
The decision proved to be the right one as the thoroughbred had plenty left in its tank to make the winning charge down the stretch.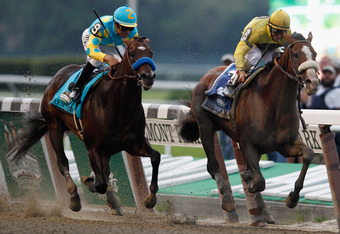 Rob Carr/Getty Images
Changing Jockeys
Julien Leparoux rode Union Rags to its lackluster finish at Churchill Downs and was subsequently replaced by John Velazquez for the Belmont.
This change proved to be a major factor in Union Rags' incredible victory.
Velazquez pulled a daring move by shooting through a narrow gap between Paynter and the rail to move into first and win the race. 
Owner Phyllis Wyeth said the following after the result, via Jennifer Caldwell of NBCSports.com.
I knew he could do it. And nobody would have gotten through on the rail other than Johnny today, I can tell you that. That was unbelievable. He just said "Move over, I'm coming." He believed in the horse. And Michael got him there. 
Getting a Little Bit of Luck
So many things could have happened, or not happened, that would have prevented Union Rags' win.
If Union Rags had fared better in the Derby, there may never have been a jockey change, and Matz may have decided to race the horse in the Preakness.
If I'll Have Another had not been scratched, it could have beat out both Union Rags and Paynter to win the Triple Crown.
But none of those things happened, and with some excellent decisions and a little bit of luck, Union Rags is this year's winner of the Belmont Stakes.