Germany vs. Portugal: Rating the Portugal Players in Euro 2012 Group B Opener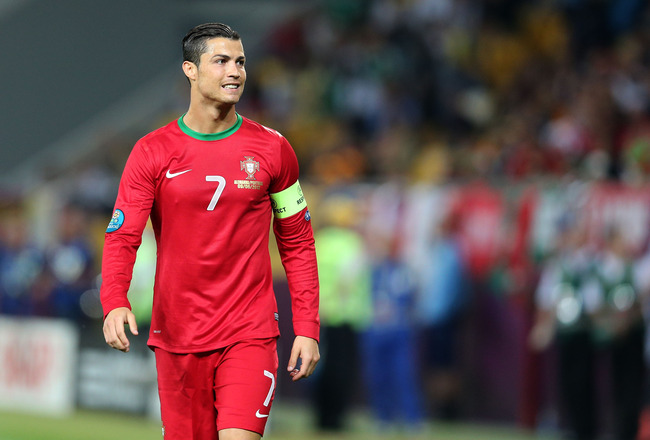 Joern Pollex/Getty Images
After their first match of the European Championships, Portugal needs to regroup.
The team played well defensively, but there was no sense of attack for about 70 minutes. If Portugal wants to escape the "Group of Death," the offense needs to show up. More specifically, Cristiano Ronaldo needs more touches.
Or, you know, Portugal could avoid relying on one player to create the attack. Nani played relatively well, but it still wasn't enough to create a serious chance until the end.
With that said, here are the ratings for each player on Portugal in their first Group B match.
GK Rui Patricio 6.5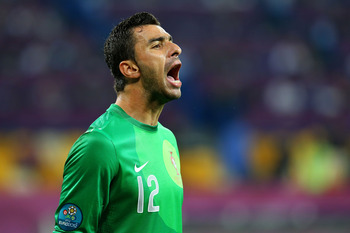 Martin Rose/Getty Images
Rui Patricio didn't have much of a game to talk about.
Germany created some quality chances, but most of their attacks weren't very dangerous. Patricio was only called upon a few times, and he only conceded one goal.
Patricio could be the x-factor for Portugal. Right now, it doesn't look like the side will be scoring many goals any time soon. If Patricio holds clean sheets in the next two matches, Portugal could stand a chance.
LB Fabio Coentrao 7.0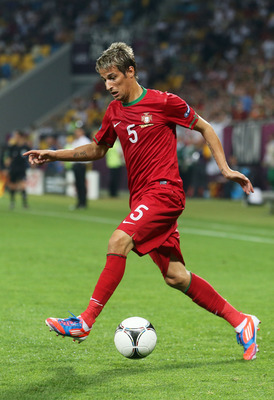 Joern Pollex/Getty Images
Fabio Coentrao played relatively well in the back for Portugal against Germany.
He completed three tackles, completed 71 percent of his passes and seemed relatively solid as Germany continued to send in cross after cross.
It's a good sign that he played well defensively, but Coentrao needs to be more dangerous moving forward. Cristiano Ronaldo needs support, and Coentrao could be the man to provide it.
CB Bruno Alves 6.0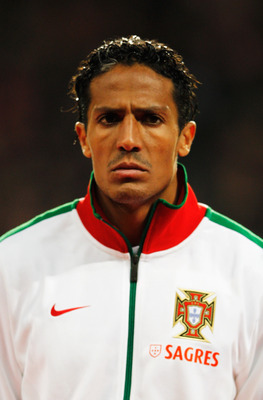 Paul Gilham/Getty Images
Bruno Alves was one of the weak spots in the center of Portugal's defense.
He was able to clear a few balls and block a shot, but his lack of tackling was astounding. Germany was content staying wide and swinging balls across to try and find the head of Mario Gomez.
Alves did well in the air, but he needs to win the ball more often to try and start the attack. Against a team like Holland, he will need to disrupt passes and make tackles. If not, Portugal will be going home.
CB Pepe 7.0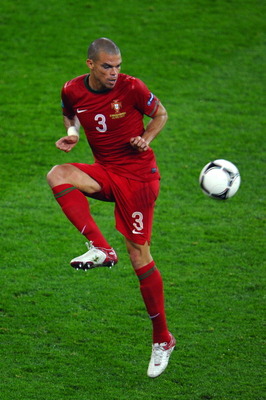 Laurence Griffiths/Getty Images
Pepe was probably the best player for Portugal, but his poor marking led to the lone goal of the game.
While marking Mario Gomez, Pepe got caught ball watching, which let Gomez sneak free and open the scoring. Pepe is solid in the air, but his horrendous marking hung his goalkeeper, as well as his team, out to dry.
His shot off the post would've completed changed the complexion of the game. Instead, the game remained scoreless, and Portugal couldn't get another chance that close.
RB Joao Pereira 5.5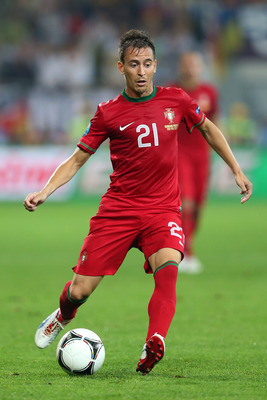 Alex Livesey/Getty Images
Pepe may have lost his mark on Germany's goal, but Joao Pereira did just about everything to not bail him out.
He was glued to his mark and completely left the most dangerous player on the pitch open inside eight yards. Pereira needed to slide inside of Mario Gomez, but he was late. And Portugal paid for it.
Other than that, Pereira was pretty forgettable and didn't do much to help Portugal earn any points. Overall, it was a pretty poor performance.
LM Joao Moutinho 6.5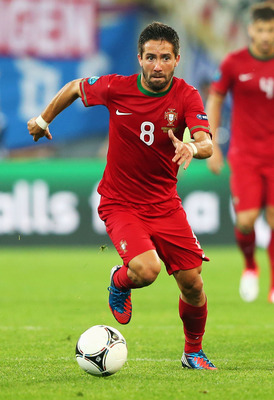 Alex Livesey/Getty Images
Joao Moutinho was regarded as the support to Nani and Cristiano Ronaldo. Unfortunately, Moutinho didn't exactly help.
He completed nearly 90 percent of his passes, but not many of them were dangerous. He didn't turn it over, which was helpful. However, Moutinho needs to play more directly. Otherwise, Portugal will have a tough time creating chances.
CM Miguel Veloso 6.5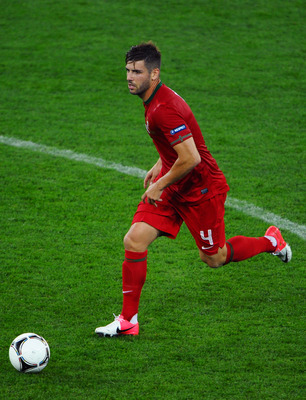 Laurence Griffiths/Getty Images
Miguel Veloso is a strong presence in the middle of the field.
He connects the defense to the attack well, but he doesn't support the attack too much. Once the ball gets going forward, Veloso does a solid job of holding his position down.
However, based on the first game, he might need to push forward more and provide an attacking presence in the middle.
Otherwise, Portugal will continue to build fruitless attacks.
RM Raul Meireles 5.5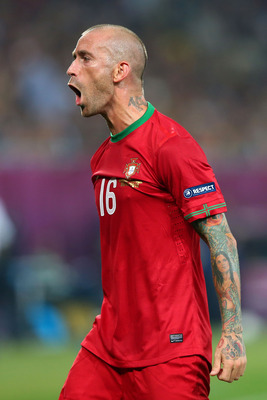 Alex Livesey/Getty Images
Raul Meireles is pretty tough to watch.
The Chelsea midfielder doesn't really bring much to the table, and he showed that again against Germany. His creativity has seemingly left him, and his inability to defend is more and more evident as he ages.
Considering his hairstyle is tame and not totally ridiculous, I'm not sure Meireles is worth much.
LW Cristiano Ronaldo 6.5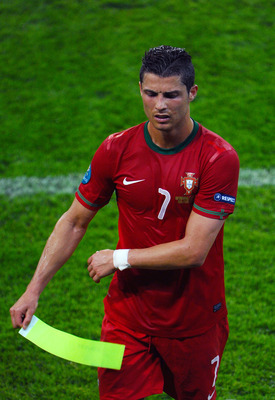 Laurence Griffiths/Getty Images
Cristiano Ronaldo didn't have a bad game.
However, he sure didn't have a good game.
Portugal's captain pulled a disappearing act of legendary proportions. He didn't even get 40 touches on the ball. 40 touches. Considering goalkeeper Rui Patricio touched the ball 41 times, it's safe to say Ronaldo was nonexistent.
For Portugal to be successful, Ronaldo needs to dominate. In order to dominate, he needs to get touches on the ball.
Otherwise, it'll be just another disappointment for Ronaldo and Portugal.
CF Helder Postiga 5.0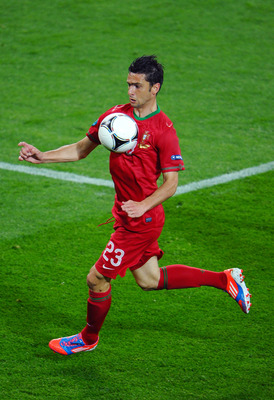 Laurence Griffiths/Getty Images
Helder Postiga was pretty forgettable in this match.
Portugal has been trying to find a solution for the center of its attack, and Postiga was not the answer.
Considering Portugal is in a desperate situation in the next two matches, don't be surprised if Postiga finds the bench. He's a good player, but he just isn't in form.
Unless he, or someone else, figures out the central attacking position, Portugal will be in trouble.
RW Nani 7.5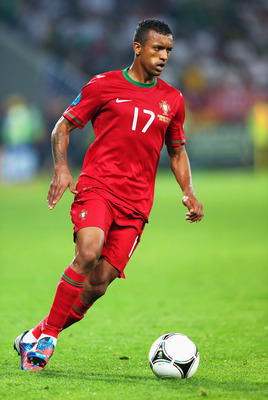 Alex Livesey/Getty Images
People were hoping Nani wouldn't disappear, and he didn't disappoint.
Nani looked like the only dangerous player all night, and his crosses made everyone move to the edge of their seat. Unfortunately, he didn't get much help from the other wing.
If Nani keeps playing like this (nine crosses, 82 percent passing), Portugal will find a way to score a goal. Won't they?
Substitutes: Nelson Oliveira and Silvestre Varela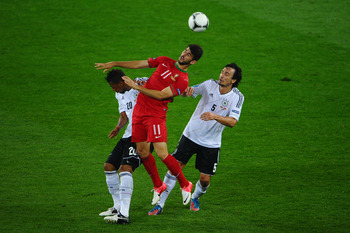 Laurence Griffiths/Getty Images
Neither of these players were on the pitch long enough to make a serious impact or receive a rating.
Silvestre Varela lost the ball a couple times, but he also had a shot on target. Meanwhile, Nelson Oliveira played a little longer but did a little less. He completed all of his passes, but he didn't do much other than that.
Considering they played a combined 30 minutes, it's not surprising that they weren't able to have an impact. If they get more time, it'll be interesting to see how they compete.
Keep Reading