Union Rags' Victory Was the Best Outcome for Fans
June 9, 2012

Alex Trautwig/Getty Images
Union Rags took first place in this year's Belmont Stakes, finally living up to his expectations.  In a dazzling finish, the Michael Matz-trained colt ran down the Baffert trainee Paynter in the final yards. Sound familiar?
It was a scenario all too familiar and all too haunting to Bob Baffert.  His premier colt, Bodemesiter was run down by Triple Crown contender I'll Have Another in the first two legs of this year's series.  Today he sent his second choice, Paynter to try and obtain Baffert and Zayat Stables (owner of Bodemeister and Paynter) a Triple Crown race win.
In what seems to be typical fashion for Baffert-trained horses this year, Paynter was the leader and fastest horse for 90 percent of the race.  It was down the home stretch that he saw pressure on both sides from Atigun and Union Rags.  
In the last strides to the wire, Union Rags proved doubters wrong by looking Paynter in the eye and stretching out in front of him for the win.
It was a sweet moment for fans who had seen their sentimental favorite, I'll Have Another, scratched on Friday.  Union Rags was favored going into this year's Kentucky Derby, but disappointed with a seventh-place finish.  
Trainer Michael Matz, who is most famous for training 2006 Kentucky Derby winner Barbaro, was always confident in Rags ability. "I really thought this horse could win the Triple Crown, and then everything went the wrong way," he said via SI.com.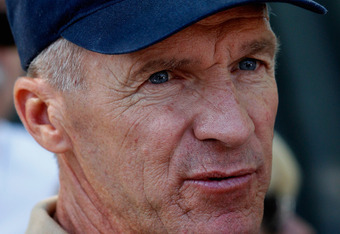 Rob Carr/Getty Images
Union Rags' story is a heartwarming one.  Owner Phyllis Wyeth sold Union Rags at auction as a yearling and bought him back as a two-year-old.  All of her regrets and disappointments are gone now, as Union Rags finally showed his stuff on the biggest stage.
Michael Matz also was also able to close the book on a dark chapter in his career.  The Barbaro episode in 2006 was one of the more heartbreaking moments in horse racing history.  
The Triple Crown hopeful did not get a chance to compete in even the second leg after winning the Kentucky Derby, after pulling up immediately out of the gate.
"I've had one great horse in Barbaro, and I think I might have a second one," said Matz in a quote from Newsday.com
It is both a somber day and an uplifting one in American horse racing.  A hopeful is denied his chance at glory while a disappointing young colt makes his trainer, owner and fans proud.