Jones vs Bailey Results: Round-by-Round Highlights and Recap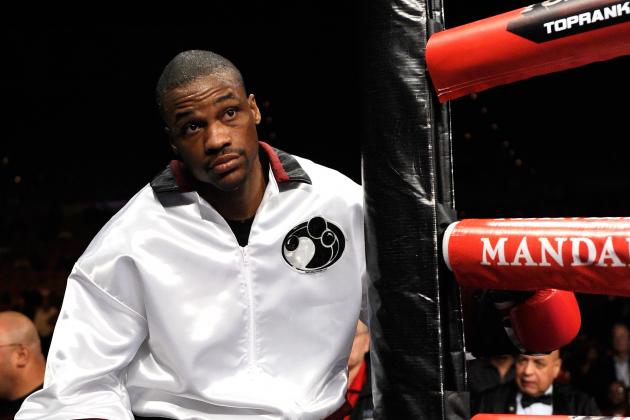 Ethan Miller/Getty Images
Mike Jones
Mikes Jones is already being hailed as the next ring foe of Manny Pacquiao by their mutual promoter and Top Rank Promotions CEO Bob Arum.
Jones (26-0, 19 KO) takes his first step toward relevancy by facing 37-year-old veteran Randall Bailey (42-7, 36 KO) for the vacant IBF welterweight world championship.
Jones vs. Bailey takes place on the undercard of Pacquiao vs. Bradley tonight and will be an intriguing matchup.
Bailey is a powerful puncher who can end the fight at any moment if Jones slips up and allows himself to get caught flush.
The question is, will he be able to land against the elusive and speedy Jones?
Jones has speed and decent power, but is far from an aggressive fighter. Will he be able to keep Bailey away if he happens to get hurt in this fight?
The details of the fight will unfold round by round in new slides as the fight continues.
Just keep checking back here by refreshing the page to see the results as they arrive.
Begin Slideshow

»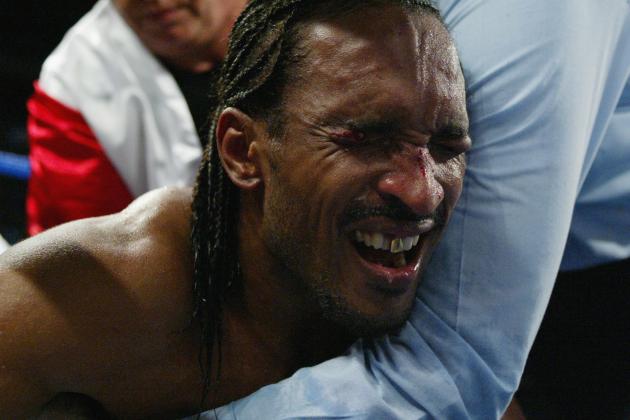 Al Bello/Getty Images
Randall Bailey
Introductions:
Bailey did his best Executioner (Bernard Hopkins) impression by wearing a ski-mask and forming an "X" over his head with his arms.
Maybe making this a Hopkins-esque fight might give Bailey a better chance to win this fight.
Opening Bell:
Bailey starts up the jab. Jones remains inactive for the first minute as Bailey slowly jabs toward Jones.
After ducking and moving around for over half a round, Jones throws a weak hook before engaging in a grappling contest with Bailey.
Bailey steady stalks Jones, remaining calm and seemingly winning the round despite not much action being put forth.
Bailey, 10-9.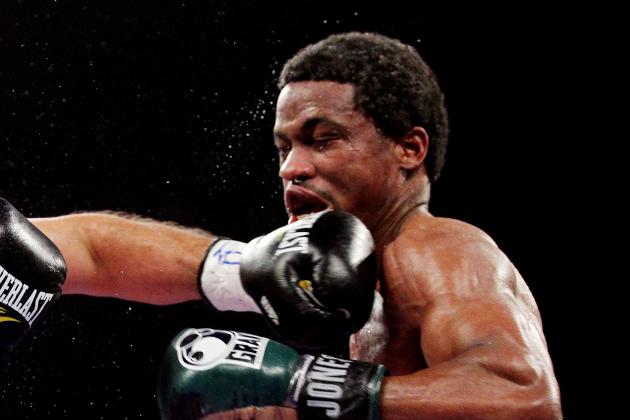 Al Bello/Getty Images
Mike Jones
Bailey misses a big right hook. Jones begins to ramp up the offense.
Bailey looks like he's a little uncomfortable from this faster-pace Jones.
No significant blows are being landed. Bailey allows an only slighter busier Jones to win this round.
10-9, Jones.
Al Bello/Getty Images
Mike Jones
Bailey begins to land a much more meaningful jab.
Jones looks quite awful right now. He's not landing much or presenting much of an offense.
Bailey is only presenting a marginal offense right now, yet he's still managing to beat Jones.
Bailey, 10-9.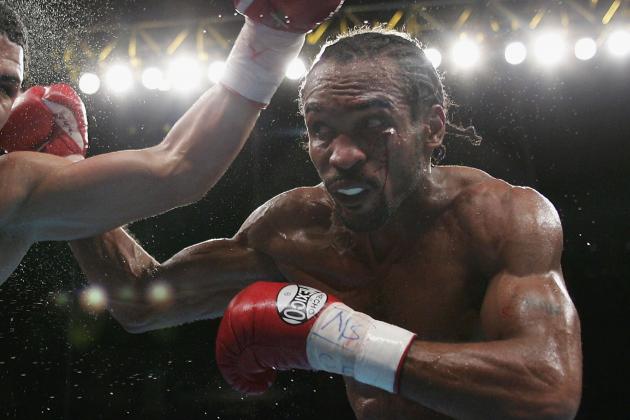 Robert Laberge/Getty Images
Randall Bailey
Jones fires off a serial jab that just backs Bailey back, but doesn't land powerfully or clean.
There's a lot of missed shots as both fighters manage to evade more than throw.
Bailey gets in a nice shot to the body. Jones retaliates with a shot to the chest.
Jones flurries to Bailey as the round ends. A more active Jones takes the round despite still neither fighter landing many meaningful shots.
10-9, Jones.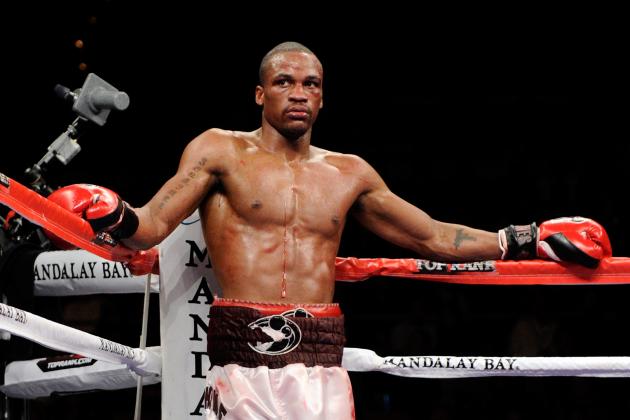 Ethan Miller/Getty Images
Mike Jones
Jones has Bailey a little conscience as he finally steps it in a bigger fashion. An uncomfortable Bailey falls over.
The fall is counted as a slip, but definitely shows how uncomfortable he is against a busier Jones.
10-9, Jones.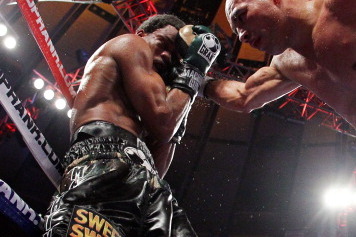 Al Bello/Getty Images
Jones in a previous fight
Jones flurries away and then backs off. Bailey's lack of speed is hurting him bad as Jones continues to flicker jabs and occasionally flurry to steal rounds.
He's no longer allowing Bailey to win rounds with marginal activity. Bailey may not be able to up his output to match Jones. If he doesn't, I see a blowout unanimous decision for Jones.
10-9, Jones.
So Far: 58-56.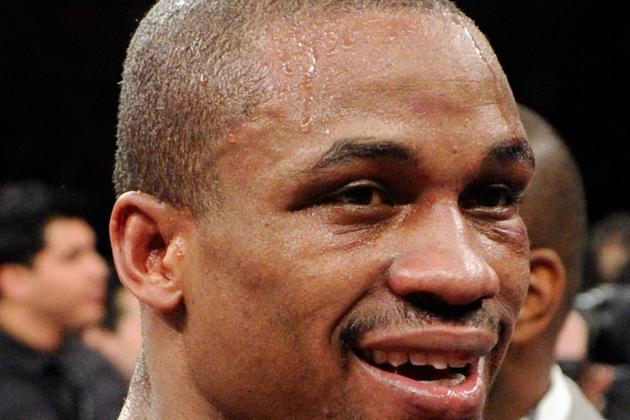 Ethan Miller/Getty Images
Mike Jones
Jones takes a hard right to the body from Bailey.
Jones picks his shots and lands a few careful hooks up top as Bailey tries to bend over and cover up.
Jones wins this round off not just a higher level of activity, but an actual collection of meaningful shots.
Jones, 10-9.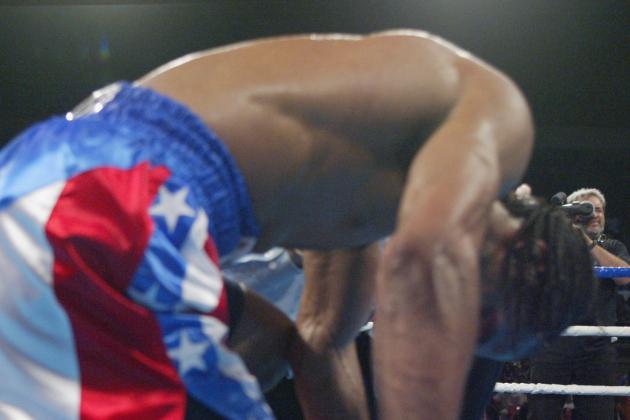 Al Bello/Getty Images
Randall Bailey
Bailey stalks slowly and misses a few jabs before getting in a hold.
Jones hits on the inside of holds and then moves around while throwing virtually nothing.
Bailey's jabs occasionally get through. Bailey is remaining competitive as Jones doesn't seem willing to continue enough meaningful activity.
Jones misses two wild haymakers before throwing an ugly flurry.
A nice left that moved Bailey's head with a little snap ends the round.
10-9, Bailey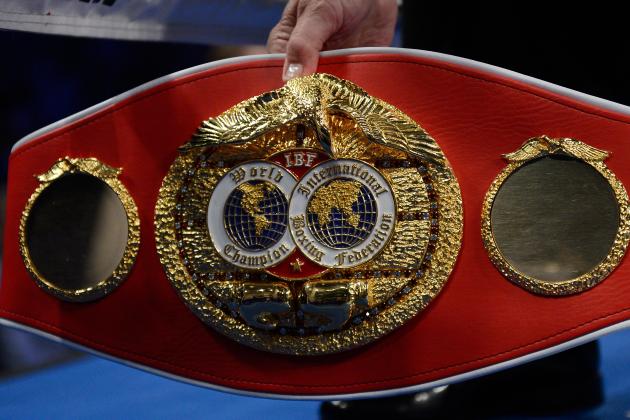 Kevork Djansezian/Getty Images
The IBF world championship is on the line as we head into the championship rounds.
Randall Bailey looked more than just uncomfortable as Jones fired off a rhythm-breaking flurry.
Jones mounts his offense with some authority in this round and chases the slower Bailey down.
Bailey needs to be the hunter if he hopes to have any shot of winning this fight.
"Stalk until he drops." That needs to be Jones' motto.
10-9, Jones.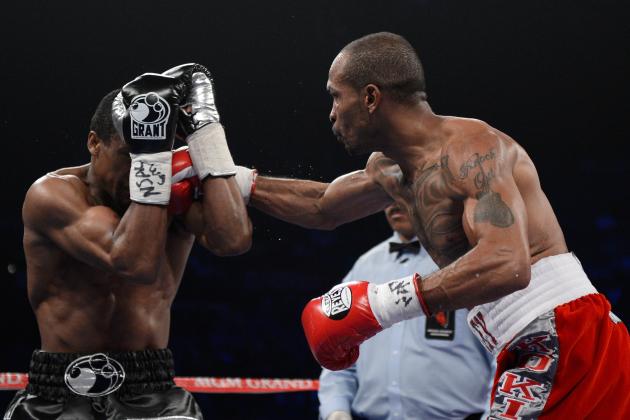 Kevork Djansezian/Getty Images
Bailey punching Jones
Jones was outboxing the hell out of Bailey in this round until-BOOM!-a beautiful right took Jones' head off. Jones survived the knockdown, but I don't know if he'll survive this fight.
10-8, Bailey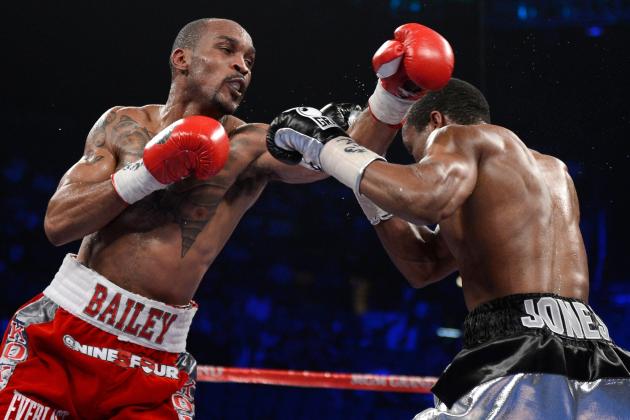 Kevork Djansezian/Getty Images
Randall Bailey puts on a great performance
Randall Bailey allowed Jones to come back only to knock that young man Jones out with a beautiful uppercut.
This is without a shadow of a doubt the knockout of the year so far.
Good job Jones. Good job.
Randall Bailey wins the IBF World title by knockout!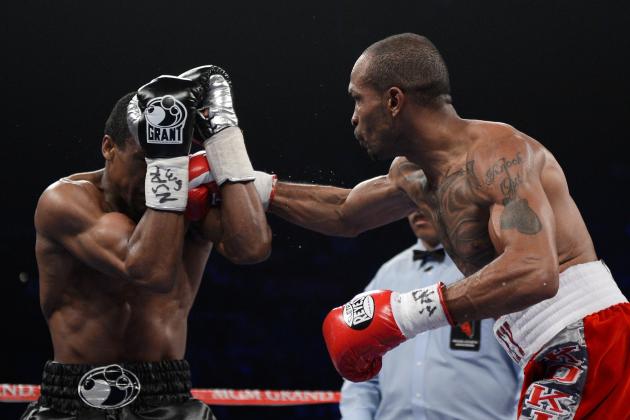 Kevork Djansezian/Getty Images
Randall Bailey
Randall Bailey, at 37 years old, delivered a knockout of awe. The perfect uppercut that finished the fight could be seen lifting the "0" that once belonged to Jones.
That "0" is now forever lost in a a flying oval of spit and blood. Bailey is redeemed by the blood of Jones in a Las Vegas ring.
Bailey hasn't held onto a world championship since 2002. Ten years later, a knockout brings him back the world title he's missed every moment without.
After numerous eliminators and "comeback" fights over a period of three years, he finally got what many have seen as his last chance against Mike Jones.
Jones seemed uninspired against Bailey as if he knew he'd have this match wrapped up against his opponent who was eight years his senior.
Sure Jones was the faster fighter and the seemingly more elusive fighter and athletic fighter, but Bailey seemed much more inspired than his previous performances would have predicted.
Bailey was seeking something. Jones was only a final obstacle in the way of fulfilling his decade-long wish to reunite with what was truly his.
With a perfect uppercut, he did just that.