2012 NBA Mock Draft: Updated First Round Featuring Teams That Will Strike Gold
June 10, 2012

Andy Lyons/Getty Images
The NBA draft this year goes something like this: There is one franchise player, three excellent options and then a very deep field of pretty good prospects and boom-or-bust risks who will make some general managers look like geniuses and others look like bums.
Suffice to say, the teams sure to strike gold in this draft hold the first four picks. Anticlimactic, I know, but if you've followed the college careers of the prospects in this draft class, you probably already know who I'm talking about.
So let's take a longer look at those four players, along with a full mock draft to follow.
1. New Orleans Hornets: Anthony Davis, PF (Kentucky)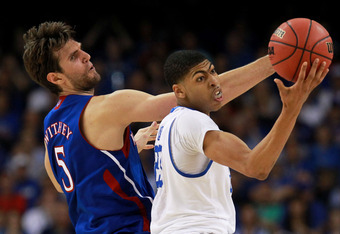 Ronald Martinez/Getty Images
Quite simply, Anthony Davis is the only franchise star available in this draft.
No player in this draft has the ability to impact a game more ways than Davis will. While I believe his offensive game will need some time to fully develop at the next level, he'll be an stud on the defensive end from Day 1.
His ability to pull in rebounds and block shots using his crazy wingspan is top notch. He runs the floor incredibly well for a big man and should eventually develop an effective jump shot, forcing his defender to deal with him face up.
Davis is a stud. New Orleans, welcome to your future.
2. Charlotte Bobcats: Michael Kidd-Gilchrist, SF (Kentucky)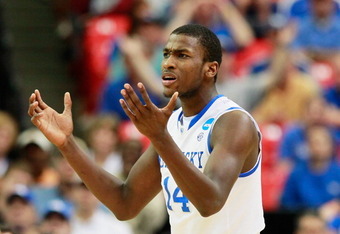 Kevin C. Cox/Getty Images
MKG is never going to be a superstar in the NBA, but he should be a "Super Utility Man" of sorts, able to help a team in every aspect and make his teammates better.
While I think he'll be a solid scorer at the next level, I don't think he'll ever be a guy who thrives as a team's primary scoring option. Rather, I think he'll have the impact of a LeBron James sans the scoring ability—he'll rebound well, pile up the assists and be a deadly weapon in transition.
Few players will give a better effort on the court or work harder off of it. The Bobcats will be disappointed they can't land Davis, but they'll love MKG in Charlotte.
3. Washington Wizards: Thomas Robinson, PF (Kansas)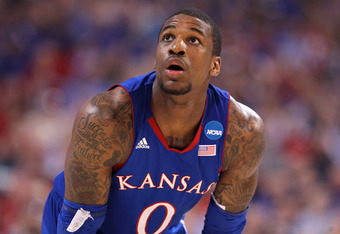 Andy Lyons/Getty Images
This is a tough selection for the Wizards, who have to decide between the NBA-ready Robinson at power forward and the draft's top 2-guard in Bradley Beal.
Ultimately, I think that Robinson's ability to make an instant impact alongside John Wall will make the difference. Though a bit undersized at power forward, he'll be a relentless force on the boards, should develop into a double-double mainstay and is very good athlete.
Beal may have more upside, but Robinson is a surer bet and will bring a hard-working, passionate attitude to a team that needs one.
4. Cleveland Cavaliers: Bradley Beal, SG (Florida)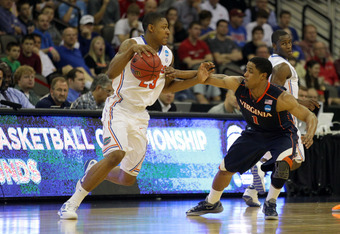 Doug Pensinger/Getty Images
Kyrie Irving plus Bradley Beal in the backcourt for the Cavs equals a serious headache for the rest of the NBA over the next 10 years.
He's an excellent shooter with ideal size for his position who is a solid defender and strong rebounder for a guard. Beal is also the ideal player to pair with Irving in that he can create his own shot, but is also effective as a catch-and-shoot option for when Irving drives the lane and kicks it out to the wing.
Frankly, I would love to watch these two in the backcourt together. If Beal is available at No. 4, it's a no-brainer pick for Cleveland.
5. Sacramento Kings: Perry Jones III, PF (Baylor)
With no point guard worth taking, I believe the Kings will turn to a deep class of power forwards to pair with DeMarcus Cousins. Undoubtedly, Jones has the most pure ability, but he also is the riskiest pick. If Sacramento can convince him he'll never be a small forward, the Kings could look brilliant here.

6. Portland Trail Blazers (via New Jersey):  Andre Drummond, C (Connecticut)  
The Blazers don't have a choice but to select the talented Drummond here. They could use a young center, and like Jones before him, Drummond is loaded with talent. Whether he ever lives up to it could  well define the next five years in Portland.
7. Golden State Warriors (from Utah): Harrison Barnes, SF (North Carolina)
The Warriors need a scoring option on the wing. Barnes is the best available option. Barnes plus the Warriors equals a common-sense pick.
8. Toronto Raptors: Jeremy Lamb, SG (Connecticut) 
Like Barnes before him, Lamb is an excellent catch-and-shoot option and a smooth, fluid athlete with good size. The Raptors will probably go after the top player on the board. On my board that is Lamb.

9. Detroit Pistons: Jared Sullinger, PF (Ohio State)

This is a good spot to nab Sullinger. He's a safe pick in this draft and should be a very good scorer and rebounder next to Greg Monroe on the block.
10. New Orleans Hornets (via Minnesota): Damian Lillard, PG (Weber State)   
Adding Davis and Lillard in this draft makes the Hornets the clear winners at this draft. Lillard is a dangerous scorer from the point and will make an instant impact next year. Perhaps this draft will be enough to convince Eric Gordon to stick around.
11. Portland Trail Blazers: Kendall Marshall, PG (North Carolina)
Marshall is the type of pass-first point guard this team needs. He'll be a perfect fit from Day 1.
12. Milwaukee Bucks: Tyler Zeller, C (North Carolina) 
There aren't many players who will get more out of their talent than Zeller. Not a sexy pick, but Zeller will always battle for the Bucks on the block.
13. Phoenix Suns: Dion Waiters, SG (Syracuse)   
His game resembles Dwyane Wade, though he's not anywhere near as polished as Wade was when he was drafted. Waiters may shoot up even further on boards than this.
14. Houston Rockets: John Henson, PF (North Carolina)  
Henson is a defensive force who has evolved his offensive game. But he's also rail-thin and will get beaten up down low if he doesn't add mass.
15. Philadelphia 76ers: Austin Rivers, SG (Duke) 
The Sixers need a primary scorer, and Rivers could fill that role. With Andre Iguodala sure to be rumored out of town via a trade and Lou Williams possibly bolting as a restricted free agent, Rivers could end up making a lot of sense for Philly.

16. Houston Rockets (via New York):  Meyers Leonard, C (Illinois)
He's no Sammy Dalembert, and that's exactly why he makes sense here. He's also a project, but Houston can afford to wait on him.

17. Dallas Mavericks:  Terrence Jones, PF (Kentucky)    
Jones is an intriguing pick. He's a solid athlete who proved he could bang on the block for Kentucky this year. He would have been a much higher pick last year, but often deferred on the offensive end given Kentucky's many talented options this year. That lends me to believe he'll be better in the NBA than his draft slot.
18.  Minnesota Timberwolves (via Utah):  Terrence Ross, SG (Washington)  
He's a solid athlete who has a perimeter game and a scorer's mentality. With a gap at the 2-guard, the Timberwolves shouldn't hesitate to add Ross.
19. Orlando Magic:   Quincy Miller, SF (Baylor)  
He's the definition of a project, but his upside is worth the risk for a team that could be in a major rebuilding mode next summer.
20. Denver Nuggets: Arnett Moultrie, PF (Mississippi State)
He was a double-double guarantee for Mississippi State last year, and he'll be a great find at this slot for Denver.
21. Boston Celtics: Moe Harkless, PF (St. John's)  
He averaged 15.3 points and 8.6 rebounds as a freshman and is an intriguing prospect at the 3. Boston is getting a steal here.
22. Boston Celtics (via Los Angeles Clippers): Jeffery Taylor, SG (Vanderbilt)  
Back-to-back steals for Boston in my opinion. Taylor is a good athlete, solid defender and excellent shooter, and should make a smooth adjustment to the NBA game.

23. Atlanta Hawks: Tony Wroten, Jr., PG (Washington)
He's probably going to be a combo guard at the next level and his game lacks polish, but he's an intriguing finisher around the rim and is an excellent defender given his size and strength. Teams are already smitten with his physique. But whether his game fully develops around it remains to be seen.
24. Cleveland Cavaliers (via Los Angeles Lakers): Fab Melo, C (Syracuse)
If he doesn't improve as a rebounder, he'll be a bust, plain and simple. Yes, he blocks shots well. No, he's not a great offensive threat. If he doesn't improve on the boards, this is a wasted pick.
25.  Memphis Grizzlies:  Royce White, SF (Iowa State) 
He averaged 13.1 points and 9.3 rebounds last season and was potent in the NCAA tournament, turning heads in the NBA. He's another in a long line of high-risk, high-reward options in this draft.
26.  Indiana Pacers: Marquis Teague, PG (Kentucky)
He's not a pure point guard yet, but he has the potential to develop into a solid option there. Indiana can afford to bring him along slowly.
27. Miami Heat: Draymond Green, PF (Michigan State)
What he lacks in size or a natural NBA position he makes up for in intangibles, rebounding and the ability to pass well for a big man. I've loved him as a fit with Miami for a while now.

28. Oklahoma City Thunder:  Andrew Nicholson, PF (St. Bonaventure)  
Nicholson can score, there are no questions about that. But can he bang on the block as an NBA power forward?
29. Chicago Bulls: Will Barton, SG (Memphis)
Last year's Conference USA Player of the Year averaged 18.1 points, 8.1 rebounds, 3.0 assists and 1.4 steals per game last season. He's a versatile athlete who defends well and is a better player than he is given credit for.
30. Golden State Warriors (via San Antonio): John Jenkins, SG (Vanderbilt)

As good of a perimeter shooter as there is in this draft. He'll be a nice addition for the Warriors on the wing.
Hit me up on Twitter—my tweets really wanted to have another.