French Open 2012 Scores: Disappointments Who Will Rebound at Wimbledon
June 10, 2012

Mike Hewitt/Getty Images
The 2012 French Open saw its fair share of disappointment as some of the biggest names in tennis were eliminated much earlier than expected. With Wimbledon play starting June 25, the next opportunity to erase the disappointment from our minds is right around the corner.
The switch from the clay of Roland-Garros to the grass of Wimbledon will be a welcome change for many of the stars who turned in poor performances in 2012's second grand slam. Here are players that are sure to rebound with a good showing at Wimbledon.
Caroline Wozniacki
Wozniacki came into the French Open as a favorite to advance to at least the quarterfinals—especially after Serena Williams' loss. Coming in as the ninth ranked player in the world, much was expected of the 21-year-old. Unfortunately, Wozniacki was unable to live up the hype as she was ousted by Kaia Kenepi in just the third round.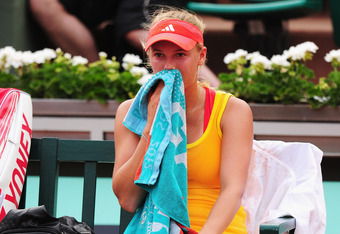 Mike Hewitt/Getty Images
While Wozniacki's early exit was disappointing, she should fare much better at Wimbledon. Wozniacki has been much more consistent on the grass of Wimbledon than at the French—she has made it to the fourth round in each of the last three years and holds a 12-5 record in the tournament.
The young Wozniacki is still developing as an elite player, so some inconsistency is to be expected. Look for her to come to Wimbledon ready to make people forget about her French Open performance.
Serena Williams
The most shocking upset of the French Open was Serena Williams' first-round loss to Virginie Razzano. Williams came into the French ranked No. 5 in the world, but turned in an awful one-and-done performance at Roland Garros.
The fact that Williams struggled at the French shouldn't affect her going into Wimbledon, though—she has always struggled on clay. Williams is a mere 39-10 in the tournament and has only won it once. By contrast, Williams is 60-8 at Wimbledon and has won the tournament four times.
Coming off of a disappointing performance in the French to dominate at Wimbledon is nothing new and a rebound performance is to be expected.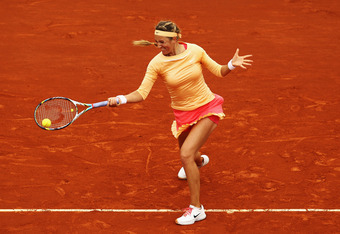 Matthew Stockman/Getty Images
Azarenka may have lost her No. 1 ranking to Maria Sharapova, but Wimbledon will offer her a great opportunity to gain it back.
Azarenka saw an early exit in the fourth round of the French Open after losing straight sets to Dominika Cibulkova. For the No. 1 player in the world to be beaten that badly is disappointing, so Wimbledon will be key in regaining her status as the best player in the world.
Azarenka has been fairly successful at Wimbledon making an appearance in 2011's semifinals and posting a 15-6 record for her career in the tournament. Azarenka should continue to improve on her 10-1 record in slam matches this year and could even add her second grand slam title of 2012 with a great showing at Wimbledon.