French Open 2012: Keys for Novak Djokovic to Defeat Rafael Nadal
June 10, 2012

Mike Hewitt/Getty Images
Novak Djokovic is the No. 1 player in the world, but it will take a great effort to defeat Rafael Nadal at the French Open.
Nadal is seeking to become the first player ever to win seven titles at Roland Garros, one more than Bjorn Borg. In his eighth year competing at the event, the Spanish native has only lost one match. This year, Nadal has not lost a single set.
Not many people in the world would be able to beat him, but Djokovic might be one of them. 
Most of the time, Nadal is able to defeat his opponents on reputation alone. Players know exactly what they are facing and start to give in early.
Even No. 6-ranked David Ferrer did not provide much contest, telling ESPN, "Both of us were playing more or less the same type of tennis, but then he started to become more and more aggressive. There was nothing I could do to fight back."
The difference with Novak is that he has experience beating the talented athlete.
Nadal has defeated the Serbian recently in Monte Carlo and in Rome, but the Djoker wins when it matters most. The last three Grand Slam titles have been won by Djokovic, winning the finals against Nadal each time.
Remaining confident throughout the match, even if he falls behind, will be key for Novak's chances to win.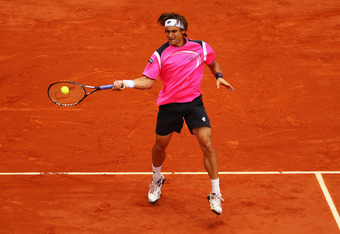 Clive Brunskill/Getty Images
The other key to victory is to avoid mistakes. Although this sounds obvious, Nadal succeeds by sitting back and waiting for opponents to make unforced errors. The clay court allows him to be passive and stay behind the line.
Djokovic is unlike other competitors. When he is on his game, he can be almost flawless. He needs to remain focused throughout the match and not beat himself.
Defeating possibly the best clay player of all time at the French Open will be an uphill battle. However, if Djokovic can hold his serve, play with confidence and not beat himself, he will beat Nadal and win his fourth straight Grand Slam title.