Argentina vs. Brazil: Score, Highlights, Twitter Reaction and Analysis
June 9, 2012

Rich Schultz/Getty Images
While you were watching Euro 2012 to see two goals scored, you missed something special at MetLife Stadium.
Brazil and Argentina renewed their rivalry, and it was better than expected. 
There were three lead changes on the day, and Lionel Messi was a part of two. He proved once again why he is the most dynamic player in the world.
Let's breakdown what we saw on Saturday.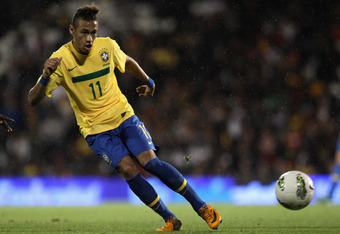 Clive Rose/Getty Images
Score: Argentina 4, Brazil 3
Argentina 
Lionel Messi 31', 34', 85'
Federico Fernández 76'
Brazil
Romulo - 23'
Oscar - 56'
Hulk - 72'
Highlights
Brazil took the 1-0 advantage after Romulo's goal in the 23rd minute. That strike would kick the scoreboard into life in a topsy-turvy encounter.
This is Messi's third goal, and it turned out to be the game-winner. 
Messi once again proved why he is the best in the world, and that he isn't just great at club level, but can produce on the international stage too, which has always been the one criticism of the Argentinian superstar. 
Twitter Reaction
FIFA.com's twitter feed comments about red cards and Argentina winning 4-3.
The friendly between Argentina and Brazil has finished with red cards for Lavezzi and Marcelo, with Argentina running out 4-3 winners.

— FIFA.com (@FIFAcom) June 9, 2012
  Sky Sports News comments on the great Messi's hat-trick against Brazil via their twitter feed
Lionel Messi has scored a stunning hat-trick as Argentina beat Brazil 4-3. See the goals on SSN tonight.

— Sky Sports News (@SkySportsNews) June 9, 2012
Messi now has 82 goals this season. 73 have come with Barcelona and nine with Argentina, according to Barcastuff's twitter feed. 
Lionel Messi has now scored a record 82 goals this season: 73 with Barcelona, 9 with Argentina #fcblive

— barcastuff (@barcastuff) June 9, 2012
Analysis 
Euro 2012 may be getting all the publicity, but the real excitement was at MetLife Stadium. Brazil and Argentina lived up to the high expectations that the game was receiving.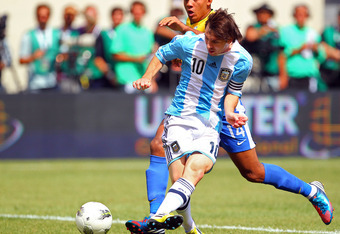 Rich Schultz/Getty Images
There was physicality, fantastic build-up play, lead changes and goals aplenty. It was exactly what fans want to see when these two giants collide.
Messi continues to be unbelievable in 2012. He not only tied the game early when Brazil had all the momentum, but he tallied two other goals, one that proved to be the game-winner.
He is on another planet right now, and nobody is capable of slowing him down. His 82 goals this season are just a reminder of how great he has been. 
Brazil and Argentina can score at will against any side in the world. It's a matter of playing defense. If these teams can tighten up in the back, they will find success in future competitions.