Euro 2012 TV Schedule: Predictions for Sunday's Group C Action
June 10, 2012

Denis Doyle/Getty Images
Euro 2012 has provided memorable moments, quality goals and fantastic finishes. We are only two days into competition.
The fun is only beginning.
Here are some predictions for Sunday's Group C action. 
Spain over Italy 2-1
Spain will be going up against a defensive-minded Italian team looking to slow the pace. One team's strength is going to prove superior to the other and it will be Spain's offense.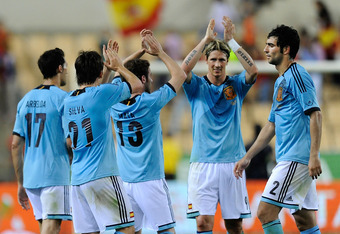 Denis Doyle/Getty Images
Italy doesn't provide the same quality defense they did several years ago. They are capable of allowing multiple scoring chances per game, especially against quality sides.
Spain brings more than just quality.
With its ability to move the ball side-to-side, provide quality through balls and provide perfect one-two plays, Spain is a legitimate threat to win its second-straight European Football Championship. 
Final Analysis
Spain breaks through Italy's defense twice en route to a 2-1 victory. Italy competes at a high level, even scores on a set piece, but Spain's form is too much to overcome.  
Croatia over Republic of Ireland 1-0
Croatia is ranked No. 8 in the world, according to FIFA World Rankings. Maybe they are slightly overrated, but they do have talented players capable of making it to the knockout stages.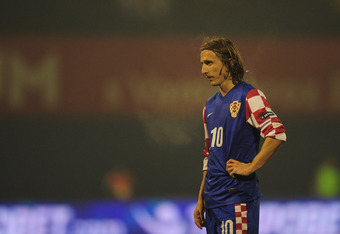 Jamie McDonald/Getty Images
Luka Modric is Croatia's prime example of talent. He has proved capable of breaking down defenses, creating scoring chances and playing quality football for Tottenham in the English Premier League.
He will need to play well if Croatia has a chance of making it to the knockout stages. 
Croatia is in a perfect position to compete for the group with a game against Republic of Ireland, a team that is inferior to the others in the group. A win out of the gates could give Croatia confidence heading into their showdowns with Italy and Spain.
Republic of Ireland is a defensive-minded team who struggle to score goals. They have veteran Robbie Keane, but not much more. He has scored more than 50 goals for his country since 1998. 
Final Analysis
If Croatia can shut down Keane, they should have no issues holding off Ireland's offensive attack. The question then becomes: Will Croatia have enough to break through against Republic of Ireland's defense?
Yes. They will break through once, taking the lead after the half and holding on to the one-goal advantage.  
Check out ESPN.com for the complete TV schedule for Euro 2012.