French Open Tennis 2012 Finals: Djokovic Has More to Gain Than Nadal in Final
June 10, 2012

Mike Hewitt/Getty Images
Novak Djokovic and Rafael Nadal can make history with a win in today, but it's not close—the world's No. 1 has much more to gain in victory than his Spanish rival. 
Actually, the two tennis marvels have already made history by simply advancing to face each other in this year's French Open final. 
Howard Bryant of ESPN.com made note of how rare this Novak vs. Djokovic final really is: 
"No pair of rivals in the history of the Open era, not Borg and McEnroe, Connors and McEnroe, Sampras and Agassi, has ever played in four straight finals of a Grand Slam."
Impressive. 
With a win, Rafa would have seven French Open triumphs on his resume, which would supplant tennis legend Bjorn Borg for the most all-time wins at Roland Garros—quite the feat.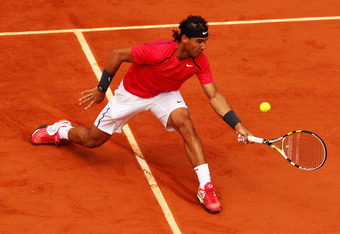 Clive Brunskill/Getty Images
However, the aptly nicknamed "King of Clay," at the ripe age of 26, is bound to get his seventh title in Paris at some point in his career. Actually, a more "reasonable" challenge for Rafa that should really captivate fans is if he can get to double-digit French Open wins.
If he loses and his ridiculous record in Paris moves to 51-2, no big deal. Sure, it'll be concerning, but he'll return to greatness on clay in the future. 
If Djokovic emerges the victor, he'll be the first player to hold all Grand Slam titles at once since Rod Laver did in 1969. That's potentially a once-in-a-career accomplishment, an achievement not easily attainable.
Also, after beating Nadal at Wimbledon, the U.S. Open and the Australian Open, Djokovic has an opportunity to cement himself as the best player on the planet, regardless of the surface.
Roland Garros has been Nadal's playground, a place where he's utterly dominated. Despite losing the world's No. 1 ranking to Djoker for nearly a year now, he's clearly been the best player on clay for the last five years. 
A win for either will be legendary, but a victory is much more vital to Novak Djokovic, even as the top-ranked player in tennis.