Netherlands vs. Denmark: Rating the Danish Players in Euro 2012 Group B
June 9, 2012

Lars Baron/Getty Images
Denmark tore open Group B with a shocking 1-0 win over one of the pre-tournament favourites, Holland. Morten Olsen's side were resilient and cohesive at the back, and clinical when it mattered in the final third, recording their nation's first win over the Dutch in 45 years.
With Germany and Portugal now in action, this result has only made the tournament's most competitive group even harder to call.
Denmark's meticulously prepared game plan worked a treat, and the side will rightly receive a mass of plaudits for achieving such a notable win. Many will point to the strangely malfunctioning radars of Arjen Robben and Robin van Persie as decisive ingredients—a fair point—but it is hard to taint the Danish effort too much.
Here are the ratings for the Danish side:
Stephan Andersen (GK): 7/10
Despite watching more than 30 shots fly towards his goal, remarkably the Dutch only tested him five times. He seemed confident gathering crosses, was secure when tested and brave diving at the feet of Van Persie late on. He loses a point for a horribly under-hit, first-half pass that could have ended in a disaster.
Lars Jacobsen (RB): 6/10
The former Everton, Blackburn and West Ham man was tidy and organised, without quite catching the eye as much as some of his defensive peers. Ibrahim Afellay threatened to expose him early on, but he managed to keep close enough tabs on his opposite man for most of the game. Going forward, despite finding himself in decent positions, his crosses were often over-hit, with only one of six finding a man.
Simon Kjaer (CB): 8/10
An imperious Renaissance from a young player who has endured a testing two years at club level. He tackled and cleared the ball more than anyone and looked assured in his role. Projected as one of the best prospects in Europe a few years ago, if he builds on this display he may yet prove to be that world-class player many forecast.
Daniel Agger (CB): 9/10—MOTM
The Liverpool man was a colossus. He seemed to constantly be one step ahead of everyone, making an impressive seven interceptions, with no other Danish player making more than three. Man of the match in this review, not only for his all-round play, but for the way he constantly inspired and encouraged those around him. The coordinator of a well-drilled unit.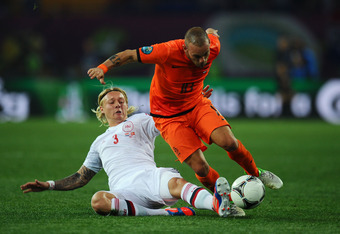 Lars Baron/Getty Images
Simon Poulsen (CB): 8/10
Poulsen still appears defensively unconvincing, yet nobody could say he was anything but excellent this afternoon, and a key to the Danish victory. Solid enough at the back—though Robben failed to punish his mistakes—it was going forward where he proved so pivotal. Venturing further up the field as the game went by, the Dutch were unsure about who should pick up the extra man, and it was Poulsen's cross that set up Krohn-Delhi's crucial goal. 
William Kvist (CM): 8/10
Perhaps the most underrated performer today. Kvist won't grab too many headlines, but he was a huge influence on the result. He helped disjoint the Dutch flow in the middle of the pitch, was his side's tidiest passer and helped slow down the Dutch offence.
Niki Zimling (CM): 7/10
Zimling was similarly strong in the heart of the midfield, linking up well with his partner. He was on the ball more than any of his teammates, although he loses a point for leaving Wesley Sneijder with too much room on a couple of occasions, and for a couple of unnecessary fouls.
Ian Walton/Getty Images
Michael Krohn-Delhi (LM): 9/10
The find of the tournament so far? The 29-year-old has been in scoring form for Denmark recently, and it seems as though he has carried this over to Euro 2012. He was a constant menace to Gregory van der Wiel, who struggled to contain him. He tested the goalkeeper with all his shots, passed better than any of his teammates (92 percent) and shared real telepathy with Poulsen down the left flank. Krohn-Delhi to Poulsen was the most used Danish combination of the match, highlighting their chemistry.
Dennis Rommedahl (RM): 5/10 
So often the Danish talisman, Rommedahl was fairly subdued and seemed strangely furious at being withdrawn with just six minutes remaining. He touched the ball less than any other starting player, left Jacobsen glaringly exposed on a few occasions and failed to ever really impose himself on his vastly inexperienced opponent. 
Christian Eriksen (CAM): 6/10
Denmark's most hyped player was perhaps understandably quiet in such a defensive display. He was rarely in possession and only showed glimpses of his huge potential, although his movement and ability to find space was encouraging. Surely more to come from him before the tournament is out.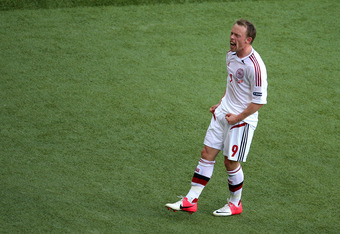 Julian Finney/Getty Images
Nicklas Bendtner (CF): 7/10
Although he barely made an impression on the Dutch goal, Bendtner fulfilled his role admirably and certainly let Johnny Heitinga and Ron Vlaar know they were in a contest. The target man held up play well, generally found his man and passed with 80 percent accuracy—an impressive return for a forward. Possibly one of his most unselfish all-round performances, he gave his all for the cause.
Substitutes: N/A
Next up for Denmark is a clash against a Portugal side they have beaten home and away over the past two years. Should Morten Olsen mastermind another win, then surely one of the major favourites for this tournament will be packing their bags early.
Thanks for reading! If you liked this article, follow me on Twitter for more football chat.