NBA Finals 2012: Why OKC Should Be Praying for Celtics Win in Game 7
June 9, 2012

Fans of the Oklahoma City Thunder will be sitting on pins and needles tonight, in hopes of a Boston Celtics victory over the Heat in Miami.
Game 7 of the Eastern Conference Finals should be an entertaining affair, as LeBron James attempts to play Superman for the second game in a row. But if OKC is lucky, James will be held in check and will provide a national television audience with his proverbial choke in the waning minutes.
James has received flak throughout the playoffs, as a man who freezes when the game is on the line. Fortunately for LeBron, he did not have to deal with that in Game 6, thanks to a 45 point, 15 rebound effort that quickly put the Celts out of their misery.
The strange thing about Boston's loss at the Garden was the "Let's Go Celtics" cheers they received at game's end. Diehard fans took it upon themselves to will their team to win in Saturday night's deciding game in Miami and the kind gesture was appreciated.
"Kevin [Garnett] was sitting next to me," Celtics guard Ray Allen recalled of being on the bench late in the game, "and I said these are the best fans I've ever played in front of or ever seen in my life. They understand the situation that is before us, and we understand it. That was them sending us off, letting us know, 'Hey, this is still well and alive -- we need you guys to go down there and get a win for us.'" (h/t Sports Illustrated)
Boston fans will not be the only ones rooting for the Celtics tonight, because all of Oklahoma City should be praying for them too.
It's always fun to root for the underdog, especially when so many people wish for a series between two heavyweights. A recent column on NBA.com thoroughly explains why a Heat-Thunder series would be ideal, but Oklahoma City would likely agree to disagree. They would argue that the Thunder have already proven that they can beat a team that is past their prime (San Antonio) and can do it again versus Boston.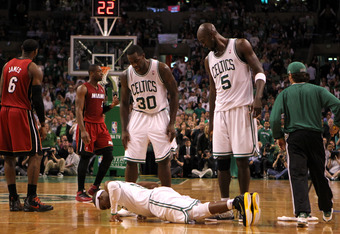 Jim Rogash/Getty Images
Yes, it's true that LeBron James and Dwayne Wade would be perfect ingredients to add to a recipe that would include Kevin Durant and Russell Westbrook. But Thunder fans should rejoice, if they are left to face a geriatric NBA team that is playing out the string.
Following his team's Game 6 nightmare, Boston head coach Doc Rivers sounded like a man who had one too many drinks after the game.
"We're all packed," Rivers said in a conference call Friday. "Guys have a lot of luggage and we're hoping we can use it."
NBA.com's Shaun Powell hit the nail right on the head in his Game 7 preview, despite his preference for a Heat-Thunder Final. 
"The Celtics are a neat little story of persistence, if nothing else. Kevin Garnett at 36 can still bring it, along with Paul Pierce. Until James went ballistic in Game 6, Rajon Rondo was the best player in this series. Meanwhile, Doc Rivers is confirming what we all knew about him, a terrific in-game coach who knows how to make adjustments and draw up plays. Ray Allen, give the man the hoops version of the purple heart for running around and jumping off one ankle."
Age and injury is just what the doctor ordered for Oklahoma City. And if God has anything to do with it, their prayers will be answered with one last heroic effort tonight by the Celts.