Netherlands vs. Denmark: 10 Things We Learned from Euro 2012 Group B Showdown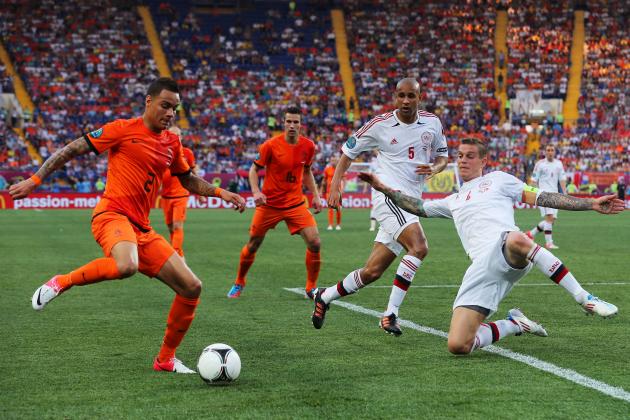 Ian Walton/Getty Images

Well, we have our first big shock of Euro 2012, and, unsurprisingly, it happens in the group of death.
Denmark was supposed to be the lone weak team in this nearly impossible group that includes Germany, Portugal and their opponents the Netherlands, and yet they outplayed the Dutch en route to their first opening-game win in a European Championship.
A Michael Krohn-Dehli goal in the 24th minute was all it took to squeak past a Dutch side that mightily struggled to finish the many, many chances that it had all day long, and Group B is now more open than ever.
Of the many things we can take from this match, let's look at 10.
Begin Slideshow

»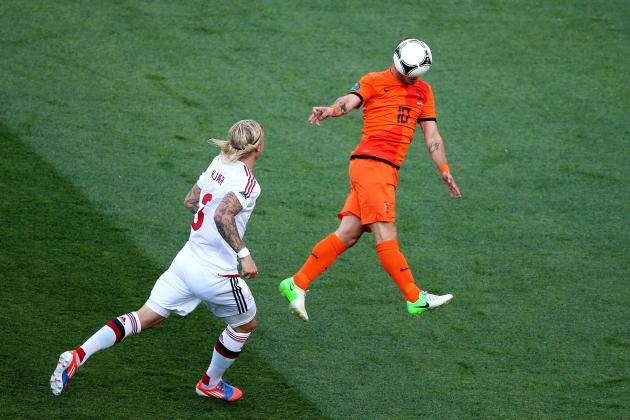 Julian Finney/Getty Images

Based on what he did for club side Inter Milan this past season, you would have bet that Wesley Sneijder would have been disappointing for his country.
On the contrary, he was the Netherlands' best player, creating much of what the Dutch did well going forward and orchestrating play in attack like we all know he is capable of doing. Only a handful of players in the world could have played the stunning 40-yard ball to Klaas-Jan Huntelaar that the latter squandered in the 74th minute.
And Robin van Persie, who easily had the best season of his career at Arsenal, flailed at numerous golden chances, many of which were created by his frenemy Sneijder, and had many Dutch fans calling for Huntelaar.
It just goes to show that everything prior to the tournament goes out the window when the two teams step onto the field.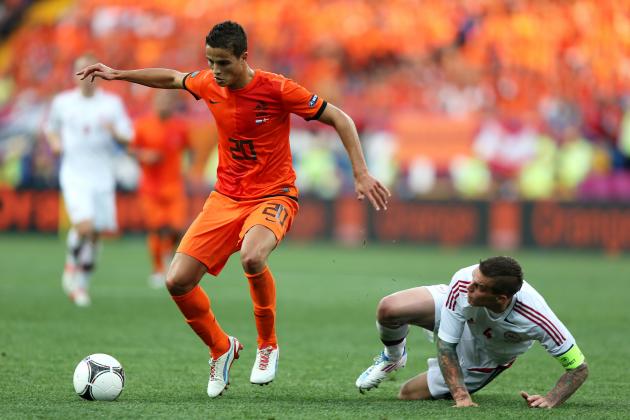 Ian Walton/Getty Images

If Wesley Sneijder was the Oranje's best player on the day, Afellay had to be the second best in his 70 minutes on the pitch, despite the fact that he only made four appearances for club side Barcelona last season.
Very lively in qualifiers, he was a constant threat to the beleaguered Danish defenders whose hips must be sore from being turned this way and that and then dribbled through and left in the dust.
Not only was Afellay fantastic in one-on-one matchups, he created chances like a central midfielder, and knew exactly when to lay the ball off for another attacker. If Bert van Marwijk wants to squeeze Huntelaar and Van Persie in the same starting XI, he won't be able to consider dropping Afellay.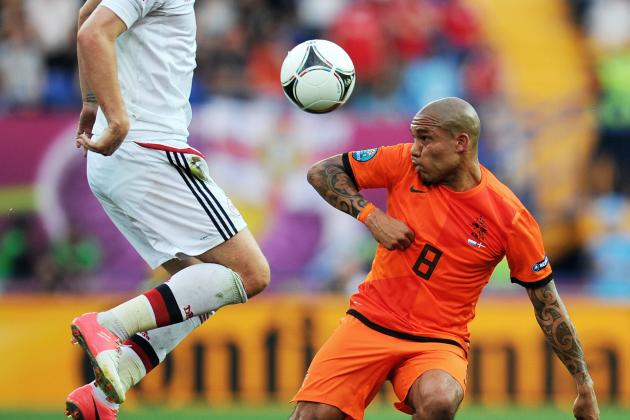 Lars Baron/Getty Images

Usually, Denmark struggle mightily in attack when Nicklas Bendtner is not firing and on form, but the Danes were very positive going forward with their main striker completely anonymous.
Every so often, you could see Bendtner furiously calling for the ball, but the likes of Christian Eriksen, William Kvist and Michael Krohn-Dehli, who scored the eventual winner, would make the correct decision and create something themselves.
And the surprisingly precise passing and selective selfishness worked extremely well, as Denmark was able to win possession in midfield, flare play out to the wings and torment a lackluster Netherlands defence.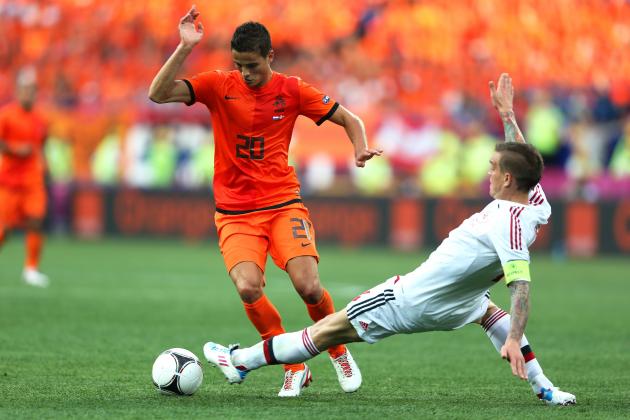 Ian Walton/Getty Images

If there was ever an example of the "bend but don't break" footballing philosophy against a stronger opponent, this game was it.
The Netherlands unleashed a whopping 28 shots, but due to a mixture of Danish organization, strategy and intelligent blocking, only five of those were on target, and even fewer were dangerous.
Captain Daniel Agger and Simon Kjaer were immense in the center, while Lars Jacobsen was one of the best players on either team out on the right flank, perfectly balancing the arts of defending and attacking.
In the end, Denmark did just enough to hold on to the slimmest of victories.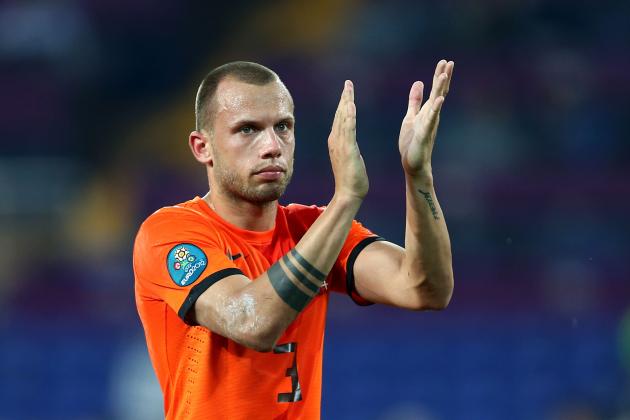 Julian Finney/Getty Images

The one achilles heel of the Netherlands has been, and continues to be, their leaky and inexperienced defence, which cost them the points against Denmark.
While Gregory van der Wiel was quite positive, everyone else along the back line was marginal at best, and the fact that Bert van Marwijk was forced to start Ron Vlaar, who had not played at all in qualifying, is a testament to the lack of depth at the back that the Dutch suffer from.
One only needs to watch Michael Krohn-Dehli's goal to see where the Dutch continue to fail. With three men marking him at once, the winger was able to skip through and fire his shot between the legs of Maarten Stekelenburg.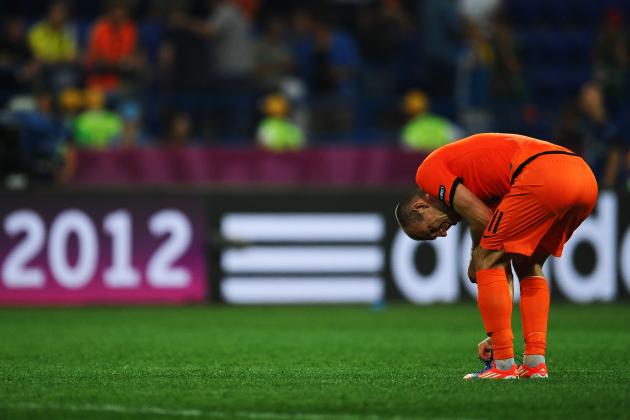 Lars Baron/Getty Images

Perhaps if Arjen Robben had had some more good luck recently, fans would be more willing to met him off the hook for his shortcomings here.
But after choking away the Champions League final or Bayern Munich, there is an overwhelming sense that Robben is a cursed player who cannot catch a break for club or country.
He had numerous good chances in this match and created many more, but could never find the finishing touch or make the right decision when it mattered, cracking the potential equalizer off the post in the first half and squaring across goal when he should have had a shot.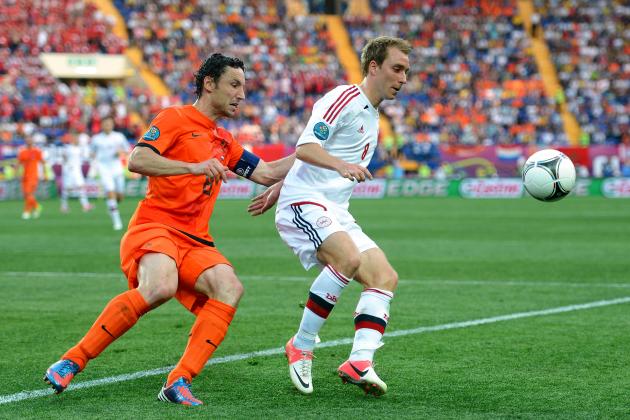 Lars Baron/Getty Images

You could say that it is unfair to judge a player so highly regarded as Christian Eriksen by one game against a world-class opponent, but the 20-year-old starlet failed to impress me.
I expected Eriksen to be the focal point of many of Denmark's attacks, playing the sort of creative role that Wesley Sneijder excelled in. And while Eriksen did have his moments, he was mostly a supporter of other, more effective players.
Since the Danes mostly worked in from the wings, it was the likes of the hard-running Dennis Rommedahl and goalscoring Michael Krohn-Dehli who stood out much more than their more highly-touted compatriot.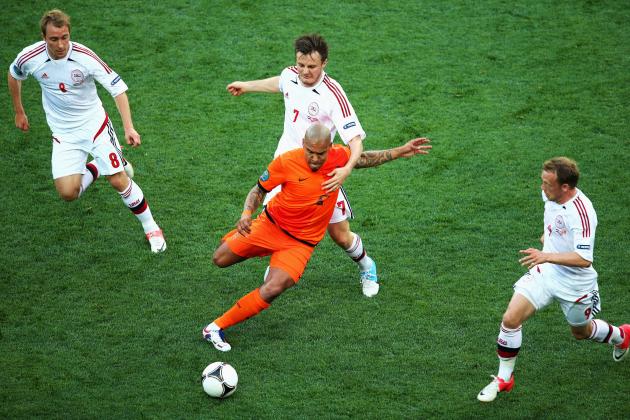 Julian Finney/Getty Images

Give credit to manager Bert van Marwijk for sticking to his guns and playing two defensive-minded midfielders deep into the game in Nigel de Jong and Mark van Bommel, but it simply did not work.
Much of the creative burden fell on Wesley Sneijder throughout the game, and while he certainly did his part, the Netherlands still struggled at times to create chances against a well-organized opponent.
And if you are going to field such a conservative midfield, conceding goals is inexcusable, which is why Van Marwijk might have to stick his colors to the mast and simply attack in every remaining match.
Swapping out an enforcer like de Jong for the much more dynamic Rafael van der Vaart would be an intelligent move in the Netherlands' next game against Germany, and Dutch fans might see the football they love return again.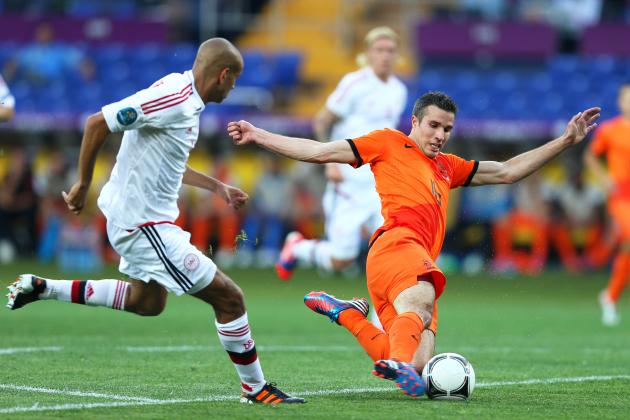 Julian Finney/Getty Images

Although he did not get on the scoresheet today, Robin van Persie again showed why, contrary to the beliefs of some in the Oranje army, he should start up front instead of Klaas-Jan Huntelaar.
Huntelaar, the Bundesliga's top scorer last season, is a fantastic striker and goalscorer, and in almost any other national team in the world he would automatically start. But he just happens to be from the same land as Van Persie, who is a more complete footballer and adds much more to the team.
Most importantly, the latter has creative skill that Huntelaar does not, and his clever flicks and crosses helped the Netherlands to create some of the best chances they had on the day. Were it not for the influence of Van Persie, who frequently dropped deep into midfield, the Dutch would have manufactured even less.
Julian Finney/Getty Images

Normally, losing your first game in a major tournament would not be a death blow to a side as good as the Netherlands. Indeed, they lost to the Soviet Union in Euro 1988 and eventually when on to win.
But when you are in the group of death with Germany and Portugal, you just cannot afford to slip up to the weakest team of the bunch.
Now, the Dutch cannot lose any of their remaining games and get some help at the right times from from both the Germans and the Portuguese. Plus, the supposed whipping boys are now, with their handy three points, automatic contenders to progress, opening the group even more.
Things are certainly not over for the Netherlands, but their road to glory just got several times harder.