Alabama Football: The Crimson Tide's Best Weapons Against Each 2012 Opponent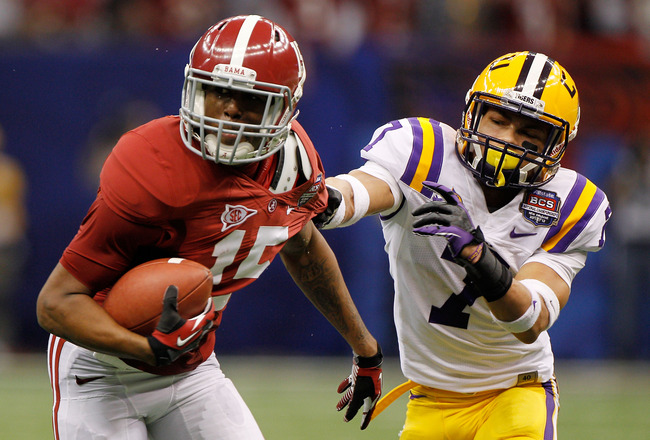 Chris Graythen/Getty Images
The Alabama Crimson Tide will work as a team to defeat each and every opponent on their schedule en route to repeating as national champions, but there are some special players who will prove to be kryptonite to opposing teams.
The Tide have both offensive and defense players who will prove to be nightmares for would-be challengers. Here is a look at which players will seal the deal against every opponent on the Tide's 2012 schedule.
Michigan Wolverines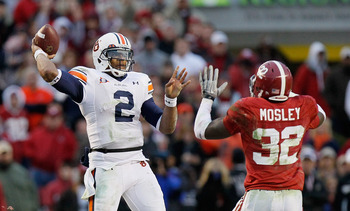 Kevin C. Cox/Getty Images
Alabama's Weapon: C.J. Mosley, LB

Alabama's C.J. Mosley is one of the most balanced linebackers in the nation. He can be all over the field and plays the pass and run in equal measure.
Mosley is most dangerous against dual-threat quarterbacks. Whether against Auburn's Cam Newton, LSU's Jordan Jefferson or even Michigan's Denard Robinson this fall, Mosley can cause some serious headaches.
Quarterbacks often think short slant routes through the middle are safe options for gaining a few yards, but not with Mosley around. Michigan's success will be directly determined by Robinson, and Mosley will shut him down on the ground and in the air.
Western Kentucky Hilltoppers
Kevin C. Cox/Getty Images
Alabama's Weapon: Jalston Fowler, RB

In the second game of the season the Alabama Crimson Tide will be looking to heal up from their first contest of the year against Michigan.
While Alabama's stars prepare for their showdown with Arkansas in Week 3, the Tide will look to their reliable closer against inferior competition, Jalston Fowler.
The game will quickly be out of hand, and Nick Saban will have the ball fed to Fowler to close out the game and burn out the rest of the clock. The Alabama defense will not have to risk injury as they chill on the bench and let Fowler take care of the rest.
Arkansas Razorbacks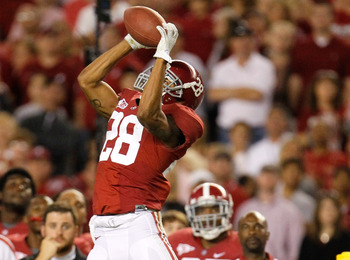 Kevin C. Cox/Getty Images
Alabama's Weapon: DeMarcus Milliner, CB

Last season, opposing quarterbacks thought they would be clever and attack Alabama cornerback DeMarcus Milliner.
They subsequently looked silly when Milliner led the Tide in interceptions and returned one for a touchdown.
Milliner will finally have a breakout year in 2012 worthy of his former status as the No. 1 cornerback prospect in the 2010 class.
Arkansas's main threat will be quarterback Tyler Wilson, but he has only one proven receiving threat returning in 6'3", 209-pound Cobi Hamilton. Milliner has the size and strength to go head-to-head with Hamilton, and he will effectively take away Wilson's best weapon.
If Milliner succeeds in this role, then Alabama's linebacker squad will have to focus only on stopping the Hogs' outstanding running back, Knile Davis.
Florida Atlantic Owls
Rob Carr/Getty Images
Alabama's Weapon: The Bench
Alabama's starters will get a much-needed rest after their showdown against Arkansas.
Alabama's backups will litter the field before the end of the first quarter and stay there until the Tide's unfulfilling yet necessary victory.
Ole Miss Rebels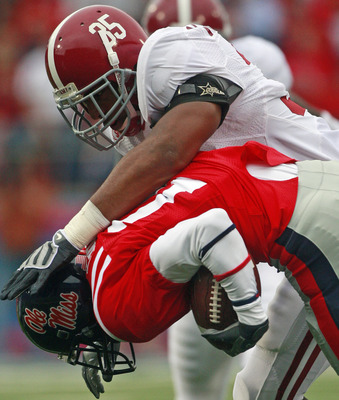 Dave Martin/Getty Images
Alabama's Weapon: Nico Johnson, LB

The Ole Miss Rebels have no weapons to speak of, but their junior running back, Jeff Scott, will be their lone shining light. Scott, who eclipsed Brandon Bolden in yards gained, will do his best against Alabama.
Unfortunately for him, Alabama has one of the best run-stuffing linebackers in the nation.
Nico Johnson will shut down Scott at the line of scrimmage every time, and the Crimson Tide will have another easy victory over Ole Miss.
Missouri Tigers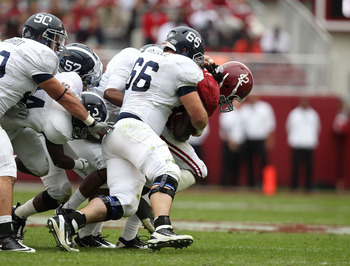 Mike Zarrilli/Getty Images
Alabama's Weapon: Eddie Lacy, RB

Missouri will enter the SEC with a respectable passing attack, and quarterback James Franklin will try to prove himself and the Tigers to the SEC.
But he can only do that when the ball is in his hand.
Alabama will run a brutal clock-control offense against the Tigers, and Eddie Lacy will spearhead the attack. I expect Mizzou to control the ball for 25 minutes or less, and the Tide will be able to thank Lacy for that.
Tennessee Volunteers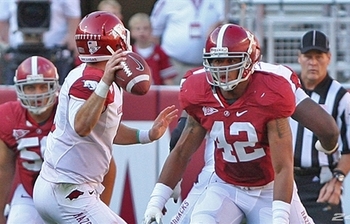 Alabama's Weapon: Adrian Hubbard, LB

Alabama will be facing a new Tennessee team that won't look much like their 2010 and 2011 versions.
Vols quarterback Tyler Bray, however, is a bit squishy against the pass-rush.
Tennessee's offensive line will struggle to protect him, and Alabama's new Jack linebacker, Adrian Hubbard, looks just as ferocious as his predecessor, Courtney Upshaw.
If Hubbard doesn't flat-out demolish Bray he will, at the very least, scare the pants off him into making ridiculous decisions.
Mississippi State Bulldogs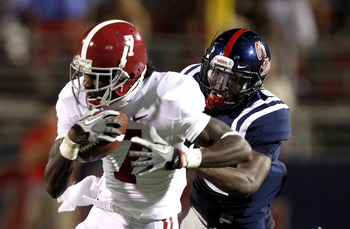 Butch Dill/Getty Images
Alabama's Weapon: Kenny Bell, WR

The Mississippi State Bulldogs will likely continue their trend of playing hard-nosed football against superior talent. Last year, the Bulldogs forced the Tide to run Trent Richardson more than 30 times to secure a tough victory.
That won't be the case in 2012, even if the Bulldogs go all out again.
Alabama's running backs will get a breather, and quarterback A.J. McCarron will find speedy receiver Kenny Bell numerous times for a quick victory against Alabama's graphically closest rival.
LSU Tigers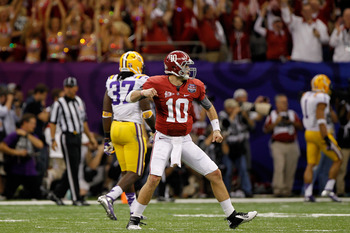 Chris Graythen/Getty Images
Alabama's Weapon: A.J. McCarron, QB

Compared to what everyone else did in 2011 against LSU, Alabama quarterback A.J. McCarron shredded LSU's defense. He picked on LSU's Heisman finalist cornerback Tyrann Mathieu all night, and he had lanky receiver Kevin Norwood to thank for that.
Alabama will have a much more talented receiving corps in 2012, and McCarron will be able to find more than just Norwood.
Texas A&M Aggies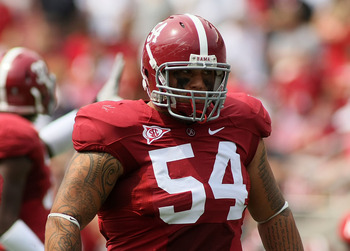 Greg McWilliams/Getty Images
Alabama's Weapon: Jesse Williams, NT

Jesse Williams proved that he can handle double-teams when he played as the Tide's left defensive end in 2011.
In 2012, Williams will be expected to perform as Alabama's new nose tackle just as well as Josh Chapman and Nick Gentry did last season.
The Aggies will face the Tide with few offensive weapons, but their running back, Christine Michael, is one heck of a player.
However, he won't find any of the holes he will desperately need to lead his team to victory.
Williams will clog every possible route between the tackles. Michael will have a rough night and spend half of it with his face in the grass on the line of scrimmage.
Western Carolina Catamounts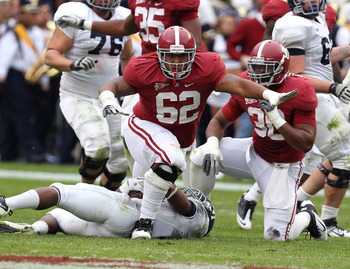 Mike Zarrilli/Getty Images
Alabama's Weapon: The Bench
Alabama's depth chart will carry the team to victory over Western Carolina.
The Catamounts are a horrible team, and I'm embarrassed as a fan to see them on the schedule against Alabama.
At least Georgia Southern, the FCS school the Tide faced in 2011, was a damn good team.
Auburn Tigers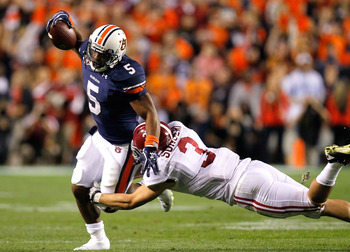 Kevin C. Cox/Getty Images
Alabama's Weapon: Alabama's entire secondary
Hardcore Alabama fans think that the 2012 Iron Bowl will be a walk in the park, but that couldn't be further from the truth. It will be a hard-fought contest, and Alabama's secondary will decide the game.
First, the Tigers will have a much-improved passing game that will be led by either veteran quarterback Clint Moseley (who was underrated in 2011) or Kiehl Frazier, a guy who can run and gun with the best of them.
The Tigers have a possible All-American receiver in Emory Blake, and it will be the secondary's job to make sure he can't produce.
However, the Tide's main job will be stopping the Tigers' running backs.
Auburn has one of the fastest and most elusive running back squads in the nation, led by veteran back Onterio McCalebb. The Tigers will ruthlessly test the Tide's ability to defend the perimeter, and more often than not, it will be up to the secondary to immediately sniff out run plays and put a stop to them.
Keep Reading

Alabama Crimson Tide Football: Like this team?