NBA Free Agency 2012: Can Nick Young Solve Scoring Woes for Chicago Bulls?
June 15, 2012

Kevin C. Cox/Getty Images
Let's take a peek at the Chicago Bulls' to-do list: No. 1, make sure star point guard Derrick Rose returns healthy; No. 2, find a permanent fit at shooting guard to help the scoring woes. 
While we can't do anything about Rose's recovery from his torn ACL, we can help out with that second chore. Chicago should make their best effort and sign two-guard Nick Young.
Young spent the second half of last season with the Los Angeles Clippers after being traded in March from the Washington Wizards. He's a proven scorer, and has shot 37.8 percent on three pointers for his career. Young seems a fantastic scoring fit to pair with Rose. 
Chicago, of course, doesn't exactly have much cap space to work with. They're burdened with big contracts, including Rose (deserves it), forward Luol Deng (slightly overpaid), center Joakim Noah (slightly overpaid) and forward Carlos Boozer (grossly overpaid).
With Rose's new extension kicking in this offseason, the Bulls will sit at a team salary of $75.96 million, according to shamsport.com.
The Bulls will not be able to use the $5 million Mid-Level Exception. According to SI.com's Zach Lowe, teams can only use the full MLE if it wouldn't put them more than $4 million over the luxury tax, and the Bulls are already $5 million over that cap.
It only gets more complicated from there. The Bulls hold options on guards CJ Watson, Kyle Korver and Ronnie Brewer, and the Chicago Tribune's K.C. Johnson believes they'll absolutely try and stay under the luxury cap and match any offer to free-agent center Omer Asik.
Young won't command huge bucks on the open market—he didn't find much demand last offseason and finally resigned with Washington—but Chicago would have to find some space in order to sign him.
Still, the reward would be worth the effort.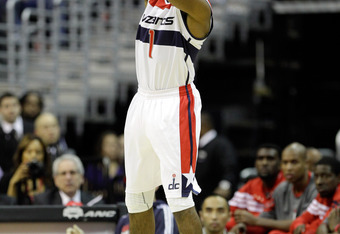 Rob Carr/Getty Images
The Bulls reportedly had interest in Young last season, before Young was traded from the Wizards to the Clippers. 
The problem with Young is obvious: While he is a capable scorer, he's anything but efficient. In his career, he's shot 42.9 percent from the field, and with the Clippers last year he shot an even worse 39.4 percent. He also has never proven to be a dedicated defender.
However, you have to believe that both of of those issues would be negated in Chicago. Young has always tried to do too much offensively, like last year with the Clippers when he was playing next to point guard Chris Paul. Of course, he's never had a coach who runs as tight a ship as Chicago's Tom Thibodeau does.
Under Thibodeau, it's easy to see Young in a Kyle Korver role—only much, much more talented.  The Bulls are far more structured than the Clippers (they aren't coached by Vinny Del Negro anymore) and some structure could be just what Young needs to become a far more efficient player.
And if you think Young will be an undedicated defensive player in Chicago, think again: Thibodeau's team lives to play defense.
Derrick Rose has played with many offensively-talented players, but he's never had a weapon like Young. If he and the Bulls are able to reign Young in, get him to be more efficient in his shot selection and play defense, he could end up a fantastic piece.
Young makes sense for Chicago, and Chicago makes sense for Young.