Florida State Football: Who Are the Potential Hidden Gems of Incoming Freshmen?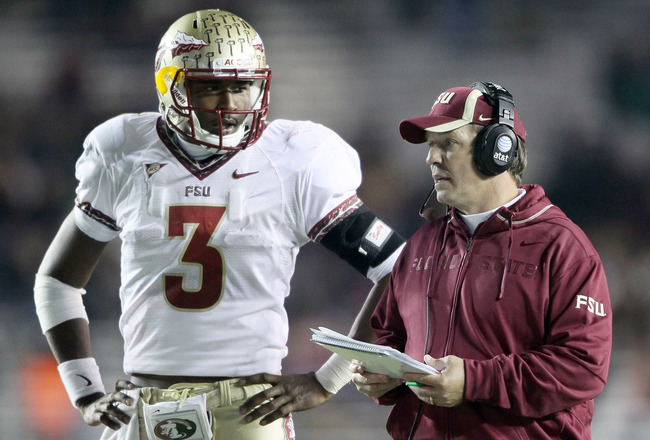 Elsa/Getty Images
Recruits usually come into a program like a leaky faucet. One at a time, a coach gets each commit.
For Jimbo Fisher and Florida State, their recruiting is like broken pipes that have flooded all over the house. Incoming freshmen are very talented at their respective positions, which is why FSU has very high recruiting rankings. It can actually be a challenge to glean the cream of the crop from such strong stock, but today we'll try to uncover the improbable.
Is Mario Pender all that he's cracked up to be? How about receiver Kelvin Benjamin? More insight is headed your way.
Mario Pender (Running Back)

Mario Pender highlights prove he will be a reliable running back in the years ahead.

Mario Edwards (Defensive End)

Mario Edwards reflects on his time at the Under Armour Game.

Sean Maguire (Quarterback)

Sean Maguire succeeded in high school, but only received offers from Buffalo and FSU.

Now that we've found the mine, we'll scavenge for diamonds—the real real hidden gems. We're talking about the guy that comes out of nowhere and does well. I like to call it the Tom Brady Effect.
So by now—hopefully—you read the caption. If you haven't, please do so now.
Yeah, you read that caption correctly. The only schools to give offers to Sean Maguire were the Seminoles and perennial laughing stock Buffalo, according to Rivals. No disrespect to the Bulls on this quarterback. They made the right call trying to recruit him, and hopefully the Bulls can get back to their 2008 form soon.
Bud Elliott of Tomahawk Nation states that "Jimbo Fisher has stated that he wants to take a quarterback in every signing class." Well, consider this guy a definite hidden gem.
You see, Florida State received letters of intent from two quarterbacks this year. The first one you've probably heard of 1,000 times: Jameis Winston (a.k.a. the No. 1 dual-threat quarterback of the 2012 class). Winston has all the skills to lead, but let's say an unpredictable event occurs. E.J. Manuel graduates after this fall, and Winston/Clint Trickett will likely be his replacement next year. If Winston/Trickett goes down, don't be surprised if Maguire comes in.
Like quarterback competitor Jacob Coker, Maguire has been undervalued as a recruit, but as Bud Elliott again points out, "Last year Fisher took the commitment of Jacob Coker despite the fact that Coker only had offers from Arkansas State and Duke. That move turned out great as other major programs realized what they missed and soon began to offer Coker. It's a good bet that Maguire's stock will also rise. The question is how long."
It's incredible that with so many players evenly matched, Maguire may be the Seminoles' true hidden gem. But in some ways, that's a good thing. FSU is so solid that maybe 2012 will bring a national championship.
And that elusive, hidden gem is the true crowning achievement.
Keep Reading

Florida State Football: Like this team?