NBA Playoffs 2012: Bold Predictions for Tonight's Heat vs. Celtics Showdown
June 9, 2012
Jim Rogash/Getty Images
There is nothing like a Game 7 in sports.
After Boston blew its opportunity to shut the door on the Heat in Game 6, the series shifts to Miami for Game 7.
Let the games begin.
Here are some bold predictions for this Eastern Conference finals showdown. 
Dwyane Wade scores 30 points for the first time this series 
Dwyane Wade has been up and down this series, scoring 21 points per game on 44 percent shooting.
He's coming off a 6-of-17, 17-point performance in Game 6. Wade will be looking to redeem himself in Game 7.
He'll do just that.
Wade will go off for 30 points for the first time this series. He'll look like the D Wade of old. He'll be out in transition, slashing to the cup with his quick first step and his jumper will be falling. 
Paul Pierce shows up
After his dismal performance in Game 6, Paul Pierce is destined for a quality performance in Game 7. If he doesn't play well, Boston doesn't even have a chance to win.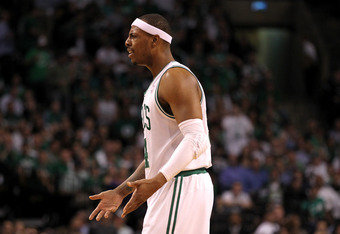 Jim Rogash/Getty Images
He's the guy in terms of scoring the basketball in several ways. He can spot up and hit the outside shot, drive it to the rim, work in the post and create for others. He can do it all.
If he's anything like we saw in Game 6, Boston is in serious trouble.
Pierce will play well in this elimination game because he knows what happened in Game 6 is unacceptable. He'll be ready to play come Saturday night. 
Final stat line:
Pierce scores 28 points on 10-of-17 shooting.  
Chris Bosh records a double-double
Move over LeBron James, another star is ready to show up to the party. Chris Bosh has been coming off the bench in the past two games after returning from injury.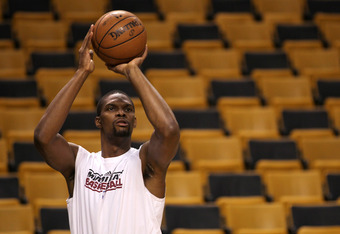 Jim Rogash/Getty Images
He played 14 minutes in Game 5 and 28 in Game 6. Bosh will play 33 minutes in Game 7 because of his production level.
Bosh scored seven points and grabbed six rebounds in Game 6. Since making his return, Bosh is only 6-of-16 from the floor, but the struggles can be placed on rust.
James will give Bosh some early looks at the rim from 15 feet away, and that will get his confidence flowing. Seeing how James dominated getting to the rim in his historic Game 6 performance, Bosh will have some open looks. 
Bosh is going to play his biggest role of the series, and after questioning whether or not he would even play, Miami will be thankful. 
Final stat line:
Bosh scores 15 points on 6-of-11 shooting and grabs 10 rebounds. 
Heat win 96-92
Miami has the better basketball team. Boston has had an incredible run, but with no Avery Bradley, no legitimate scoring depth and being forced to play Game 7 on the road, the Celtics are behind the eight ball.
The Heat have been getting a few more calls than Boston this series, and I don't see that changing in Game 7. With Wade and James being able to slash to the rim, Boston will send Miami to the line frequently. 
If they can make their free throws, Miami will ice the game late.