Spain vs. Italy: Date, Start Time, Live Stream, TV Info and Preview
June 9, 2012

Denis Doyle/Getty Images
Easily one of the most anticipated pool play games of the 2012 Euro Cup, this group C matchup pits the 2008 Euro Cup Champion and 2010 World Cup Champion Spain against 2006 World Cup Champion Italy. It's a matchup of two of Europe's perennial soccer powers, and with the weaker Croatia and Ireland as the other teams in Pool C, this game will likely determine who takes first and second in the group.
Spain comes in as the favorite, and deservedly so. They are the reigning Euro Cup champs and return the nucleus of the team that won in 2008. Italy faces a tough challenge in their opening game. Here are the match details and the major factors affecting both sides. 
Where: Arena Gdansk—Gdansk, Poland
When: Sunday, June 10th—6:00 PM local time, 12:00 PM EST
Television Broadcast: ESPN
Live Stream: ESPN3.com
Factors affecting the game:
Which Mario Balotelli will we see on the pitch?
Balotelli has the reputation of being a bit of a wild-card. On one hand, he is an incredibly talented forward capable of catalyzing the Italian offense. On the other, he is an extremely aggressive player with an attitude that occasionally gets the best of him (see here).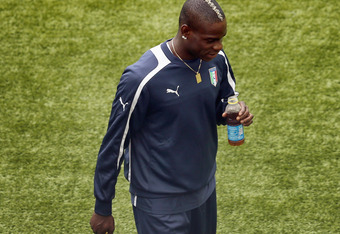 Alex Grimm/Getty Images
Throughout the Euro Cup, he will be taking the pitch in front of hostile crowds. Adding to the intrigue, Balotelli has publicly said he would walk off the field if the fans began using racial taunts. The UEFA responded this would result in a yellow card.
Italy faces an uphill battle against Spain, but matters could be made worse if Balotelli gets an early yellow and can't play his usual aggressive style.
Injuries
Spain will be playing without star defender Carles Puyol and goal-scorer David Villa. Sergio Ramos will have to step up to help solidify Spain's defense, and Fernando Torres will be tasked with replacing Villa's offensive firepower.
For Italy, defender Andrea Barzagli has been ruled out for the Euro Cup, and it appears Domenico Criscito will fill his role.
While Puyol and Villa are two big names, Spain has a much deeper roster than Italy and should be able to compensate for these injuries. Few teams would be able to lose a player of Villa's ability and be able to plug in a talent like Torres. Italy's loss of Barzagli could prove more costly, especially against Spain's offense.
Experience
This Spain team returns most of the core of their 2008 Euro cup team, including stars Iker Casillas, Xabi Alonso, David Silva, Sergio Ramos and Andres Iniesta. And the list goes on and on. These are all players familiar with Spain's "tika-taka" possession-oriented approach. If La Roja jump out to an early lead, this team is fine with holding onto the ball and milking the clock out.
Comparatively,  Italy also has a less Euro Cup-seasoned team, returning Gianluigi Buffon, Antonio Di Natale and Giorgio Chiellini among others from their 2008 squad. But they lack the depth that Spain has. This will be the first major international competition for young Italian players like Mario Balotelli. It's difficult to know whether they can maintain their composure on the grand stage and continue to perform.